Main content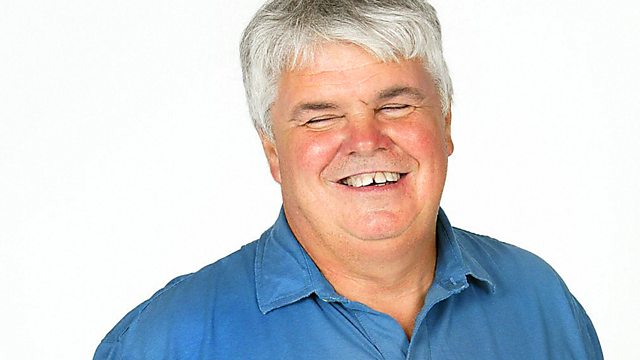 Attack on guide dog
We hear from a woman whose guide dog was attacked by two dogs and was unable to work for six weeks. We also hear feedback on the radio play, Blind School, and our recent podcast.
In November of last year, Emily Brothers' guide dog, Truffle, was attacked by two dogs in Sutton, South London. As a result of her injuries, Truffle was out of action for six weeks. Emily was unhappy with the support she received from Guide Dogs for the Blind Association. Reporter Dave Williams spoke to Emily at her home. John Carlin from GDBA responds.
Also, we hear listeners' feedback from the radio play, Blind School, which was broadcast on Radio 4 last Tuesday, and which we featured on In Touch on January 29. We also include your comments on the extended podcast from the same programme.
And finally, also following feedback from a listener, we hear from Hugh Brasher on the London Marathon's U-turn to award official medals to guide runners.
Presenter: Peter White
Reporter: Dave Williams
Producer: Tom Walker
The Guide Dogs for the Blind Association
In Touch Transcript: 12-02-19
Downloaded from www.bbc.co.uk/radio4
THE ATTACHED TRANSCRIPT WAS TYPED FROM A RECORDING AND NOT COPIED FROM AN ORIGINAL SCRIPT.  BECAUSE OF THE RISK OF MISHEARING AND THE DIFFICULTY IN SOME CASES OF IDENTIFYING INDIVIDUAL SPEAKERS, THE BBC CANNOT VOUCH FOR ITS COMPLETE ACCURACY.
IN TOUCH – Attack on Guide Dog
TX:  12.02.2019  2040-2100
PRESENTER:           PETER WHITE
PRODUCER:             TOM WALKER
White
Good evening.  Tonight:  The guide dogs which suffer attacks from so-called pet dogs and why some of their owners think not enough is being done to help when it does happen.  And the guide runners whose efforts at the London Marathon won't be in vain after all.
But first, the steady stream of attacks on guide dogs continues, almost 150 in 2017 to last year for which there are figures.  On working guide dogs, dogs in training and retired and breeding guide dogs.  This despite legislation handing out tougher punishments to owners who fail to control their dogs.  And a campaign by the Guide Dogs for the Blind Association itself to make owners take more responsibility for their animals.  But some guide dog owners are also telling us that their own association isn't doing enough to support guide dogs and their owners when this happens.
Emily Brothers is one of the most recent owners to be involved in such an incident and our reporter, Dave Williams, has been to see her and her dog Truffle.
Williams
What breed is she?  Is she a Labrador or..?
Brothers
Yeah a cross Lab Retriever.
Williams
I'll just close the door behind me.
So, Truffle's four, so that means you've had Truffle…?
Brothers
She's coming up to four.
Williams
Right, so that means you've had Truffle for nearly two years?


Brothers
Yes, just over two years yes.  She is a great guide dog, she's a bold little dog, so I need a dog with lots of confidence, she's a very loving dog and I would say, from the outset, that Truffle's puppy walker, Vivien, and trainer, Becca, have done an amazing job with her, she's a great guide dog.
Willliams
Okay, so we're heading off down your road.  How's Truffle in the rain?
Brothers
Yeah, she's fine. 
Williams
Yeah?
Brothers
Some dogs hate it but she is…
On November 6th I'd been to a Labour Party meeting locally and was walking back home with three friends who live sort of halfway between the meeting venue and my home, so the plan was that I would leave them at the halfway point.  We walked along the road up to a common area called Sutton Green around about 10.00 p.m. at night and we were just approaching the green when two dogs came from literally nowhere, from the green, and one of them pulled Truffle by her harness and took her forcibly around 20 yards away and then proceeded with an attack.  The other dog was barking, didn't attack Truffle but was barking.  As you can imagine, it was very scary.  I initially shouted, that didn't help, so I pulled out my smartphone and hit emergency services and spoke to them in a rather desperate way, telling them that they had to get out to Sutton Green, that Truffle was being attacked.  And my friend, Phil, then waded in amongst the three dogs and very bravely pulled Truffle out.
Williams
And how was Truffle?
Brothers
She wasn't stressed at the time, she was actually more anxious by the surgery and the aftermath.
Williams
How did the police react firstly?
Brothers
After the attack we had to wait around about 10-15 minutes for the police to arrive, at which point they talked to us and we then went to my friend's home to take statements and check Truffle over and arrange for her to see a vet.  And Truffle had an operation in the early hours of the morning lasting a good hour to stitch the wound, had several stitches, very deep and it was bleeding for about a month.
Williams
You must have been terrified Emily?
Brothers
It was terrifying and that sheer feeling that – of hopelessness that there was nothing I could do and the realisation that if I'd been on my own Truffle may well have been killed or her injuries so extensive that she would never have worked again.
Williams
And how did you feel about the way the Guide Dogs for the Blind Association handled your report?
Brothers
I think it's useless.  I think their response was pathetic.  They failed to provide reassurance by coming out to see Truffle.  Animal Welfare never followed up.  An instructor didn't come out to support us getting back into working mode.  Engagement or other staff failed to liaise with the police.  I was also quite frustrated by GDBA talking about the attacking dogs as pets, rather than dangerous dogs.  I think that said to me something about their attitude to this situation.  Basically, Guide Dogs were uncoordinated and that's why I want them and other agencies and organisations to come together in order to provide a more coordinated response when blind people are victims of a crime.
Williams
What message do you have for the Guide Dogs for the Blind Association?
Brothers
It's time to take incidents of attacks on guide dog owners seriously before a guide dog is killed or a blind person is seriously injured.  GDBA have a clear responsibility in protecting guide dogs and guide dog owners and they're failing in that duty.
Williams
Do you feel more vulnerable now as a blind person following this incident?
Brothers
Yes.  I'm a fairly tough person so I will get through it but I'm more nervous when other dogs are around because they can be so unpredictable.  I also feel very vulnerable because I know that if I am in that situation on my own, I find it difficult, the feeling that I can't sort it, I can't protect my dog.
White
That's Emily Brothers and Truffle, now happily recovering.
Emily's case isn't the only one either that we've heard about.  A change in the law in 2014 meant that irresponsible owners could face up to three years imprisonment but the attacks go on. 
I'm joined by John Carlin, Director of Operations for the Southeast region of Guide Dogs for the Blind Association.
John, we'll talk about your campaign against this in a moment.  But first of all, what can you say to Emily, who feels she didn't get the support she needed after what she says was a terrifying ordeal?
Carlin
Oh well, firstly, I'd like to start by saying how very sorry we were to hear about this experience that Emily has received since the horrific attack on Truffle back in November last year.  If there's anything that we can learn we most definitely will.  What I can say is that from a support point of view that since the attack on the 6th November Emily's case was supported by a dog care and welfare team who would be involved and were involved to authorise the vet treatment and the engagement officer support was there for Emily, regarding this case.
White
But shouldn't a visit before the dog starts working again be the very least an owner should expect in this situation?
Carlin
Absolutely, and that's the point I was coming on to.  So, the last communication with Emily specifically was the fact that once Truffle was back to full health a visit would be conducted to support Truffle and Emily working again.  However, the ball was left with Emily and at this stage we hadn't received contact to state that Truffle was actually ready and able to start working again.
White
But I mean two months has gone by, I would have thought that with a serious case like this, with the police being involved, that the Guide Dogs would have visited her as a matter of course.
Carlin
Whilst specifically around this case a visit could have been had in the meantime, we were of the opinion that Emily would be contacting us.  We're very happy to look at this case, it came to us yesterday, so this is the first time we've heard of the issues and the concerns raised.
White
I mean is there a staffing problem here, is it that you don't have enough people to do this kind of visit?
Carlin
No, not at all, we have world class specialist staff who train our guide dogs and partnerships.  We continue to recruit and train dedicated staff to deliver our lifechanging services.
White
Now the Guide Dogs Association does have a campaign – Taking the Lead.  Why do you think that the legislation that you helped to secure doesn't seem to have lessen the number of attacks?
Carlin
What we'd like to see is that every force ensure their officers and call handlers specifically are appropriately trained to prioritise these attacks.  We're very happy to work with the local force and as an example, our Suffolk services have recently had funding secured to help develop online training which supports training officers and call handlers in the handling of dog attacks.
White
I mean have you been in touch, for example, with the police over this case?
Carlin
Quick response – yes, we have.  Our engagement officers followed up, after having a conversation with Emily, towards the end of November last year.  Whilst we can discuss with the police, we are limited in terms of how much we can actually influence from their point of view.
White
I know part of what you're doing is trying to put more pressure on owners, isn't the problem with this kind of campaign is that you reach already responsible owners but not the kind who allow their dogs to cause this kind of trouble?
Carlin
In terms of influencing the general public around how their dog is behaving in a communal public space, we are members of the Microchipping Alliance, so this is around ensuring that all dogs are now microchipped and managed appropriately.
White
What I identified with most in Emily's story really was, although I'm not a guide dog owner myself, the sense of powerlessness she felt while her dog was being attacked.  I mean what advice can you offer to owners about how to cope in these situations?
Carlin
Ultimately, we would ask that people don't intervene, this is very traumatic and very difficult when it's their guide dog…
White
It's absolutely human nature, isn't it, to get involved.
Carlin
Of course.
White
John Carlin, thank you very much indeed for joining us.
And of course, your comments are always welcome, we'll be giving you a new way to contact us at the end of this programme.
Our inbox has been rammed this week with emails thanking us for drawing attention to Blind School, that was last Tuesday afternoon's radio play about Nina, a girl losing her sight and trying to adjust to life at special school.  All those we heard praised the acting and the writing and it clearly triggered many memories and listeners who identified strongly with the characters.  Here's a selection:
Montage of listeners' comments
I would have been interested to listen simply as it was a good afternoon drama but I'm 63 now and have diabetic macular oedema for about 15 years, from which I've lost a fair degree of sight already and I can relate only too clearly to Nina's predicament – having some residual sight and face the prospect of this deteriorating over time.  It left me wondering whether this left open any avenue to have a follow-on, looking at Nina's life adapting to increasing blindness, as that is something that scares me silly, as it obviously scared her in this play.
I was in a similar situation to Nina.  I went from a partially sighted school to Lickey Grange, a specialist school for blind children in Birmingham.  I was 11 and had quite a bit of useful sight.  I found it very difficult to come to terms with blind children.  I survived but was very lonely, despite making friends.  I felt that my mother had deserted me and was totally unable to realise at that age that it must have been doubly hard for her, having recently been widowed, to have to lose her only child as well.  I can't stop crying over the memories the play brought back.
I, myself, went to Chorley Wood School for Blind Girls in the '60s and experienced exactly what Nina felt.  I hated boarding school, being separated from my friends and family.  I'd never met anyone who was blind before and was shocked to be labelled blind myself.  I remember seeing all the blind girls going about their daily tasks and feeling that I certainly wasn't one of them.  I hated braille – all those huge books with no pictures – and the horrible white sticks, only symbol canes in those days.  This drama really brought back all those feelings, which I'd forgotten.
It was fantastic.  My partner Alan and my friend Grace also thoroughly enjoyed it.  It sort of mirrored my experience many years ago.  The play was beautifully constructed and well-acted.  I just hope thousands of sighted people listened and absorbed the content.
White
Those thoughts from Sue Marshall, Pam Willingham, Val Brown and Tony Price. 
And we've also had a lot of reaction to our extended podcast, which followed our preview of the play.  That started by chatting about the complex relationship between partially sighted and totally blind people at school but, as is the way with podcasts, it went off in several directions.
Podcast clip
I was that person who could see more than a lot of people at the time.  We went to Milton Keynes Shopping Centre once and we were in a big crocodile with me at the front.  And we were looking for a shop or something and I stopped what I thought – my dog's having a dream under the table there – Sally, Sally – I stopped what I thought was a person and asked them the way and they didn't answer me and I was getting really annoyed with them, thinking they were so rude.  And it was a shop dummy.  [Laughter]
We've all done it, we've all done it.
Well my favourite one of those is we went – we were hitchhiking and four of us were totally blind and one of us could see a little bit – Ian – I think he's still about – and we were coming back from the pub and we had to go to the youth hostel and we hadn't got a clue where we were going and Ian was – we were in Cornwall, near the coast – and Ian was saying, it's alright, I'm following a light.  Turned out this light was a lighthouse.
Guest - listener
My wife and I, both totally blind, would like to say how much we enjoyed listening to the extended podcast of last night's programme.  We found the discussion after the main programme both interesting and amusing and could definitely empathise with many of the points raised.  We feel that for people like us, who grew up through the system, there probably is a blind culture.
Smith - listener
I'm a sighted pensioner, the daughter of a blind father and have always enjoyed listening to In Touch.  But have only today discovered your podcast.  I want to say how much I enjoyed listening to the extended section when you were telling all the anecdotes about your experiences at school.  It just sounded as if you were all having a lot of fun and enjoying each other's company and maybe this obvious camaraderie is what makes the programme so special.
White
Yeah, we think it's rather special too.  That was Eva Smith, before that you heard Bill Guest.
And partly encouraged by your reactions we're going to be repeating the exercise when it seems as if the subjects we're covering could benefit from a longer airing on a podcast.  Your suggestions for such subjects are welcome, as usual.
And we're always keen to satisfy your curiosity about what happens after we deal with an issue.  Several of you, including Simon Elliott, wanted to know what happened when the London Marathon Board met to discuss whether guide runners should receive official acknowledgement for their efforts.
Well, here's the marathon organiser himself, Hugh Brasher, with some news.
Brasher
We're delighted to say that over the last few months we have been reviewing our policy for guide and support runners in the marathon.  The guide or support runner will still apply for a free-of-charge place.  The time and chip and number will be allocated to that guide or support runner.  And the time of the guide or support runner will be a time that matches the runner that they are guiding.  They will get a medal at the finish line – officially.  So, they did previously but it wasn't official.
White
Why has it taken so long to bring this relatively simple change about?  Most of the other prestigious marathons around the world have been doing this for some time.
Brasher
There are a myriad of things that we have been working on over a number of years to improve processes and encourage more participants with disabilities.  Doing marathons, especially when you have 415,000 people applying for them, is very complicated and something that looks very simple you have to make sure that you have the right processes in place to be able to implement it.
White
So, what will happen now if one of the visually impaired runners has to drop out because that was one of your concerns, wasn't it?
Brasher
If the runner that is being guided drops out then the person who was due to guide or support them is not able to start.
White
Hugh Brasher.  So, now you know.
And still with sport, congratulations to one of the foremost visually impaired athletes of the moment – skier Menna Fitzpatrick has just returned from the Alpine Para World Skiing Championships in Italy with five medals, including two golds in the super giant slalom and downhill categories.  Well done Menna.
And that's it for today but we can tell you about a change in the way you can contact the programme to make your comments or give us your views.  You can now call 0161 8361338 and when you do call this number calls are charged at the standard geographic rate, although calls from mobiles may cost more.  Leave us a message there, we'll get back to you as soon as we can.  Or, as usual, you can email intouch@bbc.co.uk or visit our website www.bbc.co.uk/intouch. 
That's it.  From me, Peter White, producer Tom Walker this week and the team, goodbye.