Main content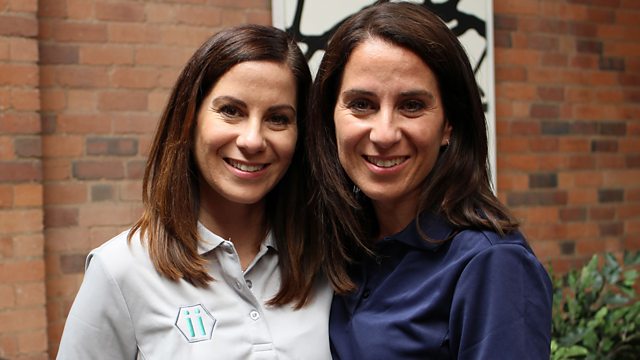 Identical twins test the best way to learn a new language, attempt to look younger and test an easy way to lower your calorie count.
In the heart of Birmingham, doctors Chris and Xand van Tulleken have set up a unique centre for science. But theirs is no ordinary lab because inside it is crammed with 30 pairs of identical twins! Thanks to their matching DNA, identical twins are the perfect candidates for scientific comparison. Chris and Xand use this principle in The Twinstitute to put contrasting health theories to the test. Pairs of twins are split into two groups and each challenged to carry out a task. The results – from diet tips to health tricks reveal ways we could all make lifestyle improvements. This is 'New Year, new you' tested scientifically.
In this episode, two pairs of identical twins are finding out the best way to learn a language - putting the two most popular styles of learning head to head in self-taught versus taught. With 65% of us saying we would like to be able to speak another language, this test will determine the best way to go about it for you!
Chris has arranged for Des and Tina go back to school to learn a language from scratch. With 30 hours of scheduled lessons over four weeks with a language teacher, they are going to have to make space in their busy schedules for this real-time contact. The pros to this process? Des and Tina are safe in the knowledge that the guidance they are receiving is pre-planned, and they get real time feedback on their pronunciation and progress, but is it all a bit old fashioned?
To find out, Xand has set Nick and Lia loose to see if self-teaching is now advanced enough to take on the teachers. In addition to phrase books, there is now an abundance of options available for the budding linguist, via smart phones, online videos and internet radio. Apps now offer the flexibility to learn whenever and wherever they choose and with millions of us now using them every day, we find out if they can really hold their own against the tried and tested method of face-to face communication. But without a teacher it will take dedication and self-discipline for our twins - is this just too much to achieve alone?
Next is a story that sees Chris and Xand put their identical twin bodies on the line in a quest to look younger. A recent survey suggested that the average woman in Britain spends £1,300 a year trying to reduce the effects of ageing, But in an industry cursed with bad science and outlandish claims, is there a technique that could work? Chris and Xand opt to put two techniques head to head that come from opposite ends of the spectrum. Xand is going to spend a month doing an hour of facial yoga every single day for a month. Although the science of facial yoga is in its infancy, it is touted as being the next big thing. By exercising the face you increase the blood flow to the skin which may be beneficial. In addition, with exercise, comes muscle tone which can lead to a plumper, fuller, more youthful face. And hey, it is free!
Meanwhile Chris is going high-end. He will have a single, one-off but expensive treatment: a vampire facial. Popular with the Kardashians, this extreme makeover is also touted as being effective by some people but to say it is an unusual treatment would be an understatement. At an exclusive Harley Street clinic, Chris first has some of his blood drawn. That blood is then spun at high speeds to separate it out into its constituent parts, before the serum is injected back into his face! The theory is that the serum contains "growth factors" released when the blood was spun at speed. Those growth factors supposedly then cause his skin to regenerate courtesy of the trauma caused by the injections.
But will either work? To find out the guys have their skin age assessed by a special camera system which will pull no punches in scrutinising every pore!
Finally this week is a story that involves secret science – a story that we can't tell our twins about for fear of influencing the result. Can the brightness of a room can affect your appetite? Intriguing new research suggests that we unknowingly eat more when a room is brightly lit and there is good science to support this: in bright light, the brain is super-stimulated and put into a state known as arousal and, according to some, when aroused, we get more greedy. In dim light, the brain is much calmer and with that calmness our greed level drops off. But will that theory stack up in practice? To find out our twins are split into two lunch groups. The first set has their buffet under bright light and the other has the same buffet under dim light. By precisely measuring the amount of food consumed, Chris and Xand are able to work out exactly how many calories each team of twins ate. And the results are simply staggering!
Using the latest science, and bringing a visual flair to health programming, The Twinstitute aims to reveal tips and tricks that can help us all live a healthier life!
Last on

More episodes
Next
You are at the last episode
Music Played
Timings (where shown) are from the start of the programme in hours and minutes
Credits
| Role | Contributor |
| --- | --- |
| Presenter | Chris van Tulleken |
| Presenter | Xand van Tulleken |
| Executive Producer | Leanne Klein |
| Executive Producer | Emily Shields |
| Expert | Thomas Bak |
| Series Producer | Helga Berry |
| Series Editor | Dan Tapster |
| Director | Ed Watkins |
| Production Company | Wall to Wall Media |