Main content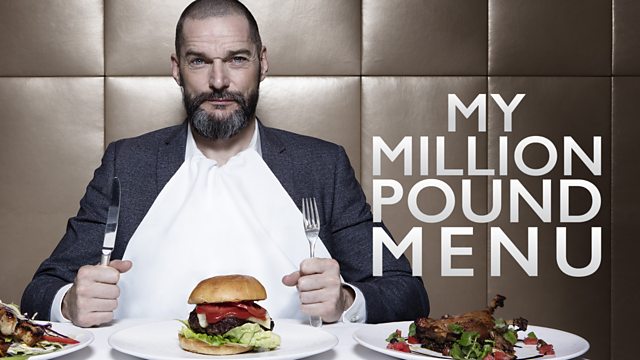 Sustainable
Three new restaurant ideas battle for a life-changing investment - a plant-based concept after £1m, a sustainable cafe asking for £300k, and a Nordic pop-up looking for £210k.
Fred Sirieix oversees a battle for investment between three restaurant ideas, with each pitcher thinking their take on sustainable dining will secure them the chance for big-money backing to open on the high street.
First, they must pitch to four of the industry's top investors for the opportunity to open for business in Manchester. The single idea with the most investment potential is given a two-day trial to prove themselves worthy of the money they are seeking. However, only those investors with the most passion and interest in the idea will follow it to Manchester.
Amongst those pitching are friends Abi Glencross, 27, and Sadhbh Moore, 28, looking for £300,000 for their vegetarian cafe-cum-barge, Sustainable Food Story. Abi is a professional stunt woman, grain farmer and scientist, and was the first person in the UK to grow meat in a lab. Sadhbh was raised on a eco-farm in Ireland where she grew and foraged much of the food she ate. They began their supper clubs in July 2017 and are now looking to open their first business, on a barge, with dishes like roasted beetroot, goats cheese, chard and thyme tart on heritage grain pastry.
Also pitching are Liverpool-based friends Dan Cameron, 26, and Josh Lundon, 26, with their Nordic-inspired, hyper-seasonal concept Skaus. They are seeking £210,000. The idea for Nordic-inspired cuisine came from the links Liverpool has with Scandanavia, like the classic stew, Scouse, in a bread bowl – slow braised beef stew, pickled beets and brown butter. They started with a series of pop-up events in April 2017, and have since held a number of very successful residencies around the city. Now they want Skaus to go full-time in its own permanent site.
Finally, plant-based heritage cooking from Indo-Persia and the eastern Mediterranean. Tanya Gohil, 31, is seeking £1million for Devi's. The name 'Devi' comes from the Indian word for goddess, as Tanya dedicates her concept to the women in her family who she calls "the queens of the kitchen". Devi's has operated a sell-out weekend stall at Maltby Street Market since January 2015 and various pop-up restaurants across London, as well as hosting Devi's Dining supper clubs in Hackney, with dishes like peshawari cauliflower qorma, sultanas, fried shallot, coconut, and preserved lemon grains. Now she is after £1million to open permanently in central London.
Each of the three ideas pitches to a panel of four investors, all keen to back the next hit sustainable restaurant idea on the high street. Darrel Connell is a partner at Imbiba - an investment firm specialising in investing in high growth leisure and hospitality businesses. Typically, Imbiba invests between £1m to £10m over a period of 5 years, in bars and restaurants that can grow to multiple sites. To date, they have invested over £60m across more than 100 businesses throughout the UK.
Laura Harper-Hinton is the CEO and creative director of Caravan Restaurants and Coffee Roasters, with five restaurants in London, and a coffee roastery. The business has an annual turnover of £15m. Laura is passionate about supporting the next generation of industry hopefuls, having recently joined a new Hospitality UK Mentor Initiative, with a focus on helping more women into senior positions.
Maria Tamander is a Swedish entrepreneur living in London, who recently bought and refurbished a gastro-pub-hotel, The Cleveland Arms in west London. With big-money backing she is now looking to expand her culinary empire.
Shruti Ajitsaria is an Angel Investor and lawyer who manages a portfolio of private investments. Shruti and her husband hold regular pitch sessions with start-up companies from various sectors, with a view to investing in the most promising. In the restaurant sector she has previously backed JKS restaurants (no longer invested) and Vagabond wines.
In each episode the winning idea has two days in a brand new 50-seater restaurant, in the heart of Manchester's bustling bar and restaurant district, to prove that their food, menus, pricing, service, team-management and business plans are worth the big money investment they are asking for.
On the first night they open for a half-price soft launch to the public, and the investors, before being grilled in detail on their numbers and business plans the following morning.
Finally, they open for a full-priced lunch service, during which the investors must consider whether to invest or not. As the investors are in competition with each other, Fred will set them a deadline by which time they have to return to the restaurant if they intend to invest.
With final service over, the operators face an anxious wait with Fred to see if anyone returns. All they need is for one investor to walk through the doors and make them an offer, and their business fortunes and restaurant dreams will change forever.
Credits
| Role | Contributor |
| --- | --- |
| Presenter | Fred Sirieix |
| Editor | Phil Ashby |
| Editor | Mike Brierley |
| Executive Producer | Meredith Chambers |
| Series Editor | Mark Leslie |