Main content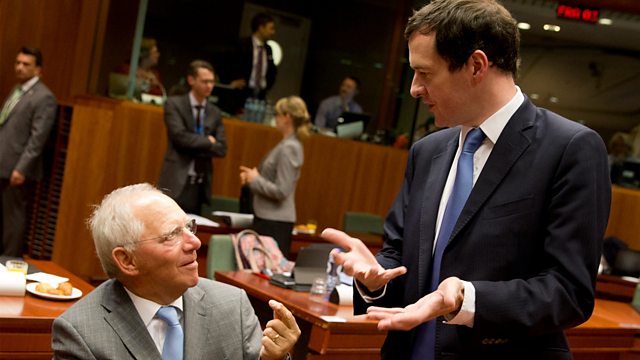 Europe's leaders and top advisers reveal how the near bankruptcy of Greece threatened the euro itself – and how they battled against the clock to save the single currency.
This episode takes us inside the room at crucial summits where leaders and their Ministers battle to avert financial disaster. At its heart is a clash between the cautious Angela Merkel and the feisty Nicolas Sarkozy over how to deal with the near bankruptcy of Greece.
It is a story that sees billions of Euros being pumped into the economy, riots against austerity, and the election of Europe's first populist government.
The cast includes some of Europe's most powerful figures, like Germany's finance minister Wolfgang Schauble, UK chancellor George Osborne and the radical Greek finance minister Yanis Varoufakis, as well as top leaders Donald Tusk, Francois Hollande and Matteo Renzi.
As the EU's most ambitious project, the Euro, teeters on the brink of collapse, Greece narrowly escapes being forced out.
Clips

Music Played
Timings (where shown) are from the start of the programme in hours and minutes
Credits
| Role | Contributor |
| --- | --- |
| Narrator | Caroline Catz |
| Series Producer | Norma Percy |
| Director | Tania Rakhmanova |
| Director | Tim Stirzaker |
| Assistant Producer | Max Stern |
| Assistant Producer | Nicholas de Taranto |
| Editor | Cathy Houlihan |
| Researcher | Declan Smith |
| Researcher | Florence de Bonnaventure |
| Researcher | Korner Helena |
| Researcher | Tulasi Das |
| Composer | Simon Russell |
| Camera Operator | Nina Bernfeld |
| Camera Operator | Vlad Trivic |
| Camera Operator | Georgi Lazareveski |
| Camera Operator | Laurent Fenart |
| Sound | Filippos Manesis |
| Sound | Francois Xavier |
| Sound | Jean-Christophe Girard |
| Sound | Jaime Goodbrand |
| Dubber | George Foulgham |
| Editor | Laurence Thripp |
| Colourist | Vanessa Taylor |
| Assistant Editor | Dom Bailey |
| Assistant Editor | David Brockton |
| Assistant Editor | Leo Pepperell |
| Production Manager | Amy Tapper |
| Production Coordinator | Alex Nicholson |
| Consultant | Brian Lapping |
| Editor | Gian Quaglieni |
| Executive Producer | Lucy Hetherington |