Main content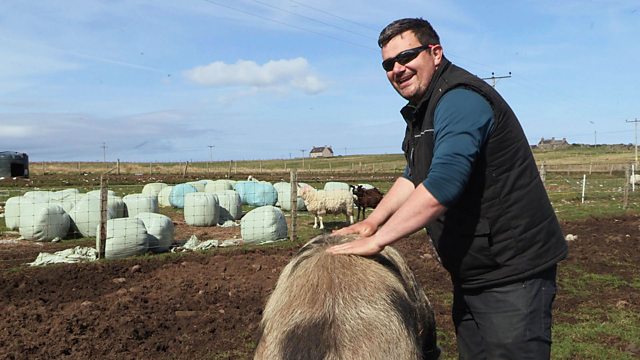 Sweeny focuses on new life on the croft as we head into spring, one of his favourite times of the year, but there is plenty to be done.
Chan eil cùisean nan tàmh air a' chroit dha Dòmhnall MacSuain – no Sweeny mar as fheàrr a dh' aithnicheas mòran e. Tha an-còmhnaidh rudeigin ri dhèanamh.
As dèidh tighinn tro Gheamhradh air leth fliuch, tha Sweeny a-nise ag amas air beatha ùr air a' chroit agus an t-Earrach air tighinn. 'S e seo aon de na h-amannan as fheàrr dha Sweeny, agus chan eil e a' faighinn mòran fois idir agus aon de na mucan aige a' breith, agus feum aige sùil dhlùth a chumail oirre.
Tha dùbhlain àm-breith nan uan roimhe cuideachd; àm den bhliadhna far nach fhaigh Sweeny cus cadail agus e air a chois gu math tràth. Le còrr is 50 de na caoraich air breith tha e letheach slighe, ach tha cho cudromach 's a tha na madainnean tràth follaiseach nuair a dh'fheumas e a thighinn gu cobhair a dhèanamh air aon de na caoraich aige.
Chan e seo an aon chaora a tha feumail air a thaic. Tha Sweeny a' fuireach ann an aon de na oir-thìrean as creigich ann am Breatainn, agus ged a tha e bòidheach tha e fìor chunnartach dha na beathaichean agus 's ann aig Sweeny a tha fios. Tha e a' cur fios air sgioba teasairginn beann na sgìre agus taic a dhìth le caora a tha ann an èiginn.
There is never a dull moment on the croft for Donald "Sweeny" MacSween, and there is always something to be done.
Having made it through a very wet winter Sweeny now focuses on new life on the croft as we head into spring. It is one of his favourite times of the year, and it's all go as one of his sows goes into labour, but this is one that he has to keep a close eye on.
He also deals with the challenges of lambing; a time of very little sleep and plenty of early starts. With over 50 already lambed he's half way there, but his early morning checks prove vital as he finds out when he needs to give help to one of his sheep which is struggling.
This isn't the only sheep he has to help. Sweeny lives on one of the most rugged coastlines in Britain, and although it's beautiful it can be very dangerous for the animals as he knows all to well. He calls the local mountain rescue in to help one of his sheep distressed on the cliff edge