Main content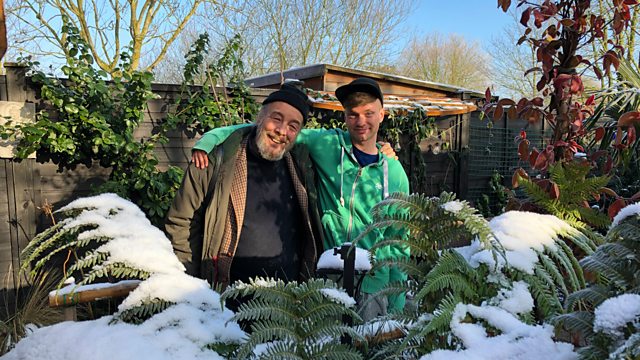 Rutland
Eric Robson and his panel are answering questions in Rutland.
Eric Robson and the team are in Rutland. Matthew Wilson, Christine Walkden and James Wong answer this week's questions.
The panellists recommend plants for a herbaceous border on clay, suggest evergreen trees suitable for providing privacy in the garden, and advise on cutting back a badly pruned Amalanchier.
They also discuss non-flowering daffodil bulbs, the pros and cons of opening your garden to the public and the success of Rowan trees in warding off evil spirits.
Away from the questions, Bob Flowerdew visits Ross Lee, an inspirational self-taught young gardener in Suffolk.
Produced by Dan Cocker
Assistant Producer: Rosie Merotra
A Somethin' Else production for BBC Radio 4
Fact Sheet
Q – Do you have any recommendations for herbaceous borders on heavy clay?
Christine – Inula, Rudbeckia, Dahlia (if lifted over winter).  Clay is highly nutritious and retains moisture well.  Species Dahlias like imperialis or merckeii. 
Matthew – Get organic matter in, open it up, improve the drainage and structure; then it's great to work with.  Perennials are great.  I'd grow Rudbeckia 'Henry Eilers'; Echinacea; Geraniums like psilostemon.  Roses will grow like the clappers.  'Port Sunlight' has zingy orange flowers and I love it.  Astas give you a blast of colour at the end of the season.
Q – I have a nine-year-old Olive tree in a large pot and I'd like to move it into the ground in a south-facing garden.  Will it survive?
Christine – Yes, if it is sheltered. 
Q – I have a Magnolia tree and it's produced an interesting shaped item sticking out of it.  What is it and what should I do?
Christine – It's actually the seed pod.  In climates with longer seasons they will go bright red and the seeds will then trail out of them to the ground; which is why this is sometimes called the 'Curtain Tree'. 
Matthew – Flowering Dogwoods (Cornus) have beautiful fruit that you can also miss or dismiss as being a bit weird. 
Q – We would like to plant some evergreen trees to provide us with some privacy.  Would holly be suitable?
Christine – Holly would be fine.  It can take a couple of years to take off through.  Phillyrea would work. 
Matthew – Hollies that are slightly denser and berry profusely would be ideal.  Two that are good are: 'Alaska' and 'JC Van Toll'.  Rhamnus alternifolia.  Some of the Myrtles.
James – Non-invasive bamboos like Phyllostachys aurea or nigra.  They create a dense evergreen screen and a good sense of depth.  
Q – When and how should I prune the four quince trees in my garden?
James – I've never pruned mine.  If the foliage is shading the fruit from the sunshine, then maybe a light prune would be needed.  Or if you need to thin out; but that's quite rare on a quince. 
Matthew – I don't prune mine either.
Q – We've inherited a garden that's heavily dependent on Box for structure.  It's healthy now but ought we to begin taking precautions/substitutions?
Matthew – If it's healthy then don't put any more Box in, as you might bring blight in. 
Christine – I would leave it.  If you dilute it with things like Teucrium and Ilexes and Santolina you would lose the essence of the border.  Seaweed fertiliser and folia feeding will help keep the box healthy… particularly with comfrey
Q – I have an Amalanchier tree in my garden which is 12ft (3.5m) tall.  It has been badly pruned and is very woody at the bottom.  Can I cut it right back?  Will it regenerate?
Christine – It will re-sprout with many stems so it will look more like a bush than a tree.  Have it out and start again; they're not very expensive.  Put Amalanchier pumila in; it grows to about 10ft. 
Q – About ten years ago we planted 200/300 daffodil bulbs.  For five years or so we got lots of flowers but for the last two years there hasn't been a flower in sight.  What's going on?
Christine – Probably congested growing conditions.  Lift them as they come into growth, divide them, keep them moist and replant them.  Put in some bone meal and organic matter into the planting hole if you like.  Leave two to three inches between each bulb.
Q – Have any of you opened your garden to the future/would you in the future?
James – My gardening space is in my sitting room and bedroom so probably not!
Christine – I have done before but it was a disaster.  Too many people came and they ruined the garden!
Matthew – I used to open RHS gardens to the public; but never my own
Q – Is it true that planting a Rowan tree next to our gate will ward off evil spirits?
James – There are lots of similar planting ideas like planting a holly tree will keep witches away
Matthew – There's a book called 'Flora Britannica' by Richard Mabey that reveals lots more similar tales to this.