Main content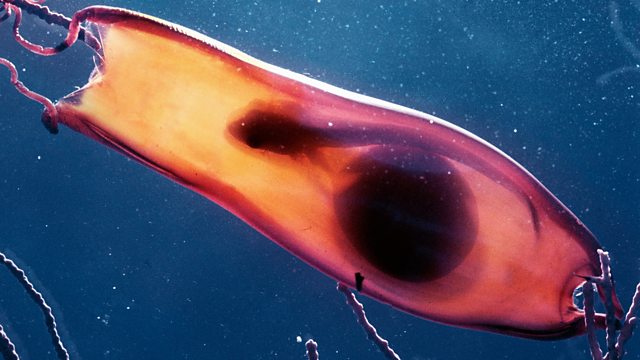 Aristotle's Biology
Melvyn Bragg and guests discuss Aristotle's method of biological investigation and the first systematic and thorough study of animals, which was unequalled for almost 2,000 years.
Melvyn Bragg and guests discuss the remarkable achievement of Aristotle (384-322BC) in the realm of biological investigation, for which he has been called the originator of the scientific study of life. Known mainly as a philosopher and the tutor for Alexander the Great, who reportedly sent him animal specimens from his conquests, Aristotle examined a wide range of life forms while by the Sea of Marmara and then on the island of Lesbos. Some ideas, such as the the spontaneous generation of flies, did not survive later scrutiny, yet his influence was extraordinary and his work was unequalled until the early modern period.
The image above is of the egg and embryo of a dogfish, one of the animals Aristotle described accurately as he recorded their development.
With
Armand Leroi
Professor of Evolutionary Development Biology at Imperial College London
Myrto Hatzimichali
Lecturer in Classics at the University of Cambridge
And
Sophia Connell
Lecturer in Philosophy at Birkbeck, University of London
Producer: Simon Tillotson
Last on
LINKS AND FURTHER READING
'Aristotle's biology' by James Lennox - Stanford Encyclopedia of Philosophy
'An Integrated Approach to Aristotle as a Biological Philosopher' by Sophia Connell (Review of Metaphysics, 2001)
Aristotle's biology – Wikipedia
Sophia Connell 
Myrto Hatzimichali
Armand Leroi 
READING LIST:
Peter Adamson and G. Fay Edwards,
Animals: A History
(Oxford University Press, 2018)
Aristotle (trans. David Balme),
The History of Animals Books VII-X
(Harvard University Press, 1991)
 Aristotle (trans. James Lennox), On the Parts of Animals (Clarendon, 2001)
 Aristotle (trans. A. Peck), Generation of Animals (Harvard University Press, 1942)
 S. Connell, Aristotle on Female Animals: A Study of the Generation of Animals (Cambridge University Press, 2016)
 A. Gotthelf and J. G. Lennox (eds.), Philosophical Issues in Aristotle's Biology (Cambridge University Press, 1987)
Marjorie Grene, A Portrait of Aristotle (University of Chicago Press, 1963)
R. King, Aristotle on Life and Death (Duckworth, 2001)
J. Lennox and R. Bolton (eds.), Being, Nature, and Life in Aristotle (Cambridge University Press, 2010)
J. Lennox, Aristotle's Philosophy of Biology: Studies in the Origins of Life Sciences (Cambridge University Press, 2001)
Armand Marie Leroi, The Lagoon: How Aristotle Invented Science (Bloomsbury, 2014)
G.E.R. Lloyd, Aristotelian Explorations (Cambridge University Press, 1996)
Carlo Natali, Aristotle: His Life and School (Princeton University Press, 2013)
D'Arcy Thompson, Aristotle as Biologist (Oxford University Press, 1913)
Broadcasts

Featured in...
Browse the Ancient Greece era within the In Our Time archive.

Scientific principles, theory, and the role of key figures in the advancement of science.

From Altruism to Wittgenstein, philosophers, theories and key themes.