Main content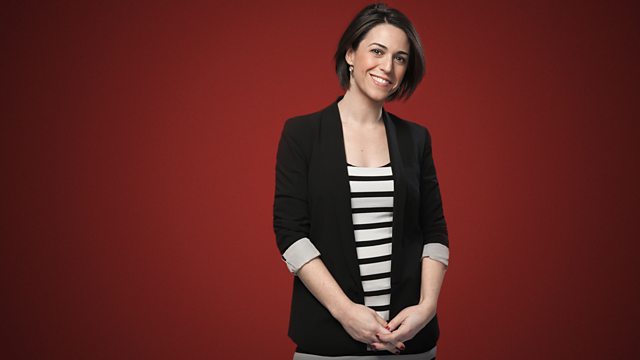 Thursday with Suzy Klein - Debussy's En Bateau, Myra Hess, Nicole Farhi
Refresh your morning with a great selection of classical music, presented by Suzy Klein, with guest, the fashion designer and sculptor Nicole Farhi
Suzy Klein with Essential Classics - the best in classical music.
0930 Your ideas for companion pieces on the Essential Classics playlist.
1010 Our Classical Century - 100 key moments in the last century of classical music.
1050 Cultural inspirations from our guest of the week, the fashion designer and sculptor Nicole Farhi.
1130 Slow Moment - time to take a break for a moment's musical reflection
Last on
Music Played
Engelbert Humperdinck

Königskinder (Concert Overture)

Orchestra: Bamberg Symphony Orchestra. Conductor: Karl Anton Rickenbacher.

Johann Sebastian Bach

Violin Sonata No. 1 in G Minor, BWV 1001: II. Fuga. Allegro

Performer: Jaakko Kuusisto.

Bach: Sonatas & Partitas.
BIS.
2.

Reynaldo Hahn

A Chloris

Singer: Véronique Gens. Performer: Susan Manoff.

Antonín Dvořák

Slavonic Dance in E minor, Op 72 no.10 [series 2 no.2]

Orchestra: Chamber Orchestra of Europe. Conductor: Nikolaus Harnoncourt.

Dvorak, Nikolaus Harnoncourt, Chamber Orchestra of Europe.
Teldec.
10.

Chiara Margarita Cozzolani

Nisi Dominus

Ensemble: Magnificat Baroque Ensemble. Conductor: Warren Stewart.

Claude Debussy

En bateau (Petite suite)

Performer: Martha Argerich. Performer: Cristina Marton.

Martha Argerich and Friends Live from the Lugano Festival 2013.
Warner Classics.
2.

Pyotr Ilyich Tchaikovsky

Valse-scherzo in C major, Op 34

Performer: Gil Shaham. Orchestra: Russian National Orchestra. Conductor: Mikhail Pletnev.

Glazunov/Kabalevsky: Violin Concerto etc: Shaham/Russian National Orchestra/Plet.
Deutsche Grammophon.

Johann Christian Bach

Symphony for wind instruments No 1 in E flat major (1st mvt)

Ensemble: Consortium Classicum.

J.C. Bach: Wind Symphonies: Consortium Classicum.
MDG.
1.

Philip Glass

Facades

Ensemble: Philip Glass Ensemble.

The Essential Philip Glass.
SONY.
3.

Carl Nielsen

An Imaginary Journey to the Faroes

Orchestra: Danish National Symphony Orchestra. Conductor: Thomas Dausgaard.

Carl Nielsen: Orchestral music: Danish National Symphony Orch/Dausgaard.
Dacapo.
10.

Ludwig van Beethoven

Concerto for Piano and Orchestra No. 2 in B flat major Op. 19; 2nd mvt - Adagio

Performer: Myra Hess. Orchestra: Royal Scottish National Orchestra. Conductor: Alexander Gibson.

Wolfgang Amadeus Mozart

Ch'io mi scordi di te? K.505

Singer: Carolyn Sampson. Performer: Ronald Brautigam. Orchestra: Die Kölner Akademie. Conductor: Michael Alexander Willens.

Grace Williams

Calm Sea in Summer (Sea Sketches)

Orchestra: English Chamber Orchestra. Conductor: David Atherton.

Jacques Offenbach

Belle nuit, o nuit d'amour (The Tales of Hoffmann)

Conductor: Jesús López Cobos. Singer: Hong Hei-Kyung. Singer: Jennifer Larmore. Orchestra: Munich Radio Orchestra.

Bellezza Vocale: Hong/Larmore.
Teldec.
1.

Johann Strauss II

Schatz-Walzer, Op 418

Music Arranger: Anton Webern. Ensemble: Boston Symphony Chamber Players.

Trad.

Gat Kirwani

Performer: Ravi Shankar.

Frédéric Chopin

Scherzo No 4 in E major, Op 54

Performer: Benjamin Grosvenor.

Benjamin Grosvenor: Chopin, Lizst, Ravel.
Decca.
3.

Edward Elgar

Introduction and Allegro Op.47

Ensemble: LSO String Ensemble. Conductor: Roman Simovic.

Isaac Albéniz

Suite española No 1 arr for guitar (Granada)

Performer: Carlos Bonell.

The Private Collection: Carlos Bonell.
Upbeat Classics.

George Frideric Handel

As with rosy steps the morn (Theodora)

Singer: Lorraine Hunt Lieberson. Orchestra: Orchestra of the Age of Enlightenment. Conductor: William Christie.

Cécile Louise Chaminade

Valse romantique, Op.115

Performer: Peter Jacobs.

Chaminade: Piano Music - 1, Peter Jacobs.
Helios.
16.

Malcolm Arnold

Trio for flute, bassoon and viola, Op 6 (3rd mvt)

Performer: Judith Pearce. Performer: Gareth Hulse. Performer: Michael Collins. Performer: Brian Wightman. Performer: John Pigneguy. Performer: Roger Chase. Performer: Ian Brown. Ensemble: Nash Ensemble.

The Chamber Music of Malcolm Arnold, The Nash Ensemble, Judith Pearce....
Hyperion.
18.

Alexander Borodin

Polovtsian Dances (Prince Igor)

Orchestra: Berlin Philharmonic Orchestra. Conductor: Sir Simon Rattle.

Mussorgsky / Borodin: Berliner Philharmoniker / Rattle.
EMI.
20.
Broadcast

The Classical Companion Collection