Main content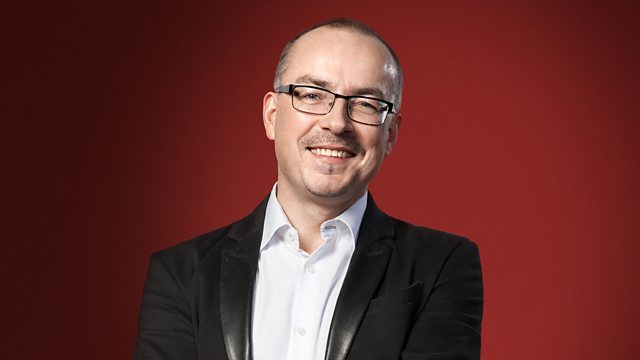 02/02/2019
Andrew McGregor rounds up the best new and recent releases, and in Building a Library Natasha Loges compares recordings of Schubert's Schwanengesang, D957.
with Andrew McGregor.
09.30
Building a Library: Natasha Loges listens to and compares some of the available recordings of Schubert's song cycle Schwanengesang ('Swan Song'), D.957,
Schubert's Schwanengesang is a collection of songs that were written toward the end of his life and not published until after his death. It was Schubert's publisher, Tobias Haslinger, who intriguingly titled the collection Schwanengesang, or Swan Song, thereby giving the impression that the songs were Schubert's musical farewell to the world. Haslinger said that the songs were 'the final blooms of Schubert's creative muse. Schubert took the texts from poems written by Ludwig Rellstab, Gabriel Seidl and Heinrich Heine.
Although Schwanengesang might not be a song-cycle in the vein of Winterreise, it does contain some of Schubert's greatest music. There are two sets of songs which are linked thematically, telling stories of nature, love, separation and despair.
11.00
Stephen Johnson and Lucy Parham review some of the most exciting new releases of the concerto repertoire, from Gautier Capucon's new Schumann disc to Nicolas Hodges and Carolin Widmann performing Pascal Dusapin.
11.45
Andrew chooses an outstanding new release as his Disc of the Week.
Record Review
9.00am
'New Year's Concert 2019' – waltzes etc. by J. Strauss I, J. Strauss II, E. Strauss, Ziehrer & J. Hellmesberger
Wiener Philharmoniker
Christian Thielemann (conductor)
Sony 19075902822 (2 CDs)
https://sonyclassical.com/news/the-vienna-philharmonic-and-christian-thielemann-the-2019-new-year-s-concert-now-available-for-pre-order
Chopin: 2 Nocturnes Op.55, 3 Mazurkas Op.56, Berceuse in D flat major Op.57 & Piano Sonata in B minor Op.58
Maurizio Pollini (piano)
Deutsche Grammophon 483 6475
https://www.deutschegrammophon.com/gb/cat/4836475
'Marais Meets Corelli' – works for viola da gamba, violin and ensemble by Hume, Forqueray, Marais, Corelli, Biber & Morel
Jakob Rattinger (viola da gamba)
Lina Tur Bonet (violin)
Ensemble Musica Narrans
Pan Classics PC 10395
 'Amor, Fortuna Et Morte' – Madrigals by de Rore, Luzzaschi, Gesualdo, Kapsberger & Monteverdi
Profeti della Quinta (choir)
Elam Rotem (director)
Pan Classics PC 10396
'Portraits' – Works for string quartet by Mendelssohn, Rachmaninov, Puccini, Korngold, Kreisler, Barber, Schubert, Borodin, Shostakovich, Webern, Hoffstetter, Mozart & L. Anderson
Quatuor Modigliani (string quartet)
Mirare MIR414
9.30am – Building a Library – Natasha Loges on Schubert's Schwanengesang
Composer: Franz Schubert
Reviewer: Natasha Loges
Recommended Recording:
Werner Güra (tenor)
Christoph Berner (piano)
Harmonia Mundi HMC901931 (download)
Other Recommended Recordings:
Dietrich Fischer-Dieskau (baritone)
Gerald Moore (piano)
EMI 4563522
Matthias Goerne (baritone)
Christoph Eschenbach (piano)
Harmonia Mundi HMC90213940
Christoph Pregardien (tenor)
Andreas Staier (fortepiano)
Challenge Classics CC72302 (Hybrid SACD)
10.20am – New Releases
Bruckner: Symphony No.9 in D minor
Bavarian Radio Symphony Orchestra
Mariss Jansons (conductor)
BR Klassik 900173
https://www.br-klassik.de/orchester-und-chor/br-klassik-cds/symphonieorchester/cd-bruckner-symphonie-9-symphonieorchester-des-bayerischen-rundfunks-mariss-jansons-100.html
Brahms: A German Requiem
Carolyn Sampson (soprano)
André Morsch (baritone)
Capella Amsterdam (choir)
Orchestra of the 18th Century
Daniel Reuss (conductor)
Glossa GCD 921126
http://www.glossamusic.com/glossa/reference.aspx?id=481
'IBN BATTUTA – The Travller of Islam 1304-1377' – 14th century music from Africa, the Middle East, Asia and Europe
Hesperion XXI (ensemble)
Various guest musicians
Jordi Savall (director)
Alia Vox AVSA9930 (2 Hybrid SACDs)
https://www.alia-vox.com/en/catalogue/ibn-battuta-le-voyageur-de-lislam-1304-1377/
10.45am – New Releases – Lucy Parham & Stephen Johnson on concerto recordings
Schumann: Cello Concerto, Adagio und Allegro Op.70, Fantasiestucke Op.73, Funf Stucke im Volkston Op.102, Fantasiestucke Op.88
Gautier Capuçon (cello)
Renaud Capuçon (violin)
Martha Argerich (piano)
Chamber Orchestra of Europe
Bernard Haitink (conductor)
Erato 0190295634216
http://www.warnerclassics.com/shop/3251820,0190295634216/gautier-capucon-schumann
Schumann: Cello Concerto, 5 Stucke im Volkston op.102, Adagio and Allegro in A flat major Op.70, FantasieStucke Op.73
Sol Gabetta (cello)
Bertrand Chamayou (piano)
Kammerorchester Basel
Giovanni Antonini (conductor)
Sony Classical 88985352272
http://www.sonyclassical.de/sonyclassical_neu/CD/88985352272.html

Pascal Dusapin: 'Wenn Du dem Wind' for mezzo-soprano and orchestra,'Aufgang' for violin and orchestra, 'À quia' for piano and orchestra

Natascha Petrinsky (mezzo-soprano)
Carolin Widmann (violin)
Nicolas Hodges (piano)
Orchestre National des Pays de La Loire
Pascal Rophé (conductor)
BIS-2262 (Hybrid SACD)
http://bis.se/conductors/rophe-pascal/pascal-dusapin-concertante-works
Mozart: Piano concerto No.20 in D minor (cadenza by Beethoven) plus Piano Sonata Nos. 3 & 12
Seong-Jin Cho (piano)
Chamber Orchestra of Europe
Yannick Nézet-Séguin
Deutsche Grammophon 483 5522
https://www.deutschegrammophon.com/gb/cat/4835522
'BAÏKA' – Khachaturian: Violin concerto in D minor & Trio for clarinet, violin and piano; Rimsky-Korsakov: Scheherazade suite arr. for violin, string ensemble and piano by Sedlar; A. Sedlar: Savcho 3
Nemanja Radulovic (violin)
Andreas Ottensamer (clarinet)
Laure Favre-Kahn (piano)
Double Sens (ensemble)
Borusan Istanbul Philharmonic Orchestra
Sascha Goetzel (conductor)
Deutsche Grammophon 479 7945
https://www.deutschegrammophon.com/gb/cat/4797545
11.45am – Disc of the Week
Shostakovich: Cello sonata in D minor & 'Moderato' for cello and piano; Kabalevsky: Cello sonata in B flat major & Rondo in memory of Prokofiev; Prokofiev: Ballade in C major & Adagio 'Cinderella and the Prince'
Steven Isserlis (cello)
Olli Mustonen (piano)
Hyperion CDA68239
https://www.hyperion-records.co.uk/dc.asp?dc=D_CDA68239