Main content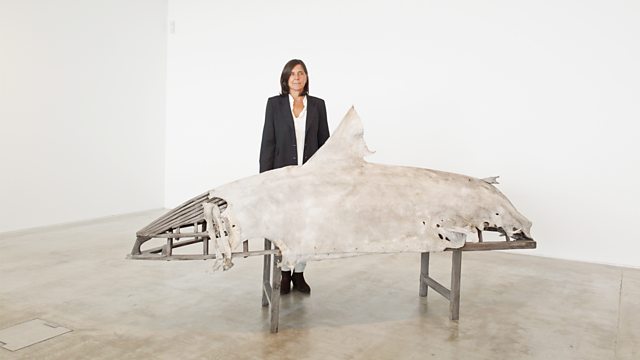 Dorothy Cross: Shark
Irish artist Dorothy Cross has long been fascinated and inspired by sharks. She is out on a boat in the North Atlantic, searching for basking sharks and poems.
An ode to sharks by Irish artist Dorothy Cross.
With fossil records dating back 400 million years, sharks have outlived most life forms on the planet. They are essential to the natural order of marine ecosystems, but so little is really known about them. Dorothy Cross is fascinated and inspired by these majestic fish. She's shared a canoe with a shark caller in the South Pacific, swum beneath Hammerheads in the Galapagos and, in this programme, she's out on a boat off Malin Head, the northern most tip of Ireland, in search of basking sharks and poetry.
Poems include Norman MacCaig's Basking Shark, Mirror by Silvia Plath, Flying Fish: An Ode by Charles Wharton Stork, Herman Melville's Maldive Shark and Behind Me Dips Eternity by Emily Dickinson. Poetry readers are Eleanor Bron, Bill Paterson and Fiona Shaw.
Produced by Kate Bland
A Cast Iron Radio production for BBC Radio 4