Main content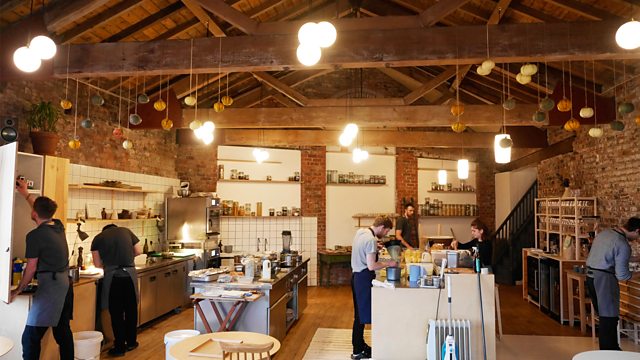 Who are the new generation shaking up the food system?
Who are the new voices pushing for change in the food system? Food campaigners, business innovators and creative cooks from around the UK join us to start a search for new talent.
Who are the new voices pushing for change in the food system? Sheila Dillon hears from Alice Thompson of Social Bite, a charity that distributes over 100,000 hot drinks and meals to Scotland's most vulnerable people every year from its sandwich shops and every Monday afternoon they invite people experiencing homelessness to their restaurant Vesta for a free sit-down two-course meal.
Sheila also meets Ben Adler who was the husband of TV producer Pat Llewellyn who made stars of the Two Fat Ladies and Gordon Ramsay and launched Jamie Oliver's TV career.
Pat died of metastatic breast cancer in October 2017 and we hear from Jamie Oliver about his memories of Pat and what made her so good at nurturing new talent.
To honour the impact Pat had on the food industry the Food and Farming Awards is launching a Pat Llewellyn New Talent Award. It will see Ben and his co-judge Barney Desmazery, Senior Food Editor at BBC Good Food, on the search for fresh voices in the food system who could be campaigners, innovative cooks and people taking a different approach to a food or drinks business.
To understand more about the types of people they might be looking for they met one of the strongest but lesser-known voices in the food system today. At Where The Light Gets In restaurant in Stockport they met founder Sam Buckley who is taking a new approach to every facet of running a restaurant with unflinching principles when it comes to responsibility for his staff and for the environment.
We also hear from last year's Food and Farming Awards winner Kimberley Bell and our Future Food Award judges entrepreneur William Kendall and the Oxford Cultural Collective's Don Sloan meet Safia Qureshi who is building an alternative to disposable cups with her business CupClub.
Producer: Tom Bonnett
Last on
Broadcasts