Main content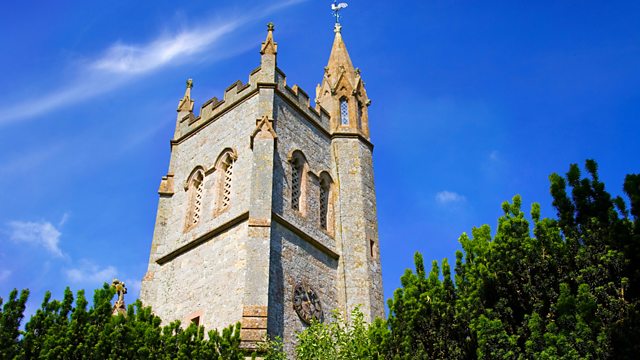 Seeing Salvation
When Simeon looked into the eyes of Jesus he saw the future in a baby. All age worship from Holy Trinity Platt in Manchester celebrating young people as part of God's church.
When Simeon looked into the eyes of Jesus he saw the future of humanity in a baby. All age worship from Holy Trinity Platt in Manchester celebrating young people as part of God's church. Praise to the Lord the almighty (Lobe Den Herren), Come and stand before your maker (Stuart Townend, Andrew Christopher, Dustin Kensrue), All through history (Nick & Becky Drake), Luke 2:25-35, The Lord is my salvation (Keith Getty, Kristyn Getty, Nathan Nockels and Jonas Myrin), Reckless love (Cory Asbury, soloist Katie Ritson), O for a thousand tongues to sing (Lyngham), Preacher: the Revd Steve James, Leader: the Revd Dr Paul Mathole, Youth & Children's Minister: Sarah Bradley, Music Director: Olly Hamilton, Producer: Andrew Earis.
Script
Opening Announcement
BBC Radio 4, time now for Sunday Worship which comes this morning from Holy Trinity Platt in South Manchester. The preacher is the Rector, Canon Steve James and the service is introduced by the Associate Minister the Reverend Dr Paul Mathole.
 
PAUL
Good morning and a warm welcome to Manchester.
From where we are in our church, you can see the skyline of our great city. The thing about Manchester is there are building cranes everywhere - new offices and apartments are rising to house the vibrant, energetic life of the city. People are drawn here, seeking to live and work, to make connections or to make a home.
 
And as a church in the city, we're aware of that growing life... We have the joy of welcoming people from different ages and stages, young and old, and from many different nations. And with it comes an opportunity... to help people raise their eyes, above even our great city's skyline, and see Jesus.
 
Leading the service with me this morning is our Youth and Children's Minister Sarah Bradley. We begin by singing our opening hymn, praising God for all we have - for our life and health and salvation. Praise to the Lord, the almighty, the King of Creation!
 
MUSIC PRAISE TO THE LORD  
SARAH
Today is the Sunday when churches remember the young boy Jesus –still a baby - being brought to Jerusalem and presented at the temple by his parents. It was all part of the process in Jewish tradition, of the mother and child being received back into the community after a birth. That theme gives us opportunity, in our service today, to celebrate the contribution young people make to any church. The combination of everyone, young and old, children, teenagers, students, adults and the elderly - from many a nation - is something we delight in, as it reminds us of the kingdom of God.
This is the Church of England's prayer for this day. We say together:
[All]
Lord Jesus Christ,
light of the nations and glory of Israel:
make your home among us,
and present us pure and holy
to your heavenly Father,
your God, and our God.
Amen
 
MUSIC COME AND STAND BEFORE YOUR MAKER 
Stuart Townend
PRERECORDED SECTION 1
SARAH
Jesus was welcomed with his family in the temple. We too want people of all ages to feel welcomed into God's family as, Sunday by Sunday we enjoy being together here in church.
Later in the service, our Rector, Canon Steve James, is going to be teaching us from Luke chapter 2 about a man called Simeon who was waiting...
 
I wonder if you like waiting for things? Probably not, we're often pretty impatient, aren't we?
There are lots of things that we have to wait for, some that are good, some that aren't so good!
Waiting for our birthday can be hard but it's exciting… waiting for the dentist or to sit an exam might not be so exciting!
We all have to wait for things - buses, trains, people to get ready, post to arrive, traffic lights to change, food to cook…
 
A recent survey in 2017, tried to add up how long we spend waiting for things in life. They worked out that on average when you add up all the times we wait, we spend around 25 days of our lives waiting for a bus, and 24 days of our lives waiting in a surgery to see a doctor!
I wonder if you can guess...
(Congregation participation!)
 
How many days of our lives do we wait for Film/TV programmes to download on the internet?
24 days!
 
How much time do we spend waiting in traffic?
37 days of our lives! Can you believe that?!
 
How many days do parents/carers wait to pick up children at the school gate?
17 days
How many days do you spend waiting in a supermarket queue?
25 days
Thankfully we don't have to wait 25 days all in one go!
Waiting is hard, it can seem like a waste of time... We can wonder if it's worth waiting and sometimes we wonder if anything good will happen at the end of a long time of waiting!
 
Simeon had been waiting a lot longer than 17 days or even 37 days. He'd been waiting his whole life for God to fulfil a promise he'd made - he knew it would happen before he died, but he had been waiting ages. He knew that God would keep his word and he knew it was worth waiting for. And we'll hear more about that later in our sermon...
 
Now we're going to sing... it's a song that reminds us of 4 characters in the Bible who had long periods of waiting for God to act - but continued to trust that he was good and strong in all he did. It begins with Noah -  God is always worth waiting for.
 
[during tx band and singers to remain silent, congregational singing maybe added]
NOAH BUILT THE MOST ENORMOUS BOAT
All Through History   by Nick and Becky Drake
PAUL
Our reading is from the gospel of Luke, chapter 2 starting at verse 25. It's read by Esther, a member of 'Plattform', our 14s-18s youth group.
Esther: Luke 2:25-35
25 Now there was a man in Jerusalem called Simeon, who was righteous and devout. He was waiting for the consolation of Israel, and the Holy Spirit was on him. 26 It had been revealed to him by the Holy Spirit that he would not die before he had seen the Lord's Messiah. 27 Moved by the Spirit, he went into the temple courts. When the parents brought in the child Jesus to do for him what the custom of the Law required, 28 Simeon took him in his arms and praised God, saying:
         29 "Sovereign Lord, as you have promised,
      you may now dismiss your servant in peace.
         30 For my eyes have seen your salvation,
         31 which you have prepared in the sight of all nations:
         32 a light for revelation to the Gentiles,
      and the glory of your people Israel."
33 The child's father and mother marveled at what was said about him. 34 Then Simeon blessed them and said to Mary, his mother: "This child is destined to cause the falling and rising of many in Israel, and to be a sign that will be spoken against, 35 so that the thoughts of many hearts will be revealed. And a sword will pierce your own soul too."
 
 
PAUL
Simeon said "my eyes have seen your salvation". Our next song picks up that idea and speaks of what it is to have an experience of grace.
MUSIC - THE GRACE OF GOD HAS REACHED FOR ME –
Keith and Kristyn Getty
 
Steve James - Sermon
I'm at that particular age where I'm targeted by online marketing.. [how do they know your age?] and so I  get bombarded by  these wonderful pictures of grey haired couples in fabulous locations all over the globe – under the title ..50 things to do before …the unmentionable..before you die
The Grand Canyon, the Great Barrier reef, historic Petra.. There's a whole industry dedicated to helping you make your bucket list – one is a guide "to making the most of your time on Planet earth", including, curiously – throw yourself into the night-life of Liverpool.. absolutely fantastic which might well finish me off!
All this advertising reveals something significant about ourselves – something people have named FOMO – the Fear of Missing out -You see it in what's called social media  envy – those lovely pictures of people living a life  that feels unobtainable.. Fomo..
Of course it's a contemporary  problem of the affluent –we know  some people in our communities are unable even to put a roof over their heads – but who doesn't feel that fear of getting to the end of your life – and not getting your money's worth!
And lurking behind that is the fear that something is coming down the tracks that is bigger than all of us – and we can't do anything about it.. and then we will miss out.. because we know .. we are fragile, we break, we are sinful even, and we are very human.
And into all this steps old man Simeon – not a big star of the gospel story but one whose words many churches sing each Sunday as the Nunc Dimittis – he was waiting in the temple for the consolation of Israel - the hope of Israel - and he says.. I'm ready to die now. It's Its not because he's unhappy.. or he is in great suffering.. no.
At this moment.. in his life he declares himself supremely satisfied.. He's ready to go.. He's completed His List. And amazingly.. His list has only one thing on it.. one thing to see, one thing to know.. and it's this. Salvation.. and it's come as a baby.
50 things to do before you die? Simeon says there's only one. "Lord now let your servant depart in peace, for my eyes have seen your salvation which you have prepared before the face of all people".
Of course all parents love to see their children praised, and there is something right and touching about the elderly welcoming the very young into a place of worship.
But as Mary and Joseph handed Jesus over to Simeon, Simeon wasn't being over-the-top. He knew, as Mary and Joseph were told, that this was no ordinary child. This was the promised Wonder-child.. He doesn't just bring consolation, and salvation  He IS  Salvation!  To have Him is to have everything.. As we sometimes sing in that lovely old hymn Fairest Lord Jesus, "All fairest beauty, heavenly and earthly, Jesus my Lord in thee I see".
. There's no other way to put this, but we are in greater difficulty than we thought – we are like a hard drive that has all the data but is corrupted or disordered in some way.. and that affects our wants and desires.. our loves can become obsessions.. and our lives easily lived for  this world only – we get curved in on ourselves. But Simeon knows the Old Testament prophecies. One will come who is called "Immanuel" -  who will save us and restore us. And how?
As the great 17thC preacher Bishop Lancelot Andrewes said – the clue is in the name. If El stands for God, the Immanu -El means "the With-us God". He puts us before Himself, to enter into our world and lives, to be fragile, and to break on a cross on our behalf.
I was greatly struck by that dramatic rescue of the young young Thai football team last year.
They had gone nearly 3000 meters into the cave complex.. The only means of rescue were for specialist divers to go inside.. at the risk of their lives.. one died in the process and was rightly made a hero.. the divers had to go through the same experience of the boys in order to save them, – to enter into their world and feel what they feel.
So as Simeon holds this human yet divine baby, he is saying.. Salvation has truly come - on the inside- with an almost reckless love, in order to open a way out.
50 Things to do before you die ... or just this One big thing? We can endlessly please ourselves. But at what cost? What of the cost not just to us but to the next generation?
There is, in every heart, a conflict over Christ. Simeon said as much – He, Jesus, is set for the rising and falling of many in Israel he said. It's the same for all of us. To let go of your own desires for the One Great Desire of all nations, Christ, is not easy. Even Mary would have to give up the Son she loved for a higher purpose.. Simeon said a sword would pierce her soul, just as the nails that brought our salvation would pierce Christ's hands and feet on the cross.
What to do? Take a deep breath. As I once said in a moment of risky boldness to someone - wouldn't you be kicking yourself to get to the end of your life having never really looked at that one great question… of  this God to ask what does this God think of you and me. That would be truly to Miss out! 
So then…. Like Simeon metaphorically - Take Jesus into your arms.. draw Him to your heart.. and Jesus will take you in His arms and draw you into His heart. This may not be the life-gift you expected this morning. But it turns out, there's only one thing you need to do before you die.

MUSIC - BEFORE I SPOKE A WORD  - SOLO SONG – KATIE RITSON WITH VOCODER AND BAND
Reckless Love  Cory Asbury
PRERECORDED SECTION 2
SARAH
Katie Ritson singing 'Reckless Love'. Our prayers today are led by one of our church families here at Platt - Richard, Gaby, Suzannah, Harriet and Tobias
 
[Harriet] Dear Father God,
We thank you for our church here in Manchester, for the opportunity that we have to meet
together every week, and for our leaders who help us understand what the bible says. Amen
[Suzannah]  We pray for our country and ask for your blessing on our nation. As our country faces uncertain times, please bring wisdom and strength to our politicians as they make difficult decisions about our future. Amen
[Richard] Just as the Lord Jesus made time for the little children and blessed them, we pray for your blessing on the young people of our country. We pray that young people everywhere  would come to know that they are made in God's image and precious in his sight, and so see the part they can play in their communities. Amen
[Tobias] We pray for our world and for all those who need your love and care at this time. Please be with all those who live in poverty, those who are suffering from war, and those who have been affected by natural disasters. Amen
[Gaby] Lord God we lift up to you all those who are in need. We pray that your peace would rest upon those who are troubled, your love would surround those who are lonely, your hope would lift those who are grieving, and your healing hand would be on all who are sick. Amen
 
SARAH
We say the Lord's prayer together
 
[All:]
Our Father in heaven,
hallowed be your name,
your kingdom come,
your will be done,
on earth as in heaven.
Give us today our daily bread.
Forgive us our sins,
as we forgive those who sin against us.
Lead us not into temptation
but deliver us from evil,
for the kingdom, the power,
and the glory are yours
now and for ever.
Amen.
 
PAUL
Simeon saw Jesus and he cried out in praise. So can we. We finish with Charles Wesley's great hymn, 'O for a thousand tongues to sing'.
 
MUSIC - O FOR A THOUSAND TONGUES TO SING
 
PAUL
[Final Blessing]