Main content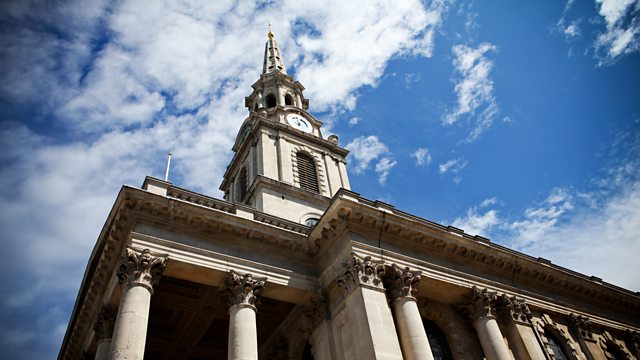 Holocaust Memorial Day
A service of remembrance and reflection for Holocaust Memorial Day from St Martin-in-the-Fields.
A service of remembrance and reflection marking Holocaust Memorial Day from St Martin in the Fields.
The service is led by the Revd Katherine Hedderly and the preacher is the Revd Dr Sam Wells.
Reading: Genesis (chapter 12: 1-3)
Music:
Introit – Kyrie (James Whitbourn)
The God of Abraham Praise (Leoni)
Theme from Schinder's List (John Williams)
Adonai ro'i lo echsar (Psalm 23) (Gerald Cohen)
Prayers in Time of Distress (Philip Moore)
Sim Shalom (Grant us Peace) (Sarit Aloni)
Within Our Darkest Night (Taizé)
Great is Thy faithfulness (Faithfulness)
St Martin's Voices:
Directed by Andrew Earis
Organist: Ben Giddens
Producer: Dan Tierney.
Script
Please note:
This script cannot exactly reflect the transmission, as it was prepared before the service was broadcast. It may include editorial notes prepared by the producer, and minor spelling and other errors that were corrected before the radio broadcast.
It may contain gaps to be filled in at the time so that prayers may reflect the needs of the world, and changes may also be made at the last minute for timing reasons, or to reflect current events.
Opening Announcement [from Continuity] (For programmes on Radio 3, 4 and 4 Extra)
On this Holocaust Memorial Day, Sunday Worship comes live from St Martin in the Fields. The Vicar, the Reverend Dr Sam Wells is the preacher and the service of remembrance and reflection is led by the Reverend Katherine Hedderly.
Choir - Kyrie 
[After 10 seconds Katherine begins….]
The Holocaust refers to a time when an evil ideology engulfed a political and social system such that perverse people did terrible things on an unprecedented scale causing untold and unimaginable pain and damage. Holocaust Memorial Day is the anniversary of the day in 1945 when allied troops entered Auschwitz, the largest concentration camp.
[Music continues with choir singing Kyrie…..
Then piano continues underneath….]
Some words from a poem by survivor Elie Wiesel express the legacy of the Holocaust.
Rosanne
Never shall I forget the small faces of the children whose bodies I saw transformed into smoke under a silent sky.
Never shall I forget those flames that consumed my faith for ever.
Never shall I forget the nocturnal silence that deprived me for all eternity of the desire to live.
Never shall I forget those moments that murdered my God and my soul and turned my dreams to ashes.
Never shall I forget those things, even were I condemned to live as long as God himself.
[Music continues with choir singing Kyrie…then music stops….]
Katherine
The Shoah, or annihilation, as Jews call it, did not come out of a clear blue sky. It had historical, social and theological roots. And many people see those attitudes, threats and portents in the rise of antisemitism near and far. So we mark this day, not in a bland assumption of 'never again,' but in a purposeful desire to understand how, repent of why, and work for the eradication of hatred and persecution.
Let us pray.
God of judgement and mercy, you called your people Israel to be a blessing to all nations, and you sent your apostles into all the world to be ambassadors of reconciliation. Heal the memories and guide the imagination of those who recall the Holocaust. Visit those places where hatred could surface again. Turn cruel hearts to peace and understanding. And build in your people trust and wisdom and grace. Through him who is your grace. Amen.
The God of Abraham Praise is a version of the Jewish hymn 'Yigdal,' adapted by the evangelist Thomas Olivers after a visit to the Great Synagogue of London in 1770.
Hymn The God of Abraham Praise
Yigaddel Elohim chay weyishtabach
Daniel Ben Judah (fl 14th century), Thomas Olivers (1725-1799)

Katherine 
There are more prayers of lament in the Bible than any other kind of prayer. In lament we set our circumstances alongside God's goodness and call on God to make up the difference. Here we offer a lament for the Holocaust. 
Frances and violin – Lament
[Begins with theme of Schindler's List……violin and piano….then piano improv under speech….]
God, we fear your action, but sometimes we protest your inaction even more. Why did you let your people be led like lambs to the slaughter? How could you look on as they were transported and gassed and humiliated and worked to death and deprived of hope, dignity, and life itself? You watched parents being killed besides their children, systematically exterminated and almost obliterated from the earth. How can such evil be possible in your creation? What demon can have possessed those who did it? What utterly remote good could ever come from it? What punishment could ever do justice to it?
These are your people. You called them by name; you led them beside still waters; you restored their soul. But then they were taken to camps and starved and murdered. Did this cause you as much pain as it caused your people? Did you sit by the waters of Babylon and weep?
How can anyone ever trust again, believe again, hope again, restore and build and plan? How do your people ever cease to look over their shoulder and fear the worst from sinister words and deeds? How will this indescribable scar ever be healed?
You have shown us the evil we are capable of. We recognise ourselves in the many who knew but remained silent, who colluded and denied. Yet you are the God who works good out of evil. In the depths of your mercy, work a good that is even greater than this evil. Show us that you are Lord even over this apocalypse of horror. Make our every step one of humility, of wisdom, of courage, and of truth. Amen.
[Violin re-emerges….theme of Schindler's list again….] 
Katherine
Rabbi Laura Janner-Klausner and Robert Pfeiffer tell us of their contrasting family legacies of the Holocaust, between which we hear Gerald Cohen's setting of Psalm 23.
 
Laura - Testimony
I love Psalm 23, Adonai roie, God is my shepherd.  This psalm resonates deeply with the connection that so many, including me, have with the Shoah, the Holocaust. I feel that we still walk in the valley of the shadow of death - in the shadow of the Holocaust, as the shadow one of humanity's greatest evils affects us.
My family originates from a small village in the centre of Lithuania where there once was a thriving Jewish community. My grandfather was born there, but left at the age of 3 to come to Britain. That small part of our family was saved by being here - the rest did not have that blessing. During just one day in the Shoah, the Nazis and Lithuanian collaborators rounded up the rest of my family along with 2000 other local Jewish residents, hurled them into their synagogue, locked the door and burnt it to the ground, murdering them all.
I was brought up appreciating the enormity of what we had escaped, but that so much of my family had not. This memory, this shadow, has dictated who we all are. After the war, my late father served was a war crimes investigator for the British Army, identifying criminals in Germany and bringing them to justice. I was always, always made to appreciate the safety we have in this country and the safe haven that the State of Israel provides for Jews the world over. I feel it became my duty to fight and ensure that 'never again' wasn't a slogan, but a reality for all peoples.
My life - my existence, even just breathing - is such a blessing. Whilst it may be lived in the valley of the shadows of the past, I know that other words of Psalm 23 are also true - in Hebrew, kosi revayah, my cup overflows. My life overflows with blessings and it is my duty to appreciate every one of them and to play my part in multiplying the blessings we all enjoy in our society. 

Choir - Adonai ro'i lo echsar (Psalm 23) – Gerald Cohen 

Robert - Testimony
I want to tell you what my grandfather did in the war. This is what he told me.
'I was a talented mathematician and engineer. After my graduation in the early thirties it was hard to find a job, even with the best qualifications. I witnessed the street fights between the communists, the national socialists and the social democrats. The country was out of control. I was not interested in politics. When the construction of streets and bridges across Germany started, my skills were in high demand and I joined the NAZI's state construction organisation and the NAZI party. I was given extraordinary responsibilities for a young engineer. I designed large bridges, using new ground breaking technology.
'When I was offered a job in occupied Poland, I did not ask who had lived in the house before my young family and I moved in. Nor did I enquire about the fate of the Poles, Communists, gypsies, disabled people and Jews that were rounded up and transported away. Our construction sites increasingly used slave labour, the longer the war went on: Russian prisoners of war and inmates from the concentration camps. I had no responsibility for these workers; I asked no questions.
'When I was transferred to northern Norway to help turn the country into a fortress, the engineering challenges in the artic mountains and fjords were formidable. We had to use tens of thousands of Russian prisoners of war. I heard they were dying in their thousands in our labour camps, but I went on working hard on calculations and designs. I was part of a group of engineers who, at the end of the war, designed a new underground central command for Hitler in occupied Poland. Concentration camp inmates started to build an underground city and died in their thousands. I had no responsibility for the workers and had been sworn into secrecy. I never talked about it until the end of my life.'
That's what my grandfather did. I don't know what to say to him. But at the very least I want to say, 'Opa, you knew what you were doing. You knew what the Nazis were doing. And you did nothing to stop it.' 
Anthem: Final section from Evening Prayer of Dietrich Bonhoeffer – Philip Moore
[O merciful God, forgive me all the sins I have committed against
Thee and against my fellow men.
I trust in Thy grace and commit my life wholly into Thy hands:
Do with me as seemeth best to Thee and as is best for me.
Whether I live or die I am with Thee and Thou art with me, my god.
Lord, I wait for Thy salvation and for Thy kingdom.] 
Katherine
The final section of Dietrich Bonhoeffer's 'Prayers in Time of Distress,' set by Philip Moore. After our reading, our preacher is Sam Wells.
 
Frances - Reading
A reading from Genesis, chapter 12 (1-3)
Now the Lord said to Abram, 'Go from your country and your kindred and your father's house to the land that I will show you. I will make of you a great nation, and I will bless you, and make your name great, so that you will be a blessing. I will bless those who bless you, and the one who curses you I will curse; and in you all the families of the earth shall be blessed.'
 
Sam Wells - Sermon
It was 1986, and I was in northern Israel. A few weeks before I'd asked my uncle where it was that my grandparents had lived when they were there in the early fifties. It was that address that I held in my hand as I wandered around Haifa one August morning.
My grandparents were Jews from in Kiev. They converted to Christianity and escaped Stalin's Soviet Union in the 1920s. They came to Berlin, where they married and had three children. They fled Hitler's Berlin in 1938 and arrived in London as refugees. Over the next few years they shared their Christian faith with Nazi prisoners of war.
Still holding my uncle's scrap of paper, after a lot of searching, I stood before the dwelling where my grandparents had lived. I was open-mouthed: I said to my companion, 'I've been here before!' Two years previously I'd worked on a kibbutz, and one Sunday I'd travelled into Haifa to go to church. After the service, kind people said 'Come back to our youth hostel for lunch.' It turned out that very same youth hostel had once, 35 years previously, been my grandparents' home.
I want you to hear this story as a fourfold analogy for the church's relationship to the Jewish people. I want first to reflect on how it felt to find a house and to realise I'd been there before. That's what it's like for Christians to encounter Judaism. Christians seldom appreciate why Jews don't follow Jesus. Christians have tended to treat Jews as people who get half the story, have half a history, and read only half the Bible. But that's a colossal misunderstanding. Because Judaism since the first century AD has developed profound traditions of which many Christians are entirely unaware.
The reason I say this is like finding a house you've been in before is that when Christians truly come to know Judaism, and find out what makes their Jewish neighbours tick, they discover a tradition that in many respects puts their own tradition to shame. Christians need to recognise with utmost humility that someone else has been living in this house for a long time. Christians who dwell with Jews as they live and breathe their tradition quickly discover they've been living an impoverished spiritual life.
Next I want to ponder what it meant to realise this house in Haifa was inhabited by my ancestors. Judaism isn't simply another faith. It's the parent of Christianity. It's the manger in which Christ is laid. The incarnate Jesus is a Jew. The risen and ascended Jesus, sitting at the right hand of the Father, is still a Jew. Jewishness is part of the Holy Trinity. God's promise to Israel is not broken. The Jews are still the chosen people.
It's Christianity's sin, perhaps the greatest of all its many sins, to have forgotten this. Medieval Europe found diversity difficult to comprehend. Jews were vilified and persecuted. The universal ban on usury inhibited the economy. The Jews' willingness to break the usury ban became vital to finance, and a source of enrichment to some Jews; but at the same time it became a pretext to despise and yet envy the Jews. Christians who rejoiced in the salvation Jesus brings seemed meanwhile eager to make every Jew culpable for the crucifixion. This tendency to ostracise, blame, fear and yet depend on the Jews culminated centuries later in the Holocaust.
Christians today think of the Holocaust as part of the horror of the Nazis and the rationale for the slaughter of the Second World War. But we don't dwell sufficiently on those events as a religious catastrophe. We perceive Jews wondering why God did not prevent this apocalyptic swathe of death; but we seldom recognise that its justification was based on a thousand years of Christian antisemitism. The Holocaust was an act not just of genocide but of fratricide – these were not vulnerable strangers, but our brothers and sisters. This was my family.
Which brings me to the third element of my search. It was complicated. It took me till well into adulthood to begin to disentangle the German, Jewish and Ukrainian parts of my family's story, and so much of it was shrouded in secrecy, anxiety and fear. And this confusion has characterised Christian interaction with Jews since the Holocaust. A sense of guilt, shame and pity has created a reticence in talking about faith and identity; and that has led to treating Jews not as family, but as an imprecise other faith, or racial minority, or interest group.
I want to finish with a fourth image from the story. Imagine yourself as that young adult searching around Haifa holding a scrap of paper. That scrap of paper is the Bible, which is a gift to Jews and Christians; and yet that scrap of paper is also 2000 years of history, in which Christianity has shown all its worst features in relation to the Jews. And when you do find the right address, you'll find a dwelling place where Jews and Christians are together a blessing to one another and to the world. Because that's what God's promise to Abraham was originally about: bestowing a blessing upon all the families of the earth.
In Genesis 12 God says to Abraham, 'I will bless those who bless you, and the one who curses you I will curse.' Can Christians really say they have blessed the Jews? Genesis 12 goes on to say, God called you to be a blessing to all the peoples of the earth. That's what Jews are called to be: a blessing.
And we Christians owe our existence to them. We have to admit: we really have made a terrible job of saying thank you.
Lord, have mercy upon us. Christ, have mercy upon us. Lord, have mercy upon us.
 
Anthem: By gracious powers – William Bradley Roberts 

Katherine
William Bradley Roberts' setting of Dietrich Bonhoeffer's hymn, By gracious powers. Let us pray.
[Prayers – with prayer chant 'Within our darkest night']
Within our darkest night…. (Voices + violin + piano)
Rosanne
Forgiving God, we recognise before you and before one another that the people who perpetrated the Holocaust were people like us, many of them Christian, many of them engulfed by the demon of Nazism. We confess before you our complicity in discriminatory practices and attitudes and our slowness to stand up for dignity and justice.
Within our darkest night…. (Voices + violin + piano)
Frances
Restoring God, by your Holy Spirit walk with any who are burdened by memories of hurts undergone or perpetrated that are hard to erase and scar body and mind. Turn the legacy of suffering into mercy, understanding and grace. Uphold the people of Germany as a beacon of honesty, transformation and humility.
Within our darkest night…. (Voices + violin + piano)
Rosanne
God of justice, we name before you the genocides of Cambodia, Rwanda, Bosnia, and Darfur. Move within each of those countries and regions and turn evil into good, hatred into understanding and persecution into partnership. Lift the hearts of all who are in the midst of terrible suffering today.
Frances
The Ashkenazi morning blessing is set here by the Canadian composer Sarit Aloni.
Choir - Sim Shalom (Grant us peace) – Sarit Aloni 
Katherine - Lord's Prayer and Blessing
In this Week of Prayer for Christian Unity, we join in the words our saviour taught us. Our Father, who art in Heaven, hallowed be thy name; thy kingdom come, thy will be done on earth as it is in heaven. Give us this day our daily bread; and forgive us our trespasses as we forgive those who trespass against us; and lead us not into temptation, but deliver us from evil. For thine is the kingdom, the power and the glory, for ever and ever. Amen.
Rabbi Laura joins me in offering the blessing in Hebrew and in English.
Laura
(Y' va-re-che-cha Adonai v'yish-mire-cha
Ya-er Adonai panav elei-cha vihu-necha
Yi-sah Adonai panav elei-cha
V'ya-sem l'cha shalom v'ya-sem l'cha shalom)
Katherine
The Lord bless you and keep you; the Lord make his face to shine upon you, and be gracious to you; the Lord lift up his countenance upon you, and give you peace. Amen.
The book of Lamentations contains these consoling words: the steadfast love of the Lord never ceases; his mercies never come to an end. They are new every morning. Great is thy faithfulness. Our final hymn.
 
Hymn: Great is thy faithfulness
Organ Voluntary