Main content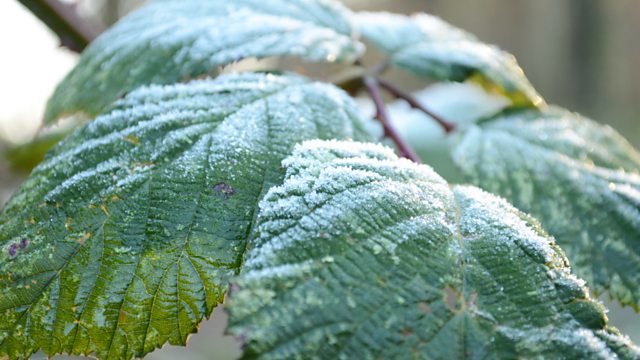 South Lanarkshire
Eric Robson hosts the horticultural panel programme from South Lanarkshire.
Eric Robson hosts from South Lanarkshire. Bob Flowerdew, Christine Walkden and Neil Porteus are on the panel, answering questions from the audience.
This week, the panellists advise on how to care for plants covered in snow, which varieties to introduce to an allotment orchard, and what to do with an unhappy Hydrangea.
They also offer planting suggestions that will bring winter drama to your borders, nominate plants that survive best when neglected, and offer tips on keeping an indoor banana plant happy.
Away from the questions, Neil Porteus visits the Mitchell Library in Glasgow to investigate the lasting impact of the 1988 Glasgow Garden Festival on the city.
Produced by Darby Dorras
Assistant Producer: Laurence Bassett
A Somethin' Else production for BBC Radio 4
Fact Sheet
Q – What does the panel suggest we do to be kind to plants hidden under snow?
Bob – Put stakes in so you know where the plants are so you don't stand on them
Christine – Knock heavy clumps off trees and shrubs otherwise just leave them to it
Neil – Knock the weight off young and delicate trees like Maples
Q – We're hoping to introduce and orchard at our allotment.  Are there any heritage varieties you could recommend?
Christine – Talk to local growers to see what thrives in your area
Bob – Heritage varieties aren't often that nice.  I have a 'Mere de Menage' that is supposed to be a lovely old cooker; but it's disgusting to eat. 
Eric – 'Ribston Pippin'.  'Keswick Codlin'.
Bob – You can get trees that have more than one variety on them
Q – When we moved home in 2011 we took our beloved Hydrangea bush with us.  Since then it hasn't really grown and hasn't flowered.  What can we do?
Bob – Dig it up and get rid of it.  After seven years you're not going to get much luck out of it.
Christine – Hydrangeas do need a bit of sun and warmth. 
Neil – You could put it in a pot with some leaf mould and see if you can break its dormancy.  You could replace it with a Berberis like wilsoniae. 
Q – How can I bring colour and drama to my borders during winter?  Are there any winter Clematis?
Neil – Clematis balearica rosa is flowering for me now.  Winter stems like Salix alba 'Yelverton'.  Bamboo like Chusquea culeou.  Borinda albocerea looks great in the winter. 
Christine – Mahonias like aquifolium.  Nandinas ('Sacred Bamboos') like the Firepower shrub.  Daphne bholua. 
Bob – Universal pansy.  Chop branches off evergreens like Hollies and stick them in the border to give the illusion that things are growing.
Q – Is there any plant that thrives on neglect?
Christine – 'Mother-in-Law's Tongue' is hard to kill. 
Bob – Most things, if put in well, will do ok left to their own devices
Neil – Ruscus like aculeatus or hypoglossum survive well in bad conditions
Q – What's wrong with my 'Red Robin' shrub and how can I fix it?
Neil – This is something you see quite often on Photinia and it's a bacterial leaf spot.  There's no magic spray.  Keep it happy, give it a good feed, and tidy up when the leaves drop.  It won't kill the plant but it doesn't look great. 
Q – I've got a rose bed where the roses have grown very tall and only have flowers at the very top.  What can I do?
Christine – I would hold back on the fertiliser.  It sounds like you're encouraging growth by being too kind. 
Bob – You could bend the tips down to encourage horizontal growth and you should get more flowers
Q – We recently acquired a banana plant.  How can we look after them in a classroom?
Bob – They're likely to get quite big.  Even dwarf ones can reach 9ft (2.8m).  Trim the side shoots.  In low temperatures they get 'choke' and it will finish them off.  They need to be above 50/55 Fahrenheit (10-13 Celcius).  They do need a lot of moisture too. 
Q – I received an Amaryllis for Christmas but the bulb was wrapped in wax.  What do I do with it now?
Bob – Poinsettias are the same; you'll struggle to get them looking good again the next year. 
Christine – Crack the wax and pop it in a pot.