Main content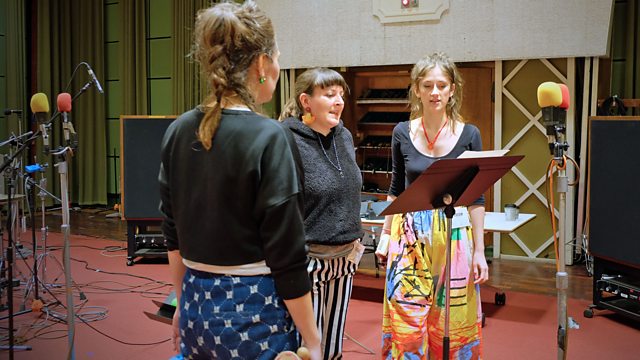 Jenny Moore, Merlin Nova and Ingrid Plum in session
A collaboration session between three vocalists presented by Max Reinhardt, a geometrically spaced piece for surround sound and 13th-century Ethiopian music from singer Ustad Saami
Three singular voices combine in the latest Late Junction collaboration session from the BBC's Maida Vale Studios. These artists haven't played together before, but have a day to create something brand new together.
Jenny Moore is a singer, composer, drummer, musical director, and live artist. Raised in Winnipeg, Canada, she moved to the UK in 2007 to study art and her current projects include Charismatic Megafauna, F*Choir, and Mystic Business. Her work has been described as "psycho-sexual choral-punk".
Merlin Nova is a radiophonic producer as well as occasional vocalist and keys player for cult rock band This Is Not This Heat. Her debut EP 'Protect Your Flame' - an explosion of song, sound, energy, and movement - was released in March 2018. She lives and works in London.
Ingrid Plum, who trained as an opera singer, currently combines sound art, contemporary classical, and folk music in her work. Her extended vocal techniques weave around field recordings and electronics to create layered soundscapes. Born in Copenhagen, she is currently based in Brighton.
But that is not all, oh no that is not all. Max plays Pauline Oliveros' geometrically spaced piece for surround sound and there's Ethiopian music with roots going back to the 13th Century from singer Ustad Saami.
Produced by Rebecca Gaskell for Reduced Listening.
Featured in...
We broadcast more live and specially-recorded concerts and opera than any other station.
Late Junction Albums of the Year 2018
The Late Junction Festival