Main content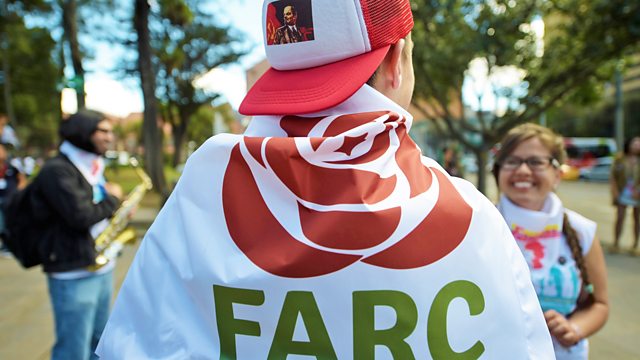 From Rifles to Roses
How Farc's former rebel commanders are adapting to life in Colombia's congress. Kate Adie introduces this and other stories from correspondents around the world.
To mark their transition from a heavily armed rebel group to a political party FARC has adapted the meaning of their name and replaced the rifles on their logo with roses. Mathew Charles finds out how some former guerrilla commanders are adapting to life as members of the Colombian congress.
Kate Adie introduces this and other stories from around the world:
As Greek MPs voted to accept a deal to end a dispute over the name of its northern neighbour 'Macedonia' a familiar cry echoed around the streets of Athens – Όχι. Paul Moss explores the long and proud history of the word 'No' in Greece.
In India, Masuma Ahuja visits a prison which some inmates refuse to leave even after the end of their sentences. Sanganer Open Prison has no guards at the gate, no walls or bars and is home to about 450 people.
In Romania, Chris Haslam meets farmers and craftsmen who blame the EU for the decline of traditional skills. The lure of better-paid jobs elsewhere can be difficult to resist for some young people.
And in Sweden, Dougal Shaw visits, what its manager likes to describe as, a "high-fashion, trash shopping-mall." At Retuna in Eskilstuna, everything on sale has either been recycled or upcycled but can it compete with mainstream shops?
Producer: Joe Kent