Main content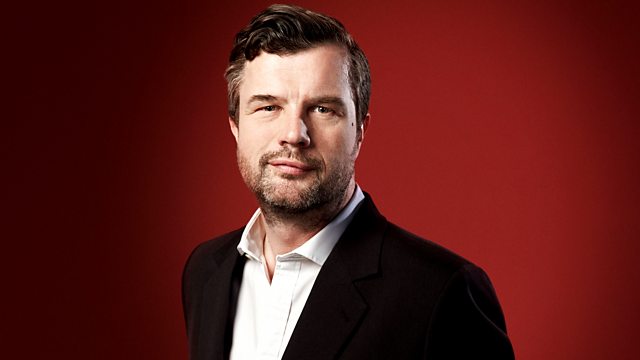 Monday - Petroc's classical rise and shine
Petroc Trelawny presents Radio 3's classical breakfast show, featuring listener requests.
Email 3breakfast@bbc.co.uk
Last on
Music Played
John Tavener

Song for Athene

Choir: Gabrieli Consort. Conductor: Paul McCreesh.

Robert Schumann

Arabeske in C major, Op 18

Performer: Vladimir Horowitz.

In the Hands of the Master: Vladimir Horowitz, The Definitive Recordings.
Sony Classical.

Ludwig van Beethoven

Romance in G major, Op.40

Performer: Christian Tetzlaff. Orchestra: Tonhalle-Orchester Zürich. Conductor: David Zinman.

Beethoven: Violin concerto etc: Tetzlaff/Tonhalle Orchestra Zurich/Zinman.
Arte Nova Classics.
4.

Johann Sebastian Bach

Glory be to God (Christmas Oratorio, BWV.248)

Choir: Monteverdi Choir. Orchestra: English Baroque Soloists. Conductor: Sir John Eliot Gardiner.

J S Bach, Christmas Oratorio.
ARCHIV.
008.

Gioachino Rossini

Sonata a quattro no. 4 in B flat major (3rd mvt)

Performer: Minna Pensola. Performer: Antti Tikkanen. Performer: Tuomas Lehto. Performer: Niek de Groot.

Rossini: Sonatas for Strings Nos. 4-6 – Hoffmeister: Double Bass Quartets Nos. 3.
BIS.
3.

George Frideric Handel

I embrace you (Rodelinda)

Singer: Rosemary Joshua. Singer: Dame Sarah Connolly. Orchestra: The English Concert. Director: Harry Bicket.

Handel Duets: The English Concert.
Chaconne.
2.

Vernon Elliott

Ivor The Engine Main Theme

Performer: The Vernon Elliott Ensemble.

The Vernon Elliott Ensemble - Ivor The Engine & Pogles Wood.
Trunk Records.
1.

Camille Saint‐Saëns

Bassoon Sonata in G major, Op 168 (1st mvt)

Performer: Ursula Leveaux. Performer: Ian Brown.

Saint-Saens: Chamber Music: The Nash Ensemble.
Hyperion.

Wolfgang Amadeus Mozart

Horn Concerto No 1 in D major, K 412

Performer: Hermann Baumann. Orchestra: Mozarteum Orchester Salzburg. Conductor: Leopold Hager.

Mozart: The complete wind concertos.
Teldec.

Johann Strauss II

Perpetuum mobile, Op 257

Orchestra: Berlin Philharmonic Orchestra. Conductor: Herbert von Karajan.

Simon Jeffes

Music For A Found Harmonium

Performer: Penguin Cafe Orchestra.

Broadcasting From Home.
Editions EG.
1.

Joseph Haydn

Cello Concerto in C major, H.7b.1 (1st mvt)

Performer: Steven Isserlis. Ensemble: Chamber Orchestra of Europe. Conductor: Sir Roger Norrington.

Haydn: Cello Concertos in C & D: Isserlis/Chamber Orchestra of Europe/Norrington.
RCA.

Francesca Caccini

Rendi alle mie speranza il verde

Singer: Shannon Mercer. Performer: Luc Beauséjour.

Francesca Caccini: O Viva Rosa.
Analekta.
3.

Michel Legrand

Andy Amoureux (Les Demoiselles de Rochefort)

Singer: Don Burke. Performer: Michel Legrand.

Les Demoiselles De Rochefort.
Universal Music France.
10.

Edvard Grieg

Norwegian Dance No.2

Orchestra: Gothenburg Symphony Orchestra. Conductor: Neeme Järvi.

Ralph Vaughan Williams

Old King Cole (Allegro moderato)

Performer: Sinfonia Chorus. Performer: Bradley Creswick. Orchestra: Royal Northern Sinfonia. Conductor: Richard Hickox.

Vaughan Williams: Old King Cole.
EMI.
2.

Antonio Vivaldi

Viola d'amore Concerto in A major, RV.396

Performer: Fabio Biondi. Ensemble: Europa Galante.

Tri Nguyen

Song of the Blackbird

Performer: Tri Nguyen. Performer: Buynta Goryaeva. Performer: Iryna Topolnitska. Performer: Caroline Berry.

The Art of the Vietnamese Zither.
ARC.
3.

Michael Head

A Blackbird Singing (Over the rim of the moon)

Singer: Sharon Carty. Performer: Andreas Frese.

Percy Grainger

Molly on the Shore

Ensemble: Kongelige norske marines musikkorps. Conductor: Bjarte Engeset.

Grainger: Complete Music for Wind Band, Vol. 1.
Naxos.
1.

Thomas Arne

Harpsichord Concerto No. 5 in G minor

Performer: George Malcolm. Orchestra: Academy of St Martin in the Fields. Conductor: Neville Marriner.

Frederick Delius

Légende

Performer: Tasmin Little. Orchestra: BBC Philharmonic. Conductor: Sir Andrew Davis.

The Lark Ascending.
Chandos.
4.

Marc‐Antoine Charpentier

Auprès du feu l'on fait l'amour, H446

Singer: Anne Sofie von Otter. Orchestra: Les Arts Florissants. Director: William Christie.

Anne Sofie von Otter: Ombre de mon Amant.
Archiv Produktion.
16.
Broadcast