Main content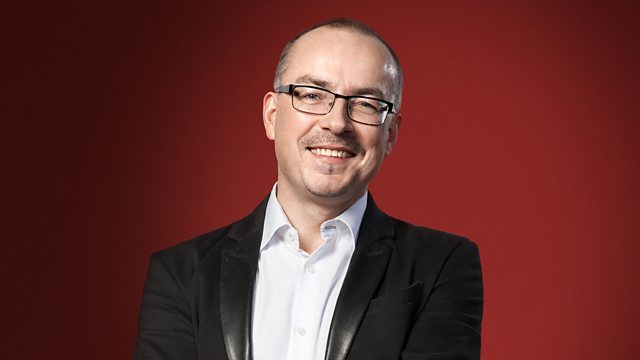 Andrew McGregor with Erica Jeal and Errollyn Wallen
Erica Jeal on Schumann's String Quartet No 3 in A, Op 41 in Building a Library and Errollyn Wallen reviews the reissue on CD of the 1970s CBS Masterworks Black Composers series.
with Andrew McGregor
09.30
Building a Library: Erica Jeal picks a personal favourite from among the recordings of Robert Schumann's String Quartet in A major Op. 41, No. 3.
Dedicated to his friend Mendelssohn, Schumann's three Op. 41 quartets come from an intensive two months in 1843, before which Schumann had assiduously studied the string quartets from the great masters of the medium: Haydn, Mozart and Beethoven. The third quartet betrays none of Schumann's frustration and gloomy moods as he struggled to come to terms with the shadow cast by his wife of nearly 3 years, the celebrated pianist (and main breadwinner) Clara.
11.00
Errollyn Wallen reviews the groundbreaking 1970s CBS Masterworks Black Composers Series, newly reissued for the first time on CD.
11.45
Andrew chooses an outstanding new release as his Disc of the Week.
9.30am – Building a Library – Erica Jeal on Schumann's String Quartet in A major, Op.43 no.3
Composer: Robert Schumann
Reviewer: Erica Jeal
Recommended Recording:

Takacs Quartet
Hyperion CDA67631
Other Recommended Recordings:
Zehetmair Quartet
ECM 4721692
Hagen Quartet
DG 4492142
Leipzig Quartet
MDG MDG3071610
Vertavo Quartet
Simax PSC1098
Gerhard Quartet
Harmonia Mundi HMN916108
10.15 - New Releases
Portraits – works by Mendelssohn, Rachmaninov, Barber, Mozart and others
Modigliani Quartet
MIRARE MIR414
http://www.mirare.fr/album/portraits
L'Opéra des Opéras (devised by Benoit Dratwicki) – composers including  Rameau, Campra, Leclair Marais
Katherine Watson (soprano)
Karine Deshayes (mezzo soprano)
Reinoud Van Mechelen (tenor)
Le Concert Spirituel
Hervé Niquet (conductor)
ALPHA 422
https://outhere-music.com/en/albums/l-opera-des-operas-alpha422
George Crumb – Metamorphoses (Book 1), Five Pieces for Piano
Margaret Leng Tan (amplified piano, toy piano, voice and percussion)
http://www.moderecords.com/catalog/303-crumb.html
Hector Berlioz – Harold en Italie, Les Nuits d'Ete
Tabea Zimmermann (viola)
Stephane Degout (baritone)
Les Siecles
Francois-Xavier Roth (conductor)
HARMONIA MUNDI HMM 902634
10.50am – Re-issues: Errollyn Wallen on Sony's Black Composers box
Black Composers Series including works by:
Joseph Bologne, Chevalier de Saint-Georges
Samuel Coleridge-Taylor
Ulysses Kay
Roque Cordero
José Maurício Nunes Garcia
José White Lafitte
David Baker
Olly Woodrow Wilson
George Walker 
Faye Robinson (soprano)
Sanford Allen (violin)
Doralene Davis (soprano)
Betty Allen (mezzo soprano)
William Brown (tenor)
Matti Tuloisela (bass baritone)
Morgan State College Choir
Janos Starker (cello)
Alain Planès (piano)
Aaron Rosand (violinist)
Richard Bunger (piano & electric piano)
London Symphony Orchestra
Detroit Symphony Orchestra
Baltimore Symphony Orchestra
Helsinki Philharmonic Orchestra
Paul Freeman (conductor)
SONY CLASSICAL M32781-10 (10 CDs)
https://africlassical.blogspot.com/2018/12/sony-classical-reissues-black-composer.html
11.45am – Disc of the Week