Main content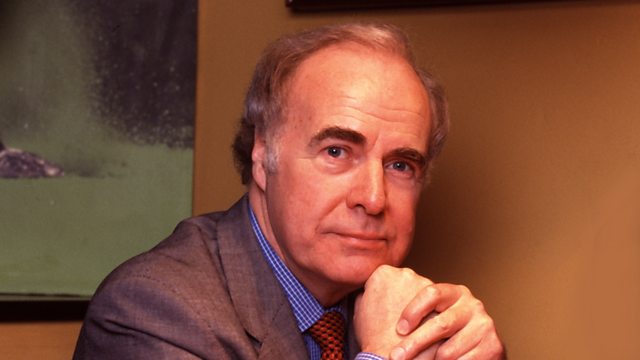 Hugh McIlvanney, Jennie Buckman, John Beavis, David Pritchard
Matthew Bannister on sports writer Hugh McIlvanney, theatre director Jennie Buckman, surgeon John Beavis, producer David Pritchard.
Pictured: Hugh McIlvanney
Matthew Bannister on
Hugh McIlvanney, the respected sports writer known for his love of language and combative approach to life.
Jennie Buckman, the theatre practitioner who trained a generation of famous actors and founded a company to give voice to the disadvantaged.
John Beavis, the surgeon who was forced to retire from the NHS through ill health but then spent the next 25 years training medical professionals in war zones around the world.
And David Pritchard, the TV producer who created mould-breaking food programmes featuring Keith Floyd and Rick Stein.
Producer: Neil George
Interviewed guest: Roddy Forsyth
Interviewed guest: Sir Michael Parkinson
Interviewed guest: Tess Woodcraft
Interviewed guest: Adrian Lester
Interviewed guest: Colin Green
Interviewed guest: Tom Jaine
Archive clips from: Life Behind the News, Radio Scotland 18/01/2009; The Final Curtain, Radio Wales 28/08/2004; Today, Radio 4 14/09/1993; Giants Vlog, Tips for Actors, 23/10/2017; Jennie Buckman's Beginnings Workshop, 18/06/2012; Westway, BBC World Service 03/04/2000; Piece of Silk by Jennie Buckman, The Hope Theatre, Giants Theatre Co 08/07/2016; Midweek, Radio 4 19/05/2010; Midweek, Radio 4 27/05/2009; Floyd's American Pie: San Francisco, BBC Two 14/11/1989; The Food Programme, Radio 4 01/06/2015; Rick Stein's Taste of the Sea, BBC Two 1995.
Hugh McIlvanney
Born 2 February 1934; died 24 January 2019, aged 84.
Last Word spoke to football commentator Roddy Forsyth and broadcaster Sir Michael Parkinson.
Jennie Buckman
Born 24 September 1949; died 4 January 2019, aged 69.
Last Word spoke to her friend and colleague Tess Woodcraft, and her former pupil, actor Adrian Lester.
John Beavis
Born 8 June 1940; died 5 December 2018, aged 78.
Last Word spoke to Colin Green, Emeritus Professor of Surgery at University College London.
David Pritchard
Born 19 November 1945; died 13 January 2019, aged 73.
Last Word spoke to food writer Tom Jaine.