Main content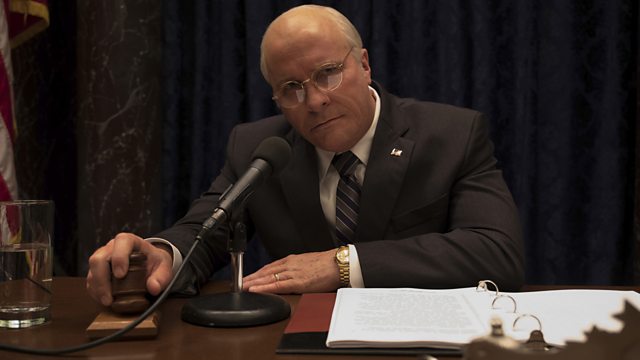 Dick Cheney film Vice, Barrie Rutter and Eliza Carthy on Jack Lear, disability and casting, Detainment
Gavin Esler reviews Dick Cheney biopic Vice, and Barrie Rutter and Eliza Carthy talk about King Lear set in 1970s Hull. Plus a discussion on disability and casting.
Dick Cheney film biopic Vice - nominated for eight Oscars - reviewed by former BBC North America Correspondent Gavin Esler.
Actor, director, and founder of Northern Broadsides theatre company, Barrie Rutter, and folk musician Eliza Carthy on Jack Lear - Shakespeare's King Lear set in 1970's Hull, now on stage at Hull Truck theatre.
Disability and casting: should only disabled actors play disabled roles, and should they play other roles too? Actors Adam Pearson and Lisa Hammond discuss.
And Oscar nominated short film Detainment - a drama about the killers of James Bulger, which has been condemned by the mother of the two year old who was killed in Liverpool in 1993. Critic Anna Smith discusses the film and the ethics of making dramas about real life crime.
Presenter: John Wilson
Producer: Emma Wallace
Dick Cheney film Vice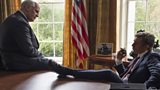 Vice is in UK cinemas from 25 January 2019, certificate 15.
Images:
Main image above:  Christian Bale as vice President Dick Cheney in Vice
Image to the left: Christian Bale as Dick Cheney (Left) and Sam Rockwell as President George W. Bush in Vice
Images credit: Cameo
Barrie Rutter and Eliza Carthy on Jack Lear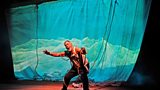 Jack Lear is at the Hull Truck Theatre in Hull, until 02 February 2019.
Image: Barrie Rutter as Jack Lear
Image credit: Nobby Clark
Disability and casting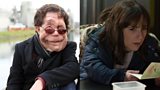 Image: Actors Lisa Hammond (Right) and Adam Pearson