Main content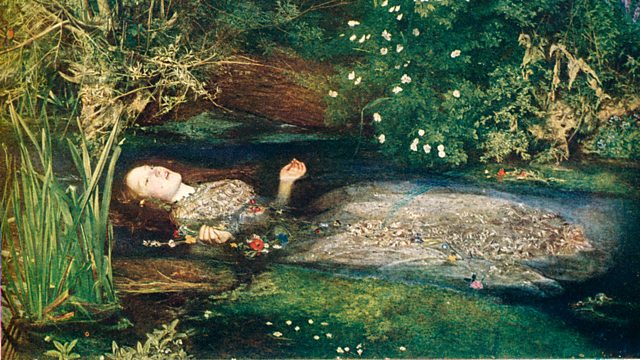 The Pre-Raphaelites
A sonic painting of music, poetry and prose inspired by the 19th-century artistic revolutionaries, the Pre-Raphaelites.
"They meant revolt, and produced revolution": that's how one critic described the group of late 19th-century artists, poets and writers who came to be known as the Pre-Raphaelites. Actors Jamie Glover and Skye Hallam read words by the Pre-Raphaelites themselves, alongside the sources and subject matter that so fascinated them. Our journey through their artistic universe takes us from Malory's Arthurian legends and the love poetry of Dante Alighieri in the 13th century, to the sometimes coruscating reviews of Victorian contemporaries like Charles Dickens.
Pre-Raphaelite art is full of woeful maidens with flowing hair, and many suggest that the real women who posed for the likes of Rossetti and Millais were exploited. We'll hear the death of Ophelia described by Shakespeare's Gertrude alongside poetry by Elizabeth Siddal, the celebrated muse who posed for Millais' painting Ophelia, spending days on end fully clothed in a bath full of freezing water.
Musically, we start with Gilbert and Sullivan's Overture to Patience, an operetta that included a character satirising the ever-so-slightly pompous Pre-Raphaelites. There's also the glistening sound of Debussy's cantata La Damoiselle élue (The Blessed Damozel), based on Rossetti's poem of the same name, and a song from modern-day Pre-Raphaelite Florence Welch.
We finish with words by the only female member of the Pre-Raphaelite clan, Christina Rossetti, musing on how a painter's gaze always renders "One face" looking "out from all his canvases". That's set against Martha Wainwright's heart breaking song Proserpina, bringing to mind Rossetti's famous painting of Proserpine – a captive goddess looking out of the Pre-Raphaelite canvas.
An exhibition called Pre-Raphaelite Sisters runs at the National Portrait Gallery until January 26th.
Readings:
William Michael Rossetti: Extract from Thoughts towards Nature in Poetry, Literature and Art
The Times, 1851: Extract from The Times May 7th 1851
Malory: Extract from Le Morte D'Arthur, King Arthur and of his Noble Knights of the Round Table
Tennyson: Extract from The Lady of Shalott
Christina Rossetti: Extract from The Convent Threshold
Keats: La Belle Dame sans Merci: A Ballad
Dante Alighieri translated by Dante Gabriel Rossetti: Extract from La Vita Nuova
Charles Dickens: Extract from a review in Household Words of Millais' Painting 'Christ in the House of his Parents'
Sappho translated by Stanley Lombardo: Fragment 16
Algernon Charles Swinburne: Extract from Sapphics
Robert Buchanen: Extract from The Fleshly School of Poetry
Christina Rossetti: Extract from Goblin Market
Jeanette Winterson: Extract from Oranges Are Not The Only Fruit
Shakespeare: Extract from Shakespeare's Hamlet Act 4 Scene 7
John Updike: Extract from Gertrude And Claudius
Elizabeth Siddal: The Lust of the Eyes
Christina Rossetti: In an Artist's Studio
Producer: Georgia Mann
Last on

Music Played
Timings (where shown) are from the start of the programme in hours and minutes
William Michael Rossetti

Extract from Thoughts towards Nature in Poetry, Literature and Art read by Jamie Glover

The Times, 1851

Extract from The Times May 7th 1851 read by Skye Hallam

Malory

Extract from Le Morte D'Arthur, King Arthur and of his Noble Knights of the Round Table read by Jamie Glover

Tennyson

Extract from The Lady of Shalott read by Skye Hallam

Christina Rossetti

Extract from The Convent Threshold read by Skye Hallam

Keats

La Belle Dame sans Merci: A Ballad read by Jamie Glover

Dante Alighieri translated by Dante Gabriel Rossetti

Extract from La Vita Nuova read by Jamie Glover

Charles Dickens

Extract from a review in Household Words of Millais' Painting 'Christ in the House of his Parents' read by Jamie Glover

Sappho translated by Stanley Lombardo

Fragment 16 read by Skye Hallam

Algernon Charles Swinburne

Extract from Sapphics read by Jamie Glover

Robert Buchanen

Extract from The Fleshly School of Poetry from The Contemporary Review - October 1871 read by Skye Hallam

Christina Rossetti

Extract from Goblin Market read by Jamie Glover

Jeanette Winterson

Extract from Oranges Are Not The Only Fruit read by Skye Hallam

Shakespeare

Extract from Shakespeare's Hamlet Act 4 Scene 7 read by Skye Hallam

John Updike

Extract from Gertrude And Claudius read by Skye Hallam

Elizabeth Siddal

The Lust of the Eyes read by Jamie Glover

Christina Rossetti

In an Artist's Studio read by Skye Hallam

Broadcasts