Main content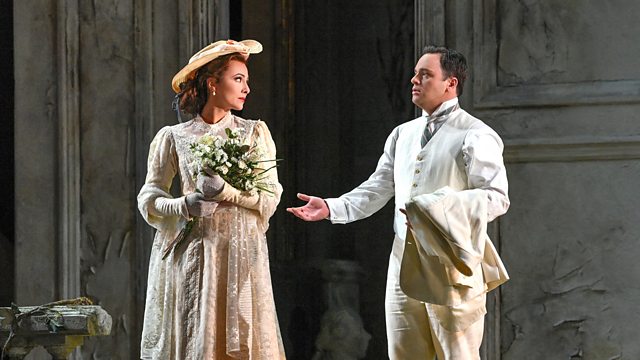 Pelléas et Mélisande
Debussy's Pelleas and Melisande from the Met in New York, conducted by Yannick Nezet-Seguin
Tonight's opera from the Met is Debussy's strange and seductive Pelleas et Melisande. Prince Golaud finds a mysterious young woman lost in the forest, and marries her. But when Melisande meets his younger half-brother Pelleas, she finds herself irresistibly drawn to him, with tragic results. Young Met stars, tenor Paul Appleby and mezzo-soprano Isabel Leonard, are the naïve title lovers, and baritone Kyle Ketelsen is the imperious Prince Golaud.
Presented from the Met by Mary Jo Heath and Ira Siff.
Debussy Pelleas et Melisande.
Mélisande.....Isabel Leonard (Soprano)
Geneviève.....Marie-Nicole Lemieux (Contralto)
Pelléas.....Paul Appleby (Tenor)
Golaud.....Kyle Ketelsen (Baritone)
Arkel.....Ferruccio Furlanetto (Bass)
Doctor.....Paul Corona (Bass)
Shepherd.....Jeremy Galyon (Baritone)
New York Metropolitan Opera Orchestra
New York Metropolitan Opera Chorus
Yannick Nezet-Seguin (Conductor)
Last on
Music Played
Claude Debussy

Mazurka

Performer: Jean-Efflam Bavouzet.

Debussy: Complete works for piano vol.3: Bavouzet.
Chandos.
10.
Synopsis
ACT I
Golaud, a widower and grandson of King Arkel of Allemonde, has lost his way hunting in the forest. Near a fountain he discovers a weeping young girl, Mélisande. She can't explain who she is or what has happened to her. She reluctantly agrees to follow Golaud.
In Arkel's castle, Golaud's mother, Geneviève, reads the old king a letter that her son has written to his half-brother, Pelléas. In it, Golaud explains the circumstances of his meeting with Mélisande six months ago. He has married her but knows no more of her story than he did then. He is afraid to return home because Arkel, though he accepts the marriage, had nevertheless hoped for Golaud to take a wife in a politically favorable union. Pelléas enters, asking to visit a dying friend. Arkel reminds him that his own father is seriously ill and persuades him to stay to greet Golaud's new wife.
From the castle garden, Geneviève shows Mélisande the forests of Allemonde and the sea beyond. Pelléas joins them and Geneviève entrusts the girl to his care. Alone with Mélisande, Pelléas tells her that he may soon have to go on a journey.
ACT II
Pelléas takes Mélisande to a well in the park. As she plays by the water, fascinated by her reflection, her wedding ring falls in, the moment the clock strikes noon. She wonders how to explain it to Golaud. Pelléas advises her to tell the truth.
Golaud has been thrown from his horse on the stroke of midday. He lies in bed, tended by Mélisande. She tells him that she is not happy and longs to leave the castle. When Golaud takes her hand he notices the missing ring. Asked what happened to it, she replies she must have lost it in a cave by the sea. Golaud commands her to go and look for it at once, even though it is night. She is to take Pelléas with her.
Pelléas and Mélisande have gone to the cave so she will be able to describe the place to Golaud. As the moon appears, Mélisande is frightened by the sight of three beggars sleeping in the cave and asks to be taken back to the castle.
ACT III
Pelléas appears below Mélisande's window to tell her that he is leaving. She leans out and he reaches for her hair, marveling at how long it is. Suddenly Golaud appears and tells them to stop behaving like children.
Golaud leads Pelléas to a pool beneath the castle. Pelléas feels as if he was suffocating and they leave. Back on the surface, he gratefully breathes the fresh air. Golaud warns him to keep away from Mélisande, who is pregnant.
Golaud suspiciously questions Yniold, his son by his first marriage, about Pelléas and Mélisande. The boy innocently replies that they are always together but he has only seen them kiss once. When Mélisande's window lights up, Golaud lifts Yniold to look into the room. Yniold sees Pelléas enter but he and Mélisande only look at the light and don't talk.
ACT IV
Pelléas tells Mélisande that his father has recovered and that he will leave the next day. They agree to meet by the well one last time to say goodbye. Arkel assures Mélisande that the castle will now be more cheerful. He hopes that her youth and beauty will bring about a new era. Golaud enters. He angrily confronts Mélisande, making ironic remarks about her innocence and throwing her to the ground. Arkel is horrified.
By the well, Yniold tries to recover his golden ball, which has fallen between the stones. A shepherd passes by with his sheep, on their way to slaughter. As night falls, Yniold leaves.
Pelléas arrives, soon followed by Mélisande, and they finally confess their love. Realizing there is someone waiting in the dark, they desperately kiss. Golaud enters and kills Pelléas, then pursues the fleeing Mélisande.
ACT V
Mélisande, who has prematurely given birth to a daughter, is dying. When Golaud, full of remorse, questions her about Pelléas, she innocently admits that she loved him. Golaud realizes there will be no resolution to his torment. Mélisande's child is brought to her but she can see only sadness in its face. Then she quietly dies. Arkel leads Golaud away, observing that it is now the child's turn.
Broadcast