Main content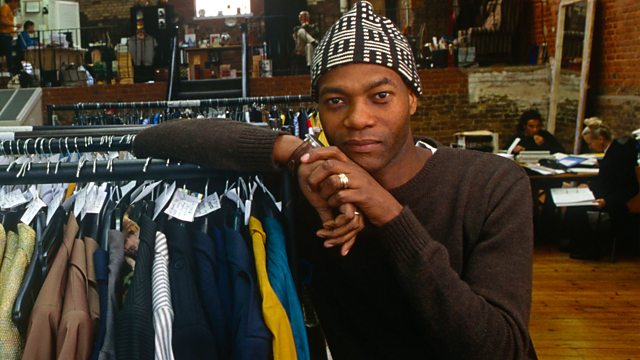 Joe Casely-Hayford, Judge Nicholas Crichton, Professor Sophie Oluwole, Professor Paul O'Brien CBE, Carol Channing
Matthew Bannister on designer Joe Casely-Hayford, judge Nicholas Crichton, philosopher Sophie Oluwole, nanotechnologist Paul O'Brien and singer Carol Channing.
Pictured: Joe Casely-Hayford
Matthew Bannister on
Joe Casely-Hayford, the fashion designer whose creations ranged from punk to Savile Row tailoring. His children, who followed him into fashion, pay tribute.
Nicholas Crichton, the judge who pioneered specialist family drug and alcohol courts in the UK.
Professor Sophie Oluwole, who was a powerful advocate for African philosophy.
Professor Paul O'Brien, the pioneer of nanotechnology who developed new ways of producing the quantum dots which lie behind our HDTVs and barcode scanners.
And Carol Channing, the colourful Broadway star of 'Hello Dolly' and 'Gentlemen Prefer Blondes'.
Interviewed guest: Charlie Casely-Hayford
Interviewed guest: Alice Casely-Hayford
Interviewed guest: Claire Wilcox
Interviewed guest: Sophie Miller
Interviewed guest: Professor Muyiwa Falaiye
Interviewed guest: Professor Richard Winpenny
Producer: Neil George
Archive clips from: Ebony People, BBC Two 09/06/1989; Inside the Family Court episode 1, Radio 4 08/06/2006; Importance of the Mother Tongue, Tunde Kelani TV 13/01/2016; Oro Isiti with Professor Sophie Oluwole, Tunde Kelani TV 17/02/2016; North West Tonight, BBC One 30/10/2008; What is Professor Paul O'Brien Researching?, School of Materials, University of Manchester 14/07/2015; Broadway Babes: Carol Channing, Radio 2 14/09/1984; Star Sound, Radio 2 24/09/1979.
Joe Casely-Hayford
Born 24 May 1956; died 3 January 2019, aged 62.
Last Word spoke to his son and daughter Charlie and Alice Casely-Hayford, and Claire Wilcox, senior curator of fashion at the V&A. 
Judge Nicholas Crichton
Born 23 October 1943; died 17 December 2018, aged 75.

Last Word spoke to his former colleague Sophie Kershaw.
Professor Sophie Oluwole
Born 1935; died 23 December 2018, aged 83.
Last Word spoke to her former pupil Professor Muyiwa Falaiye, writer and social commentator and Professor of Philosophy at the University of Lagos, Nigeria.
Professor Paul O'Brien CBE
Born 22 January 1954; died 16 October 2018, aged 64.
Last Word spoke to Professor Richard Winpenny, his former colleague at the University of Manchester.
Carol Channing
Born 31 January 1921; died 15 January 2019, aged 97.