Main content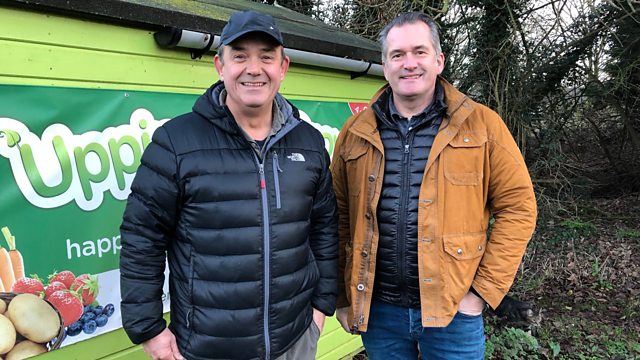 Uppingham
Eric Robson and the panel are in Uppingham, Rutland.
Eric Robson and the panel are in Uppingham, Rutland. Matthew Wilson, Christine Walkden and James Wong answer the questions.
This week, the panellists discuss plants they don't like, dealing with a plot covered in bindweed, and preparing an allotment to attract bees.
They also diagnose an ailing Horse Chestnut tree, discuss the success of straightening an Acacia, and debate what they would do if they let a friend's plant die while looking after it for them!
Outside of the hall, Matthew Wilson visits Ric Ellis of Uppingham Grows to see how he is using gardening to encourage wellbeing and life progression.
Produced by Dan Cocker
Assistant Producer: Rosie Merotra
A Somethin' Else production for BBC Radio 4
Fact Sheet
Q – Is there a plant the panel doesn't like that they would name after a person they don't like?
James – I hate coriander.  I would name it after Justin Bieber
Matthew – I despise 'Painter's Pallette' (Persicaria virginiana).  It used to be called Tovara.  It's variegated but not in a nice way.  I would called it Persicaria virginiana 'Brexit'.
Q – If I covered an area which has a lot of Convolvulus (Bindweed) and Twitch on it.  Could I stifle them? The area is about 3m x 1m (10ft x 3ft)
Matthew – If you deprive them of light then the plants will die.  So it could work, but you will need to cover it for about two years with something that completely blocks out light like black plastic or cardboard.  With bindweed I just ignore it. 
James – Covering only works in the active growing season.  If you continually dig it up it would be better than covering it. 
Christine – Twitch is a real pain.  Covering it will take three to five years for it to go. 
Q – I've recently acquired and allotment that I want to dedicate to bee-friendly shrubs and flowers.  I don't want to use pesticides and fertilisers… how best should I prepare the soil?
Christine – Turn the soil and then use green manures like Phacelia.  Plant things like Sweet Peas.  Simple flowers attract bees better.
Matthew – Fruit trees; in particular, crabapples. 
Q – About twelve years ago I was given a dozen daffodils that flower very early in the year (December).  They are getting a bit thin now.  What can I replace them with?
Christine – I think these are 'Cedric Morris'.  I would lift the bulbs, divide them, mix in organic matter and some bone meal and see if you can bulk them up that way. 
Matthew – Cedric Morris is beautiful but it is quite pricy
Q – I have several horse chestnut trees but some of them have died.  I think they have moth miner.  Is there anything I can do to stop it spreading?
Matthew – It's a type of leaf miner.  The moth miner won't kill tree on its own.  Combined with weeping canker it will. 
Q – We have an Acacia dealbata tree which was bent when we bought it.  The tree has become heavy and we can't correct the bend.  Can we straighten it up?
Christine – If it's woody you run the risk of snapping it.  If it's young you'll have an easier job.
Matthew – You'd be better taking a cutting from it and starting again
Q – I have a patch of Cyclamen hederifolium that seems irresistible to local cats.  How can I protect them?
Christine – You could spray with bicarbonate of soda to mask any smells
Eric – You can put sprigs of holly in there to deter them
Matthew – You could plant some catnip somewhere else to distract them
Q – I have a Beauty Berry (Callicarpa 'Profusion').  It hasn't grown much and did not produce autumn berries.  What are we doing wrong?
James – If it's not growing it won't produce fruit either.  It could just be sulking whilst it is settling in.  Be patient and keep treating it nicely.
Christine – Let it grow! It's only young so give it a few years to get mature enough to flower and fruit.