Main content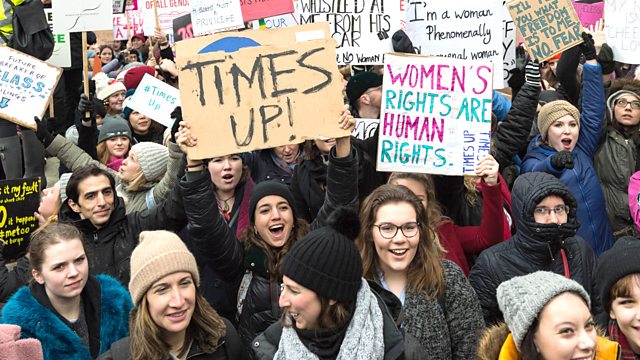 The Women's March, Film Classification, Jasmin Paris
The programme that offers a female perspective on the world
Women are marching around the world this weekend. It's the third Women's March. The first one was in 2017. The march's slogan has been 'Women's Rights are Human Rights', but how has the message changed and evolved since it started? There are also reported divisions within the movement so how has that affected its reputation and impact?
Any film showing sexual violence will now get at least a 15 rating rather than a 12 or a 12A. This follows a survey of more than 10,000 people by The British Board of Film Classification. It was the highest area of concern for both young people and parents. We discuss the research with Lucy Brett, Head of Education at the BBFC and Dr Fiona Vera-Gray who is Assistant Prof of Sociology at Durham University plus a Trustee of End Violence Against Women.
Jasmin Paris is the first woman to win The Spine Race along the Pennine Way. It's one of the world's toughest endurance races. It's gruelling and nearly 300 miles long. She broke the record by 12 hours AND expressed milk for her baby along the way. So how did she do it?
The shops are full of unicorns! So is fashion, and the mythical creature has even made it into regular political parlance. So where has the trend come from and why has it taken off in the way it has. Natural historian Natalie Lawrence and trend forecaster Geraldine Wharry join Jenni to discuss.
Clips