Main content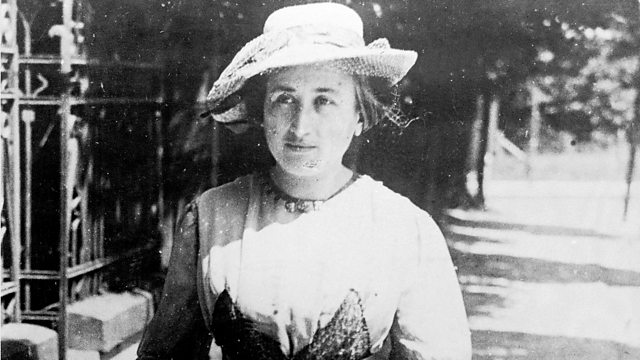 Life and legacy of socialist Rosa Luxemberg. Casual feminists. Losing your virginity.
The life and legacy of revolutionary socialist Rosa Luxemburg. West Midlands Police has failed to record over 16,000 violent and sexual crimes; why? And what is casual feminism?
In January 1919 the Spartacus League attempted to overthrow the German government. It was a short-lived revolutionary bid and its two leaders were brutally murdered and dumped in a Berlin river. One of those leaders was Rosa Luxemburg, a Polish Jew by background, a late comer to feminism, and a committed revolutionary socialist who appeared to foresee the dangers of the Russian Revolution. Yesterday marks the 100th anniversary of her death. Professor Jacqueline Rose joins us to discuss her life, her letters and her legacy.
West Midlands Police has failed to record over 16,000 violent and sexual crimes. That's according to Her Majesty's Inspectorate of Constabulary who describe it as "inadequate". The wording in its report out this week is strong, stating "Too often the force is still failing victims of crime, including domestic abuse victims". So how big is the problem of unrecorded crime and what can the 43 forces in England and Wales do to improve it?
More than half of women are losing their virginity before they are ready according to a new study from the London School of Hygiene and Tropical Medicine. what impact does that have on our well being and health and our whole attitude to sex..
Following Andy Murray's emotional press conference last week when he suggested he might retire soon, Jess Phillips MP tweeted; "Great player, normal bloke, and best of all casual feminist." The tweet went viral, with followers expressing approval for the term and nominating other casual feminists. So what is a casual feminist?
Presenter Jenni Murray
Producer Beverley Purcell
Guest; ZOE BILLINGHAM.
Guest; KATIE RUSSELL
Guest; Prof. KAYE WELLINGS
Guest; REBECCA MYERS,
Guest; JESS PHILLIPS MP.
Guest; Prof JACQUELINE ROSE
Clips