Main content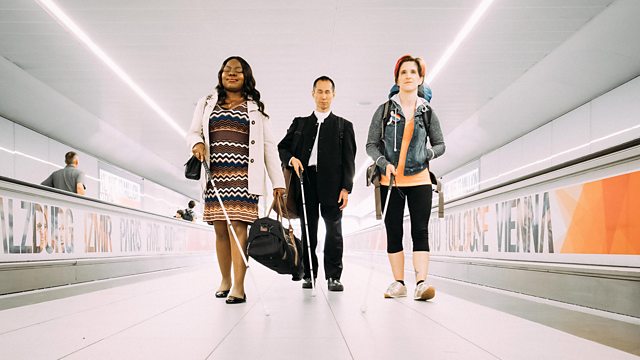 Is Helen Keller a 20th century icon?
Will Deafblind activist Helen Keller be voted in as a 20th century icon? And a theatre production performed by visually impaired aerial artists.
Icons is an epic new history series for BBC Two profiling great people from seven different fields of human endeavour. It asks you to vote for your favourites, and ultimately decide who was the greatest person of the 20th century.
Icons: Activists is on BBC Two, Monday 21 June, @ 9pm. If you want to find out how to vote for Helen Keller or any of the other nominees featured in the series then go to www.bbc.co.uk/icons, where you can also find Terms and a Privacy Notice.
Extant theatre, a company of visually-impaired performers and directors, is about to start a new tour with 'Flight Paths' – the cast are Amelia Cavallo and Sarah Houbolt, actors and circus performers who perform part of the show on aerial silks. The show will be made accessible through creative audio description and new sound technology called spatialised tracking. The shows run from 5th Feb – 5th March.
Peter White talks to two of the performers.
Presenter: Peter White
Producer: Lee Kumutat
Photo description: Promotional photo for FLIGHT PATHS 2019 tour by Chris Andreou.
In Touch Transcript: 15-01-2019
Downloaded from www.bbc.co.uk/radio4
THE ATTACHED TRANSCRIPT WAS TYPED FROM A RECORDING AND NOT COPIED FROM AN ORIGINAL SCRIPT.  BECAUSE OF THE RISK OF MISHEARING AND THE DIFFICULTY IN SOME CASES OF IDENTIFYING INDIVIDUAL SPEAKERS, THE BBC CANNOT VOUCH FOR ITS COMPLETE ACCURACY.
IN TOUCH – Is Helen Keller a 20th century icon?
TX:  15.01.2019  2040-2100
PRESENTER:           PETER WHITE
PRODUCER:             LEE KUMUTAT
White
Good evening.  Tonight, what makes an icon and does this lady cut the mustard?
Archive clip
After her seventh lesson she was able to speak the sentence word by word – I am not dumb now.
White
Helen Keller, believed unteachable because she was deaf and blind, who ended her life one of the most famous people in the world.
And the visually impaired drama company who've turned to the circus for their latest production.  We'll be meeting some of the cast a little later on.
But first, the BBC is searching for 20th century icons in an epic history series for BBC 2.  It profiles great people from seven different fields.  Viewers will be asked to vote for their favourites and ultimately to decide who was the greatest figure of the 20th century.  No pressure then.  And in next Monday's edition, featuring activists, the programme will be examining Helen Keller's claim to the title.
The story of how seven-year-old Helen, deafblind after an illness at 18 months, was awakened to language by her teacher Annie Sullivan, has passed into legend, mainly thanks to films and shelves of books about them both.  But people know much less about what happened next.
Helen Keller wrote 14 books, was a passionate advocate – not just on disability but on a whole range of political issues from world peace to preventable poverty – and she became a kind of unofficial roving ambassador for the United States.  So, who was she really?  And do her achievements give her iconic status?
I've been talking to Kim Nielsen, who's written a biography of her which concentrates on Helen Keller the adult.
Nielsen
She was a really complex figure, who lived for 88 years and most of us don't want to be known for our entire lives something we did as a little kid.  But certainly, she was first famous after she learned to communicate with finger spelling, via her teacher Anne Sullivan.
Film clip – The Miracle Worker
White
A spellbinding moment there, from the 1962 version of the film The Miracle Worker with Anne Bancroft as Annie Sullivan and Paddy Duke playing the seven-year-old Helen.
Nielsen
And then once she hit young adulthood, became a college student, she became very interested in politics and loved to read and write, debate, participate in political conversations.  And wrote a lot about that as well.
White
But that relationship that she had with her teacher, Anne, can you just say a bit about that and how significant it was and how, in a way, it went on right through their lives?
Nielsen
Annie was important to Helen, first of all, as a teacher and then as a friend, as they grew older.  They did stay together as colleagues, once Helen became an adult.  And the two women lived and worked together until Annie's death in the 1930s.  They had a system of communication which certainly worked faster than anybody else's did.  So, there were other people who finger spelled, certainly with Helen Keller and Keller communicated with all kinds of people, but she and Annie had been doing it for decades and had a bit of shorthand and were dear friends, so they could do that very, very quickly.
And then near the end of Annie Sullivan Macy's life, she herself became fairly impaired and Keller served as her personal assistant for at least the last decade. 
Once Helen became an adult, she was the primary breadwinner of the household.
White
And how was Helen a breadwinner, how did that work?
Nielsen
Yeah, she tried various things throughout her lifetime, as a writer, as a public speaker but once the 1920s hit she worked for the American Foundation for the Blind and did political lobbying, travelling, speaking, fundraising and then about the time of World War 2 she also travelled on behalf of the US State Department.
White
In the programme she's described as having fought for the rights of disabled people.  Is that really true as we would understand it today, you know, we've had the Americans with disabilities act and similar legislation in the UK?
Nielsen
She did.  She did fight for the rights of people with disabilities, although very much in her time context she tended to focus on blind people and – although she did focus somewhat on deaf people as well.  She had very little cross disability alliances, in which she participated.  And certainly, those were emerging across the globe during her lifetime but she didn't have a lot to do with those.  In the US, she tried to bring attention particularly to those she felt deeply disadvantaged – African American blind people, those who did not have access to education.  But, you know, I think, there's certainly – we can criticise her politics today and it was hard for her to think about a cross disability coalition.
White
I mean you say several times in your book that she didn't actually have an awful lot of personal contact with disabled people, including deaf and blind people, she didn't have many as friends – why not?
Nielsen
Her education was very isolated from many other deaf and blind people, outside of her first few years at Perkins School for the Blind.  And I think it's because she was segregated in her education.  She was one of the very few disabled people who, for example, went to a mainstream educational system for college.
White
So, even with her dual disability and in the early 1900s she went to a mainstream university?
Nielsen
She did, she went to the female part of Harvard, which was called Radcliffe, at that point in time.  That was a great strength to her and it meant that she got a far better education than she could have at a segregated institution but it also isolated her from other people with disabilities.
White
She had some beliefs that may surprise people, I mean, for example, she was sympathetic to the idea of eugenics – the idea of improving humanity by screening out perceived severe defects – she accepted the idea that it would be better if some children with very severe disabilities weren't born.  Didn't she see this could have been applied to her?
Nielsen
Yeah, isn't that frustrating Peter.  There are times I want to sit her down and have a good conversation with her.  But yes, she did, she supported eugenics in the early part of 20th century and this was a fairly mainstream progressive element at that point in time but it's still something I often want to talk to her about.  It is something she disavowed later on in her life.  And was reluctant to talk about and was uncomfortable with.  But yes, she certainly adopted that at that point in her life.
White
What about her personal life?  I mean did she have relationships?
Nielsen
Keller had one big romance in her life and this was in the early teens, 19 teens, and was something that she kept from her family, kept from other friends.  It was a young man who was a skilled finger speller, as well, so could communicate directly with her.  The two of them fell in love, they secretly sought a marriage licence and when others heard about this, it did hit the news, people responded very negatively to the idea of a blind woman marrying.  I think there are some eugenic elements there as well, some assumptions that a blind woman couldn't be a good wife, couldn't be a good mother.  People really shut down the relationship very, very quickly and the two of them had little contact after that.  She wrote about this obliquely later on in life, as something very sad to her.  If we'd asked her in her eighties, I suspect she would have wished she had behaved differently or done something differently.
White
Icons are being judged in this series on achievement, impact and legacy, does she cut it on all three, do you think?
Nielsen
I think she does.  She had great impact on the education and rights of many people with disabilities around the globe and prompted and energised – I know much of the activism around blind issues, for example, in Japan, in South America, in parts of Asia.  The US State Department was really stunned by the positive impact she had and the crowds of people that came out to see her in Japan.  And they began to engage her in other travels on behalf of the US and the US State Department.
White
She had very strong political views, not always in line with American governments, not always in line with the Foundation of the Blind.  Was she sometimes – did she sometimes feel she was being used because of the power of her personality and her presence?
Nielsen
Yeah, I think she worried about being used by people on all political stripes and she worked hard to control and understand the agendas of those around her.
White
You say she worked hard to try and control that – the way in which she was used, what did she do, how did she do that?
Nielsen
For example, when she went to South Africa in, I think, the early 1950s the initial plans had been for her to only visit institutions for white people and she insisted on seeing and visiting institutions for people of different racial communities in South Africa, trying to bring publicity to the educational circumstances of people from all racial backgrounds in South Africa.  And so that was – that's one example of where she in essence disobeyed the people who were trying to set her agenda and tried to bring media attention to the differing experiences of people of different racial backgrounds.
White
Do you think she'll win?
Nielsen
I don't know, I think she deserves to.  In all of her frustrations and complexities she's an incredibly influential figure.
White
Kim Nielsen. 
And you can see Icons, featuring Helen Keller, on BBC 2 next Monday evening at 9 o'clock.  Details of how to vote are on our website.  And if you want to learn more about Helen Keller's life the American Foundation of the Blind has a very usable archive.
Now I'm not sure Extant Theatre would quite yet claim to be iconic but over the last 20 years the company, which features, and is run, by visually impaired actors has earnt a deserved reputation for experimental and daring theatre.  And with Flight Paths, their latest production, they seemed to have done it again.  To quote from the blurb: "Flight Paths is a multi-media story-telling circus production which combines aerial, music, narrative and creative audio-description".
So, to translate that a little, what are people really going to see and hear?  I'm joined by two of the cast:  Sarah Houbolt, who's a former Paralympic swimmer, turned circus and physical performer, specialising in aerials and acrobatics and Amelia Cavallo, who's a performer from the USA with experience in singing, dancing, aerial circus and burlesque.
So, Amelia, physicality seems to be at the heart of both of your CVs, just give us a bit more of an idea of what people who go will experience.
Cavallo
Well going to Flight Paths you're going to get a good smorgasbord of different types of performance.  So, actually, I would say that the main drive of the show is storytelling and that we do that in a number of ways.  So, we do that by speaking, we do that through the music that you hear, we do that, very much, through how we move our bodies and in particular what we do on the aerial silks that are used in the show.
White
Right, well I need a bit of specialised knowledge here.  Sarah, what are aerial silks exactly?
Houbolt
So, aerial silks are two pieces of fabric that hang from the ceiling and all the way down to the floor.  And then we climb up them and twist and turn and tumble and sort of dance in the air.  So, on stage we'll have two sets of aerial silks, so I climb up one set and Amelia climbs up the other set. 
White
And I'm bound to ask, because this programme completely accepts the enormous versality of blind and partially sighted people, but how dangerous is this?
Houbolt
I think it's actually safer for a blind or partially sighted person because we have more skills with touching the silks and knowing what the object is around us.  And more consciousness of the safety that we need to do in aerials.  So, we bring that expertise to it.
Cavallo
Yeah, I'd also say it really helps when you can't see the floor, like that's kind of a joke but for me it's also very true because there's no fear of heights because I can tell myself I'm wherever I need to be to execute what I'm doing, which is very helpful.
Houbolt
I'm still afraid of heights.
Cavallo
Are you?
Houbolt
I know I'm high, I know I'm off the ground.  But I think Amelia's right, I think we are at an advantage because we can have a more visceral performance and a more performance based on feeling rather than aesthetic.
Cavallo
For sure, yeah.
White
I mean exactly how high are you off stage?
Houbolt
We're probably about three to four metre, depending on the venue really.
Cavallo
It depends on the venue, yeah it depends on the venue.  Some venues are going to be five to six, some are going to be four to five.
White
Let's not completely ignore the story.  I mean this is a number of people's stories isn't it, tell me a bit more about that.
Cavallo
This piece was actually originally developed with myself and two other performers, who will be present on stage but not live on stage, if that makes sense.  So, they will be – you'll hear their recorded voices and also their recorded talents – they're both musicians.  Victoria  Oruwari, who's an opera singer and Takashi Kikuchi.  Takashi's a viola player and so when we developed this it became a story about immigration really, because none of us – I'm from the United States, Victoria is from Nigeria, Takashi is from Japan and so it became this story of migration that ended up sitting really wonderfully with this traditional Japanese story of the biwa hōshi, which were these blind musicians who often lived in temples and became monks and who would tell these amazing stories to various noble people.  So, the goze, which were the female equivalent of the biwa hōshi, which were the blind women musicians, who had their own place and their own status, that's a very rich history in that culture that we're working very hard to be respectful to.
White
I tell you what, we've got a little sneak peak into your rehearsal yesterday.  No one would claim it was a professional recording but I think you're probably using your silks here.  Hang on.
Flight Paths rehearsal clip
Tipping sideways.  Twisting.  Pulling. Threading.  Weaving. 
Twisting.  Pulling.  Threading.  Weaving.  Standing in the air.
Holding the tail.
White
You can hear there's a lot of action going on.  How tough is it physically?
Houbolt
There is exertion when you do the silks because you're holding your whole body up in the air.  So, I think that's potentially what you've been hearing.  It is about grace, as well, it's about the form and the way that we engage our muscles but it's a lot of exertion.
White
Now obviously you want to attract visually impaired people to this, as well as everyone else.  A lot's been made of the way this will be audio described with something called spatialised tracking?  I work in sound, I should know what that is but I don't.  Can you explain – can either of you explain how that works?
Cavallo
There are numbers of ways that the audio description is going to be layered into the piece.  So, some of it is going to be done live by Sarah and me.  And then in some of the aerial bits, we won't tell you which, you've got to come and see it to find out, our voices are going to be layered on top of our performances, so you can hear us, much like what you just heard describing ourselves in time with our movements.  And what's going to happen is there's going to be an intricate and lovely arrangement of speakers that will mean that the sound will follow us as we move in the air, so if we climb up the silks you will hear our voices go up, if we do a tumble down you will hear our voices go down, if you hear a spin you'll hear us spin, all that kind of stuff.  So, it makes it seem very live in that moment because it's following our physical movements.
White
Clearly what you've described, it's not sitting down to watch a conventional drama, by any means, is it?
Cavallo
No.
Houbolt
I think it's still an accessible pace.  This is my first performance with Extant.  I live in Australia and so I've come over specifically to work with the company and for me, because we're making the audio description embedded in the piece and making the story as clear as it can be, and as interesting as it can be, I think it still keeps its accessibility as well as experimentation.
White
Amelia Cavallo, Sarah Houbolt, thank you both very much indeed and good luck with it all.
Flight Paths will be touring for a month, starting in Harlow on 5th February and ending in Wolverhampton on March 5th.
And that's it for today.  You can contact the programme for 24 hours after we finish tonight on 0800 044 044.  Or email intouch@bbc.co.uk.  You can click on contact us on our website as well.  That's it, from me, Peter White, producer Lee Kumutat and the team, goodbye.