Main content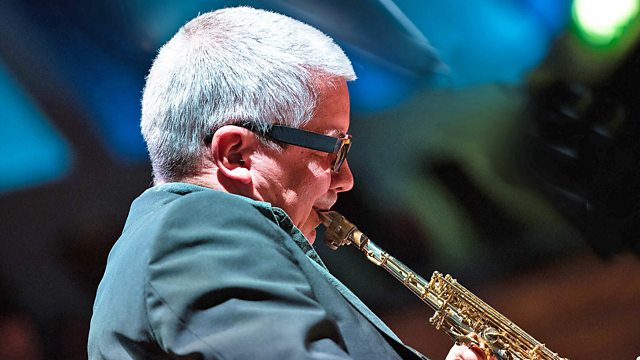 Espen Eriksen Trio and Andy Sheppard
Soweto Kinch presents Andy Sheppard and the Espen Eriksen Trio in concert.
Soweto Kinch presents the Espen Eriksen trio from Norway with British saxophonist Andy Sheppard playing music from their acclaimed album Perfectly Unhappy, in a concert set from London's Pizza Express Jazz Club during the 2018 EFG London Jazz Festival. The full line-up is: Andy Sheppard, tenor saxophone; Espen Eriksen, piano; Lars Tormod Jenset, bass and Andreas Bye, drums.
Andy Sheppard catches up with Al Ryan at Cheltenham Jazz Festival 2018
Photo credit: John Watson: www.jazzcamera.co.uk/
PLAYLIST
DISC
Artist              Soweto Kinch
Title                The Healing
Composer     Kinch
Album            The Legend of Mike Smith
Label              Soweto Kinch Recordings
Number        SKP003 CD 2 Track 39
Duration       13"
Performers: Soweto Kinch, as, rhodes, prog; Shabaka Hutchings, ts; Karl Rasheed-Abel, b; Graham Godfrey, d. . 2015
The Espen Eriksen Trio featuring Andy Sheppard perform at the Pizza Express Jazz Club as part of the EFG London Jazz Fetsival 2018
MUSIC: (all compositions by Eriksen)
Above The Horizon                                                             6.14
Grinde (segue into) Perfectly Unhappy                       18.00
Indian Summer                                                                   10.35
Suburban Folksong (segue into)Anthem                     18.25
Revisited                                                                             6.10                          
1974                                                                                      8.52
Home                                                                                     3.50
Personnel: Espen Eriksen, p; Lars Tormod Jenset, db; Andreas Bye, d.
DISC
Artist              Soweto Kinch
Title                The Healing
Composer     Kinch
Album            The Legend of Mike Smith
Label              Soweto Kinch Recordings
Number        SKP003 CD 2 Track 39
Duration       13"
Performers: Soweto Kinch, as, rhodes, prog; Shabaka Hutchings, ts; Karl Rasheed-Abel, b; Graham Godfrey, d. . 2015