Main content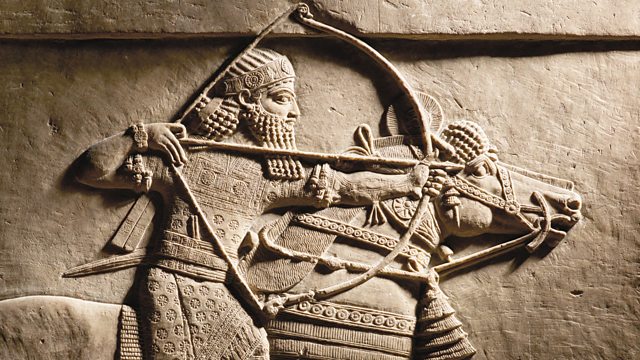 Violence and Conflict
Dystopian future and a violent past: John Lanchester, Patricia Lewis, Richard Wrangham and Eleanor Robson with Amol Rajan
The prize-winning writer John Lanchester considers the political endgame of a fractious world in his new novel, The Wall. He tells Amol Rajan why he has written a dystopian fable in which the young distrust the old, and the world appears broken.
But just how violent are we as a species? The primatologist Richard Wrangham believes there is a 'goodness paradox': at an individual level we have evolved to become a more peaceful animal, especially compared to our closest relatives, the chimpanzee; but our ability to organise and plan an attack has made us lethal.
The ancient Assyrians celebrated every detail of cruelty, massacre and torture, including skinning prisoners alive, as they built their empire and conquered their enemies. The academic Eleanor Robson looks back at the reign of the King Ashurbanipal from the 7th century BC, immortalised in an exhibition at the British Museum.
Shortly after the King's death the Empire fell. Dr Patricia Lewis is an expert on international security and studies the ebb and flow of wars across the world from chemical warfare to cyber-attacks. She looks ahead to the major conflicts to watch in the coming year.
The above image is from the British Museum's exhibition I Am Ashurbanipal: King of the World, King of Assyria
Producer: Katy Hickman
British Museum Exhibition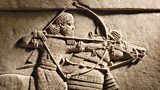 I am Ashurbanipal, King of the World, King of Assyria – is at the British Museum until 24th Feb.


John Lanchester
John Lanchester is a journalist and novelist. His books have won numerous awards and have been translated into twenty-five languages.

The Wall is published by Faber

Richard Wrangham
Richard Wrangham is Ruth B. Moore Professor of Biological Anthropology at Harvard University.  He has studied wild chimpanzees in Uganda since 1987. He has received a MacArthur Foundation fellowship and is a fellow of the American Academy of Arts and Sciences and of the British Academy.
 The Goodness Paradox: The Strange Relationship Between Virtue and Violence in Human Evolution is published by Profile Books
Eleanor Robson
Eleanor is Professor of Ancient Middle Eastern History and the Head of the History department at University College London. She is the former chair of the British Institute for the Study of Iraq and a Quondam Fellow of All Souls College, Oxford.
Patricia Lewis
Dr Patricia Lewis is Research Director for International Security at Chatham House. She received the American Physical Society's 2009 Joseph A Burton Forum Award for 'outstanding contributions to the public understanding or resolution of issues involving the interface of physics and society'.
Dr Lewis is chairing a discussion, Ten Conflicts to Watch in 2019, with Robert Malley, President & CEO, International Crisis Group, at Chatham House on 17th January.