Main content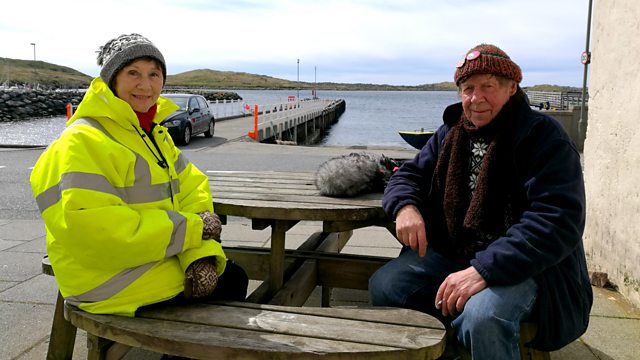 Shetland - Jen Hadfield
Jen Hadfield crafts a poem around conversations with Anna Scott-Brown on a bench in Hamnovoe, Shetland. Artists and fishermen, newcomers and old-timers share memories and stories.
Anna Scott-Brown hears more stories from the people who stop to sit beside her on benches around the country.
In this edition, Anna sits on a bench in Hamnovoe on the Island of Burra in Shetland. Throughout the programme, a specially commissioned work by the poet Jen Hadfield draws on the voices of those passing by – and sometimes pausing on – the bench opposite a small west-facing harbour.
The poem speaks in the voices of the landscape and the words of the contributors, reflecting on geology, time and the Island community.
The edges between the land and the sea and the sea and the sky becomes a theme, as does how living on an island changes your perspective on community, the sea and your place in the world.
We hear snatches of dialect and how it was once considered rude, and even unlucky, to speak dialect in a public space, as well as folklore and stories.
The rich variety of voices melds those born and living on Shetland with people who have arrived for many different reasons – including one Polish lady exiled in 1981 when martial rule was imposed in Poland. She finds a similarity between being cut off from her homeland and living on a small island in bad weather.
Hidden lives are revealed and common threads recur as Anna's gentle but insistent questions elicit poignant and profound responses from those sitting on the bench.
Presented by Anna Scott-Brown
Produced by Adam Fowler and Anna Scott-Brown
An Overtone production for BBC Radio 4
Last on

Broadcasts