Main content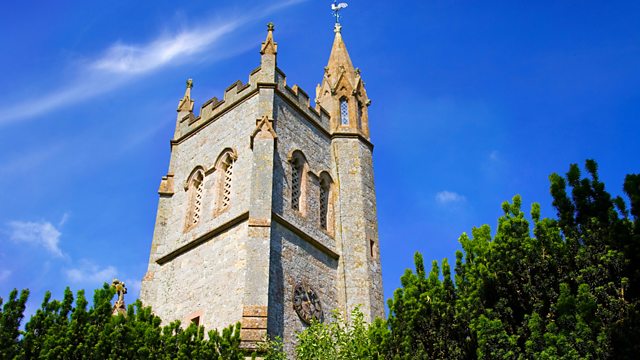 St Mary's Episcopal Cathedral, Glasgow
Marking the Feast Day of Glasgow's patron saint, Mungo, live from St Mary's Episcopal Cathedral, Glasgow, with the Very Rev Kelvin Holdsworth. Director of Music: Frikki Walker
Marking the Feast Day of Glasgow's patron saint, Mungo, live from St Mary's Episcopal Cathedral, Glasgow, with the Very Rev Kelvin Holdsworth, the Rev Canon Audrey O'Brien Stewart and the Rev Matthew Little.
Cathedral Choir directed by Frikki Walker. Assistant Organist: Steven McIntyre.
Hymn: Behold! the mountain of the Lord
Psalm 95, Venite (Slane)
Psalm 16 (From Canadian Psalter)
Anthem: Thy Perfect Love (Rutter)
Hymn: Take this moment, time & space (Graham Maule/John Bell)
Lord's Prayer - Sung, Russian setting
Hymn: Of the Father's Love Begotten (Divinum Mysterium)
Producer: Mo McCullough
Script
THE VERY REV KELVIN HOLDSWORTH
Good morning and welcome to St Mary's.
As the congregation gathers for worship this morning I can see a number of people wearing little badges that we make here which bear two simple words – "Refugees Welcome".
Those badges are just one part of our contribution to a long tradition in this city of welcoming those seeking a place of safety.
This tradition is so embedded in our common life that refugees in Glasgow have a special name. If those who live in Glasgow are commonly called weegies, refugees who find a welcome here are refuweegees.
And today, we celebrate the founder of this city, the original refuweegee himself, St Kentigern. On this day, we remember him choosing to settle here in Glasgow, the dear, green place where he chose to build a church.
MATTHEW
Yes, on this day, Glasgow remembers its founding saint. But Kentigern isn't the only name he was known by. The saint who settled in this place and founded the city in which we worship tends to be known not as Kentigern. That was his formal name, his given name – his Sunday name if you like. Our refuweegee saint, who eventually found this a safe place to live after his mother took refuge, escaping from threats of great violence, tends to be known locally by his pet name – Mungo.
And Mungo just means "the loved one".
Praying with Mungo for a time when violence will be no more, we sing together to the tune Glasgow,  Behold the Mountain of the Lord.

OPENING HYMN        Behold the Mountain of the Lord
Words: John Logan & Michael Bruce
Tune: Glasgow
Music: Moore's Psalm Singer's Pocket Companion 1755
KELVIN:
Let us pray.
Eternal God
the light of the faithful and shepherd of souls
who set your servant Mungo to be a bishop in the Church
in this dear green place.
Give us the grace to share your love with those around us,
to receive your love from those whom we encounter
and to follow in the footsteps of Jesus Christ your Son our Lord:
who is alive and reigns with you
in the unity of the Holy Spirit,
one God, now and for ever.
ALL:  Amen
MATTHEW:
St Mungo came to Glasgow at some time in the sixth century to spread the gospel, having been brought up in the Christian faith by his uncle St Serf in Culross, a village on the River Forth on the east of Scotland. It is difficult for us to know what worship was like in his day. What holy books did he have before the time of printing, what icons would he look at every day, was there the smell of incense around his small cell and the church that he established by the Molendinar burn? The truth is, we don't know a huge amount about what worship was like in these parts in those days.
However, it is reasonable to presume that Mungo did what Christians have always done – praying as the sun came up and praying as the sun went down and using the psalms to shape his offering of praise.
Together we now sing Psalm 95 – often known as the Venite – a morning invitation to join our praise with all who have gone before us.  
 CANTICLE        VENITE – Psalm 95
Words: Adam Carlill (alt)
Tune: Slane
Text:  Come, let us sing out our joy to the Lord,
with cheering, thanksgiving and shouting to God,
our rock and salvation to whom we resort,
our King and great Father of the heavenly court.
God's is the power that fashioned the earth, 
and brought all the peaks of the mountains to birth,
who made the wide oceans and all they contain,
establishing dry land and the natural domain.
Come, let us honour, bow down and revere
the Lord, who has made us, and kneel down in fear,
for we are his sheep in the pasture of God,
protected and guided by a merciful rod.
AUDREY:
The reading of scripture is also something that Christians have always done in their prayers.  In our first reading this morning, we hear the writer of the servant songs in the book of Isaiah encouraging those who hear to lift their hearts from whatever makes them feel low or sad and rejoice in those who bring us good news.
[Isaiah 52: 8-10] MATTHEW:
7 How beautiful upon the mountains
   are the feet of the messenger who announces peace,
who brings good news,
   who announces salvation,
   who says to Zion, 'Your God reigns.' 
8 Listen! Your sentinels lift up their voices,
   together they sing for joy;
for in plain sight they see
   the return of the Lord to Zion. 
9 Break forth together into singing,
   you ruins of Jerusalem;
for the Lord has comforted his people,
   he has redeemed Jerusalem. 
10 The Lord has bared his holy arm
   before the eyes of all the nations;
and all the ends of the earth shall see
   the salvation of our God.
13 See, my servant shall prosper;
   he shall be exalted and lifted up,
   and shall be very high. 
14 Just as there were many who were astonished at him*
   —so marred was his appearance, beyond human semblance,
   and his form beyond that of mortals— 
15 so he shall startle* many nations;
   kings shall shut their mouths because of him;
for that which had not been told them they shall see,
   and that which they had not heard they shall contemplate.
AUDREY
The cathedral choir will now sing verses from Psalm 16 which are associated with the Feast of St Mungo and which begin with the author asking for God to offer safety and refuge in time of need.
CHOIR + ORGAN
PSALM 16: 1, 2, 5- 11  (Canadian Psalter) 
Text:  1 Protect me, O God, for I take refuge in you;* I have said to the Lord, 'You are my Lord, my good above all other.'
2 All my delight is upon the godly that are in the land,* upon those who are noble among the people.
5 O Lord, you are my portion and my cup;* it is you who uphold my lot.
6 My boundaries enclose a pleasant land;* indeed, I have a goodly heritage.
7 I will bless the Lord who gives me counsel;* my heart teaches me, night after night.
8 I have set the Lord always before me;* because he is at my right hand I shall not fall.
9 My heart, therefore, is glad, and my spirit rejoices;* my body also shall rest in hope.
10 For you will not abandon me to the grave,* nor let your holy one see the Pit.
11 You will show me the path of life;* in your presence there is fullness of joy, and in your right hand are pleasures for evermore.
Glory to God, source of all being, eternal word and holy spirit
As it was in the beginning is now and shall be for ever amen.
Matthew:
In our second reading this morning, we hear Paul writing to the Thessalonians. He writes as someone who has suffered greatly for the gospel and travelled far in order to tell people about Jesus. He has been persecuted on his journeys but he responds to that persecution with tenderness and love rather than revenge and violence.
AUDREY
A reading from the second chapter of the first epistle to the Thessalonians
You yourselves know, brothers and sisters, that our coming to you was not in vain, but though we had already suffered and been shamefully maltreated at Philippi, as you know, we had courage in our God to declare to you the gospel of God in spite of great opposition. For our appeal does not spring from deceit or impure motives or trickery, but just as we have been approved by God to be entrusted with the message of the gospel, even so we speak, not to please mortals, but to please God who tests our hearts. As you know and as God is our witness, we never came with words of flattery or with a pretext for greed; nor did we seek praise from mortals, whether from you or from others, though we might have made demands as apostles of Christ. But we were gentle among you, like a nurse tenderly caring for her own children. So deeply do we care for you that we are determined to share with you not only the gospel of God but also our own selves, because you have become very dear to us.
You remember our labour and toil, brothers and sisters; we worked night and day, so that we might not burden any of you while we proclaimed to you the gospel of God.  You are witnesses, and God also, how pure, upright, and blameless our conduct was towards you believers. As you know, we dealt with each one of you like a father with his children, urging and encouraging you and pleading that you should lead a life worthy of God, who calls you into his own kingdom and glory.
For the word of God among us, for the word of God within us.
ALL:  Thanks be to God.
SERMON  Part 1
The Very Rev Kelvin Holdsworth
He quite took me by surprise as I walked down the high street.
A friend of mine. Wearing a beanie hat and a beard. A sweatshirt and a casual jacket. But holding out his hand, on which was perched a robin.
I was absolutely sure it was someone I know. He looked just like him.
He was the spitting image of my friend. But larger than life. Quite a bit larger than life in fact.
His face filled the side of the end gable of one of Glasgow's tenements.
It was a new mural that I hadn't seen before. One of a number of striking images that have been appearing around the city centre.
I went on my way and later on phoned the friend whom I thought I had recognised in the mural.
He denied posing for it and said it was nothing to do with him at all though he did admit to having had several calls that week from people who thought it was him.
"But do you know who it is supposed to be?" he asked me.
I looked again at a picture I had taken of the mural on my mobile phone. For the first time I saw that there was a round circle behind the figure's head in a slightly different colour to the rest of the background.
I realised it could be a halo.
And thinking about where it was, just down the High Street from the place where the city was founded, I managed to put two and two together. I realised it was Mungo, and the robin in the mural was the one that he purportedly brought back to life as a child. It had belonged to his uncle St Serf who had taken in him and his mother when they were on the run from her violent father.
Right there on the street was St Mungo. Looking just like a friend of mine.
At this time of year, Glasgow remembers its founder and its patron saint. The thirteenth of January is his feast day. And so we call him to mind with thanksgiving today and join our prayers with his, praying for the wellbeing of the city and giving thanks for the impact that he made upon those around him.
Whenever we remember Mungo's feast day, there are two things that I always bring to mind which make me love him.
The first is his name and the second is the way he died – so different from the way many saints seem to meet their end.
I love the fact that 1400 years or so after he lived, we still know Kentigern by his pet name. And a name which tells us a great deal about him.
He received his affectionate name from his uncle.  But it was the common people who popularised it and used it in remembering him.
Mungo doesn't mean the loving one. It means the loved one.

The Christian faith isn't about being good, it is about being loved.
Christians believe that the love we have for one another is just one of the many ways we have of experiencing the love of God, and I think I dare to tell people that they are loved because I know that I am utterly loved by God.
Mungo's name reminds us that ….
·        for all the legends of his mission – founding the city here and the diocese of St Asaph in Wales,
·        for all the Christian work he did– setting up a mission centre in what we call Dumfriesshire and evangelising Galloway, 
·        for all the church politics he was involved in – establishing churches and monasteries all over the place
Notwithstanding all these things, he was remembered primarily with a nickname that tells us that love was at the centre of his life.
CHOIR + ORGAN
ANTHEM:  Thy Perfect Love (Rutter)
Words: 15th Century / Music: John Rutter
 Text:  Thy perfect love
Jesu, my love, my joy, my rest,
Thy perfect love close in my breast
That I thee love and never rest;
And make me love thee of all thinge best,
And wounde my heart in thy love free,
That I may reign in joy evermore with thee.
SERMON  Part 2
The Very Rev Kelvin Holdsworth
The gift of being able to receive the love that is offered to you on this earth is just as precious as the love that you offer to anyone else.
The other thing that I love about Mungo is the way he died.
Not for him the way of martyrdom. He didn't die by the sword. He didn't die in battle. He didn't die being persecuted. There was no blood. There was no gore.
Mungo is said by those who told his legend to have died in his bath - surrounded by friends.
And that little detail of Mungo bathing may tell us something about his affinity with Roman custom. For the Romans had built baths round here during their occupation and Mungo was said to have visited Rome seven times.
Various miracles of his life are told in this city, as well as the story of the robin. Of a fire he miraculously rekindles with a hazel branch. Of the miraculous catch of a salmon in the Clyde with a wedding ring in its mouth that cleared the name of a falsely accused local queen.
But perhaps we should remember Mungo for greater miracles and ones we can share in – being loved and being a friend.
Mungo was a great traveller and clearly cultivated friendships with those whom he met. He was much loved by St David in Wales and his fame was such that St Columba came visiting.
When they met, it is said that they "hastened to unite in mutual embraces and holy kisses, and having fattened themselves first with a spiritual feast of divine words, they afterwards restored themselves with bodily food".
It isn't difficult to imagine them relaxing over food and conversation at the end of the day – their common task of building the church giving them an instant and enduring bond of friendship and affection.
When I want to relax at the end of a long day, I go to a local institution built in the same year that this cathedral was in 1871. It is a local Victorian swimming club. I swap the soaring arches, stained glass and Minton tiles of this building for the soaring arches, stained glass and Minton tiles of the Arlington Baths Club and relax in the heat of the Turkish bath and chatter with friends about the events of the day.
And when I'm there this week, I'll spare a thought for Mungo, founder of this great city, taking to his bath with friends all around him.
And I'll give thanks for the great twin miracles that seem to have been part of his life. The miracle of friendship and the miracle of being loved
In the name of the Father and of the Son and of the Holy Spirit Amen.
KELVIN       Intro to Hymn
As we sing our next hymn, John Bell and Graham Maule's Take this moment, sign and space, there is the opportunity for us to remember that God doesn't just ask us to give up being ourselves and give love away, but wants us to truly who we were created to be and able to receive the love of others as we journey through life.
HYMN    Take this moment, sign and space
Words: John Bell & Graham Maule / Music John Bell

MATTHEW       Intro to Intercessions
Let us join our hearts in prayer with all those who go before us and faithful people everywhere, holding before God the world in which we live and those who need to know God's love most of all today.
Let us pray.
AUDREY
Eternal God,
remembering all on the run from war and violence
and all who journey to seek safety,
you call us to welcome your people
and to work for a
world of justice, equity and peace.
God in your mercy
ALL: HEAR OUR PRAYER
MATTHEW
Saviour of the world,
we remember all who have decisions to make which affect the lives of others.
We pray for elected representatives in our parliaments in Strasbourg, Westminster and Holyrood as decisions are made which will affect all our lives.
We pray too for this great city and pray that you will let Glasgow flourish.
God in your mercy
ALL: HEAR OUR PRAYER
AUDREY
Holy Spirit of God
we remember all those for whom love feels distant. Help us to reach out to those in need and comfort those who are distressed. Help us to accept and receive the love that others offer us in the week that is ahead.
God in your mercy
ALL: HEAR OUR PRAYER
MATTHEW
Creator, Saviour and Holy Spirit, on this day we remember before you lives that are ending and lives that are beginning. We hold up especially the sick, the sorrowful, the weary and the dying.  All our journeys begin and end with you.
Give to those who have perished your eternal life and to those who mourn the grace and comfort of your holy spirit.
God in your mercy
ALL: HEAR OUR PRAYER
ALL 
God most holy, 
we give you thanks for bringing us out of the shadow of night 
into the light of morning, 
and we ask you for the joy of spending this day in your service 
so that when evening comes, 
we may once more give you thanks, 
through Jesus Christ our Lord.
ALL:  Amen
Kyrie – Spoken 
AUDREY    Lord have mercy upon us
ALL:  Christ have mercy upon us
AUDREY    Lord have mercy upon us.
LORD'S PRAYER – SUNG – Russian Setting  
KELVIN:  As our Saviour has taught us, so we pray:
+ CHOIR:  Our Father in heaven, hallowed be your name,
your kingdom come,  your will be done,
on earth as in heaven.
Give us today our daily bread.
Forgive us our sins as we forgive those who sin against us.
Do not bring us to the time of trial
but deliver us from evil.
For the kingdom, the power and the glory are yours,
now and for ever.  Amen.
CLOSING HYMN   Of the Father's Love Begotten
Tune:  Corde Natus/Divinum Mysterium (from Piae Cantiones)
Words:  Aurelius Clemens Prudentius, Translated by HW Baker & JM Neale 
KELVIN       Celtic Blessing   
May the blessed sunlight shine on you
Like a great peat fire,
So that strangers and friends may come
And warm themselves at it. 
And may light shine out of the two eyes of you,
Like a candle set in the window of a house,
Bidding the wanderer come in out of the storm. 
And now may Spirit bless you,
And bless you kindly.
KELVIN + ALL
Let us bless the Lord
ALL:  Thanks be to God
The Lord bless us and preserve us from all evil;
ALL:  and bring us to life eternal.
Amen
ORGAN VOLUNTARY
Allegro maestoso e vivace from Sonata No2 (Op 65) for Organ by
Felix Mendelssohn)
Assistant Organist:  Steven McIntyre