Main content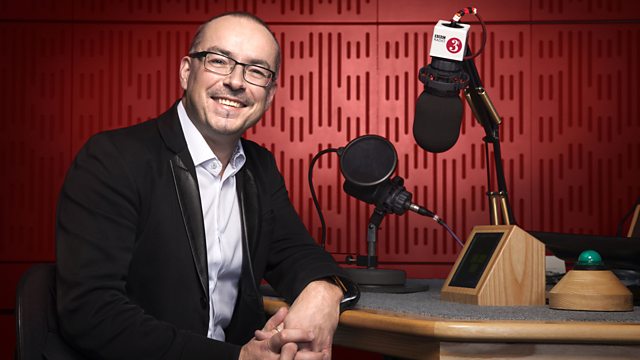 12/01/2019
Andrew McGregor rounds up the best new and recent releases, and in Building a Library Kate Molleson compares recordings of Prokofiev's Violin Concerto No 1 in D.
with Andrew McGregor.
09.30
Building a Library: Kate Molleson listens to and compares some of the available recordings of Prokofiev's Violin Concerto No.1,
Prokofiev began sketching his Violin Concerto No.1 in 1915 against a backdrop of war, and composed the bulk of it in the turbulent revolutionary year of 1917. It proved to be one of his first mature works. The Violin Concerto is a virtuosically brilliant work, that also captures the lyrical quality of the violin with searing melodies that rise above the orchestra. It was premiered on 18th October in 1923 by violinist Marcel Darrieux under Serge Koussevitzky at the Paris Opera, but was somewhat overshadowed in that concert alongside a performance of Stravinsky's Octet.
11.00
In this the 90th birthday year of conductor, composer and arranger André Previn, Andrew McGregor discusses with Andrew Mellor a new 55-CD collection from Sony Classical of the artist's classical RCA and CBS discography, ranging from the early 1960s to the mid-1990s.
11.45
Andrew chooses an outstanding new release as his Disc of the Week.
Last on

Record Review
9.00am
'L'Alessandro amante' – 18th century songs and instrumental pieces by Bononcini, Handel, Pescetti, Steffani, Draghi, Mancini, Vinci, Leo & Porpora
Xavier Sabata (counter tenor)
Vespres D'arnadi (ensemble)
Dani Espasa (director & harpsichord)
Aparte AP192
http://www.apartemusic.com/discography/lalessandra-amante/ 
Boris Mikolayovich Lyatoshynsky: Symphony No.3 'Peace shall defeat War' & 'Grazhyna'
Bournemouth Symphony Orchestra
Kirill Karabits (conductor)
Chandos CHSA 5233 (Hybrid SACD)
https://www.chandos.net/products/catalogue/CHSA%205233 
Liszt: Études d'exécution transcendante, La Leggierezza & Rigoletto (Paraphrase de concert)
Boris Giltburg (piano)
Naxos 8.573981
https://www.naxos.com/catalogue/item.asp?item_code=8.573981
9.30am – Building a Library – Kate Molleson on Prokofiev Violin Concerto No.1 
Composer: Sergei Prokofiev
Reviewer: Kate Molleson
Recommended Recording:

Vilde Frang (violin)
WDR Sinfonieorchester Köln
Thomas Søndergård (conductor)
Warner Classics 6844132

Other Recommended Recording: 
Frank Peter Zimmermann (violin)
Berlin Philharmonic Orchestra
Lorin Maazel (conductor)
Warner Classics 2068602
10.20am – New Releases

'Si vous vouliez un jour – Airs sérieux et à boire, Vol.2' – Songs by Charpentier, Moulinié, Lambert & Camus
Les Arts Florissants (Ensemble)
William Christie (conductor)
Harmonia Mundi HAF 8905306
http://www.harmoniamundi.com/#!/albums/2490 
Schubert: Symphony No.7 'Unfinished' & Lieder (Orch. Brahms & Webern)
Florian Boesch (bass baritone)
Concentus Musicus Wien
Stefan Gottfried (director)
Aparte AP189
http://www.apartemusic.com/discography/schubert-symphony-no-7-unfinished/ 
Hugo Wolf: Italienisches Liederbuch
Diana Damrau (soprano)
Jonas Kaufmann (tenor)
Helmut Deutsch (piano)
Erato 0190295658663
http://www.warnerclassics.com/shop/3255743,0190295658663/diana-damrau-hugo-wolf-italienisches-liederbuch 
'In a Strange Land – Elizabethan composers in exile' – Choral music by Dowland, Byrd, Philips, Dering, De Monte, Watkins & White
Stile Antico (choir)
Harmonia Mundi HMM 902266
http://harmoniamundi.com/#!/albums/2489
10.50am – Reisssues: Andrew Mellor on 'The Classic André Previn' box set from Sony

'The Classic André Previn'
Sony 19075831672 (55 CDs) 
11.45am – Disc of the Week

Purcell: King Arthur
Sophie Junker (soprano)
Zsuzsi Tóth (soprano)
Stefanie True (soprano)
Caroline Weynants (soprano)
Olivier Berten (baritone)
Robert Buckland (tenor)
Daniel Elgersma (counter tenor)
Marcus Farnsworth (baritone)
Jan Kullmann (counter tenor)
David Lee (tenor)
Sebastian Myrus (baritone)
Vox Luminis (ensemble)
Lionel Meunier (conductor)
Alpha 430 (2 CDs)
https://outhere-music.com/en/albums/king-arthur-alpha-430
Broadcast