Main content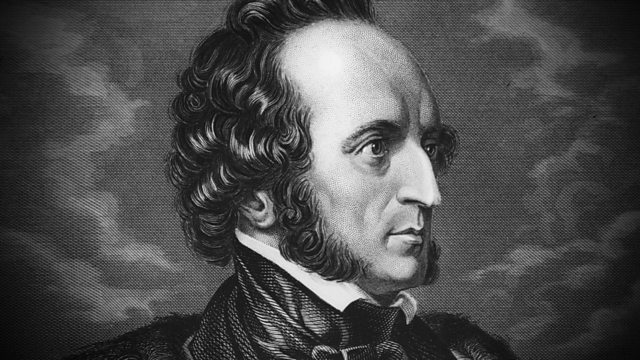 Mendelssohn, the champion of Bach
Donald Macleod delves into the impact of Bach upon Felix Mendelssohn.
Donald Macleod delves into the impact of Bach upon Felix Mendelssohn.
In Composer of the Week, Donald Macleod journeys through the life of Felix Mendelssohn, exploring in particular a number of influences upon the composer's works. Mendelssohn was a leading figure of German music in his day, and became something of an international celebrity. He was at the very forefront of music making during the 1830s and 1840s, as a composer, conductor, pianist and organist. He began as a highly gifted and versatile prodigy, and rose to become one of Germany's first rank composers of the early romantic period. He composed music in many genres including concertos, oratorios, symphonies, songs and chamber music. Amongst some of his most famous works, are the highly evocative and dramatic overture to A Midsummer Night's Dream, and his mature and richly romantic Violin Concerto.
Mainly through his teacher Zelter, Mendelssohn had been introduced to the music of Johann Sebastian Bach from a very young age. A number of his early works display a distinct trace of the baroque master. Mendelssohn had a drive and enthusiasm for Bach, and he was determined that as a conductor he should bring Bach's music to a wider audience. Mendelssohn helped to resurrect Bach's St Matthew Passion from obscurity, and its performance in the late 1820s led to a regeneration and interest in oratorio. Partly through his work championing Bach, Mendelssohn was hailed as a cultural leader of a nation. His own oratorios demonstrate the influence of Bach and Handel, although one of his friends criticised Mendelssohn for falling into bad habits and involuntarily copying Bach in his work Elijah.
String Symphony No 5 in B flat major (Allegro vivace)
Amsterdam Sinfonietta
Lev Markiz, conductor
Prelude and Fugue No 1 in E minor, Op 35
Howard Shelley, piano
Paulus, Op 36 (Rise! Up! Arise!)
Barry Banks, tenor
Peter-Coleman-Wright, bass (Paul)
BBC National Chorus of Wales
BBC National Orchestra of Wales
Richard Hickox, conductor
Organ Sonata in C minor, No 2 Op 65
William Whithead, organ
Elijah, Op 70 (It is enough)
Willard White, bass-baritone (Elijah)
Rosalind Plowright, soprano (Angel)
Linda Finnie, mezzo-soprano (Angel)
Jeremy Budd, tenor (Youth)
London Symphony Orchestra
Richard Hickox, conductor
Produced by Luke Whitlock, for BBC Wales