Main content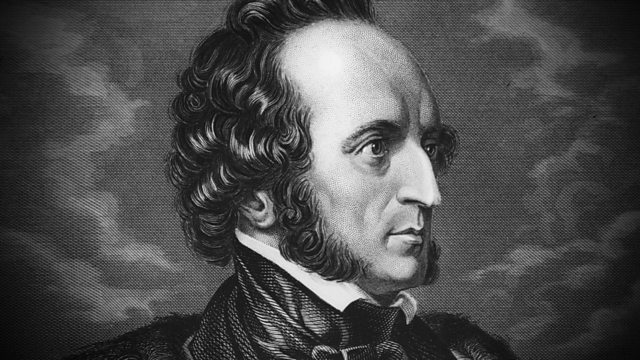 Mendelssohn's muse Cecile
Donald Macleod explores the impact of marriage upon Mendelssohn's life and music.
Donald Macleod explores the impact of marriage upon Mendelssohn's life and music
In Composer of the Week, Donald Macleod journeys through the life of Felix Mendelssohn, exploring in particular a number of influences upon the composer's works. Mendelssohn was a leading figure of German music in his day, and became something of an international celebrity. He was at the very forefront of music making during the 1830s and 1840s, as a composer, conductor, pianist and organist. He began as a highly gifted and versatile prodigy, and rose to become one of Germany's first rank composers of the early romantic period. He composed music in many genres including concertos, oratorios, symphonies, songs and chamber music. Amongst some of his most famous works, are the highly evocative and dramatic overture to A Midsummer Night's Dream, and his mature and richly romantic Violin Concerto.
During the 1830s, pressure grew on Mendelssohn from his friends and family to find a wife. The lucky girl was Cecile Sophie Charlotte Jeanrenaud, who Mendelssohn first met in 1836 in Frankfurt. Theirs was a blest relationship which would inspire and influence many of his works, including his love duet for solo piano from his Sechs Lieder ohne Worte, or the String Quartet in E minor. As Mendelssohn's professional life became increasingly busy, including lots of travel both in Germany and abroad, his wife Cecile provided a domestic backdrop which supported her husband in his work. Some went on to criticise Mendelssohn, attributing a loss of artistic integrity to his increased domestic happiness. With Mendelssohn's early death, Cecille was noted to say, life lasts so long, how shall I live it alone?
Sechs Lieder ohne Worte Op 38 No 6 (Duetto: Andante)
Howard Shelley, piano
Ich wollt' meine Lieb' ergosse sich, Op 63 No 1
Herbstlied, Op 63 No 4
Sophie Daneman, soprano
Nathan Berg, baritone
Eugene Asti, piano
Prelude and Fugue in C minor, Op 37 No 1
Stefan Johannes Bleicher, organ
Concerto in E minor for violin and orchestra, Op 64
Xue Wei, violin
London Philharmonic Orchestra
Ivor Bolton, conductor
String Quartet in E minor, Op 44 No 2 (Presto agitato)
Emerson String Quartet
Produced by Luke Whitlock, for BBC Wales
More episodes
Next
You are at the last episode