Main content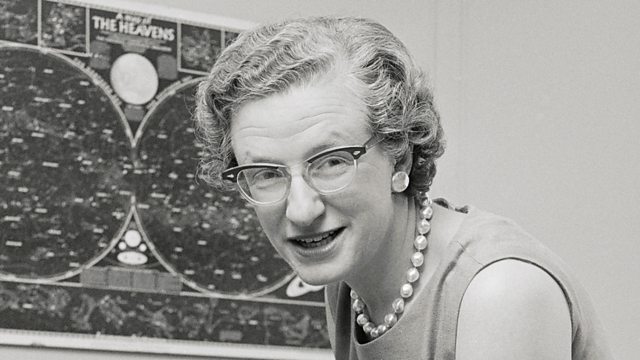 Nancy Roman, Ralph Koltai CBE, Julia Grant, Jin Yong, Norman Gimbel
Matthew Bannister on astronomer Nancy Roman, set designer Ralph Koltai, transgender activist Julia Grant, writer Jin Yong and lyricist Norman Gimbel.
Pictured: Nancy Roman
Matthew Bannister on
Nancy Roman, the American space agency NASA's first Chief Astronomer. She was known as the mother of the Hubble Telescope.
Ralph Koltai, the influential theatre set designer who worked on more than 250 productions.
Julia Grant, the transgender activist who allowed her transition from male to female to be filmed by the BBC.
Jin Yong, the Chinese writer whose martial arts adventures sold 100 million copies.
And Norman Gimbel, the prolific lyricist who wrote the words for "The Girl From Ipanema" and "Killing Me Softly With His Song".
Interviewed guest: Kimberly Kowal Arcand
Interviewed guest: Dr Stuart Clark
Interviewed guest: Michael Quinn
Interviewed guest: Professor Pamela Howard OBE
Interviewed guest: Gary Roberts
Interviewed guest: David Pearson
Interviewed guest: Anna Holmwood
Producer: Neil George
Archive clips from: Nancy Roman the Mother of Hubble, NASA 12/06/2017; Horizon: The Sharpest Show of the Universe, BBC Two 09/04/1990; Desert Island Discs, Radio 4 23/08/1998; Inside Story: George, BBC Two 25/06/1979; A Change of Sex: Julia Gets Her Man, BBC Two 10/08/1999; Books Abroad, Radio 3 31/08/1996; The Legend of the Condor Heroes episode 11, iQIYI Motion Pictures 2017.
Nancy Roman
Born 16 May 1925; died 25 December 2018, aged 93.
Last Word spoke to Kimberly Kowal Arcand, the Visualization Lead for NASA's Chandra X-ray Observatory, and astronomy journalist Dr Stuart Clark.
Ralph Koltai CBE
Born 31 July 1924; died 15 December 2018, aged 94.
Last Word spoke to The Stage critic Michael Quinn and director Professor Pamela Howard OBE.
Julia Grant
Born 21 September 1954; died 2 January 2019, aged 64.
Last Word spoke to her brother Gary Roberts, and former BBC television executive and commissioner David Pearson.
Jin Yong
Born 1924; died 30 October 2018, aged 94.
Last Word spoke to translator Anna Holmwood.
Norman Gimbel
Born 16 November 1927; died 19 December 2018, aged 91.