Main content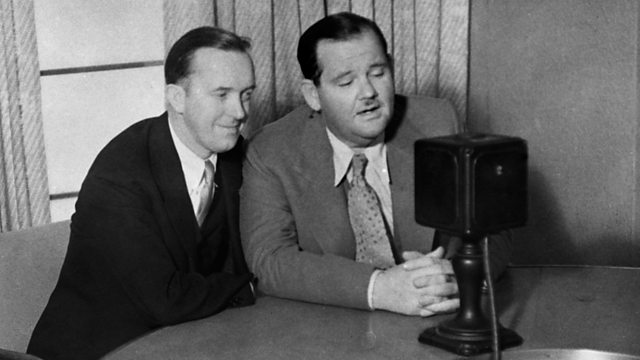 Landmark: Laurel and Hardy's The Music Box
Lucy Porter, David Quantick and Neil Brand join Matthew Sweet to celebrate Laurel and Hardy and their sublime short, The Music Box.
Lucy Porter, Neil Brand and David Quantick join Matthew Sweet to talk about Cric e Croc or Flip i Flap or even Dick und Doof though, if you're not Italian, Polish or German, it's far more likely that Hollywood's most famous comedy duo will be known to you simply as Stan and Ollie.
Laurel and Hardy to give them their more formal title won the hearts of cinema goers all over the world in the '30s and '40s with films such as Way out West, Sons of the Desert and The Music Box, the sublime short which is the focus of this edition of Free Thinking. With the release of a new film about their life Stan and Ollie - starring John C Reilly and Steve Coogan, and a month long season of their work already underway at the British Film Institute in London - Matthew Sweet is joined by the standup comedian, Lucy Porter, the Emmy award winning writer, David Quantick and playwright and musician, Neil Brand to pay tribute to their achievement and enduring appeal.
Producer: Zahid Warley
Lucy Porter begins a nationwide tour of her show - Pass it On - in February
The BFI Laurel and Hardy season is on now at London's Southbank and runs until 26th January.
Matthew Sweet pays tribute to Hollywood's most famous comedy duo Stan and Ollie
Featured in...
Creativity, performance, debate

Key films, books, TV, plays, art: 1001 Nights – 2001 A Space Odyssey, Jane Austen - Jaws