Main content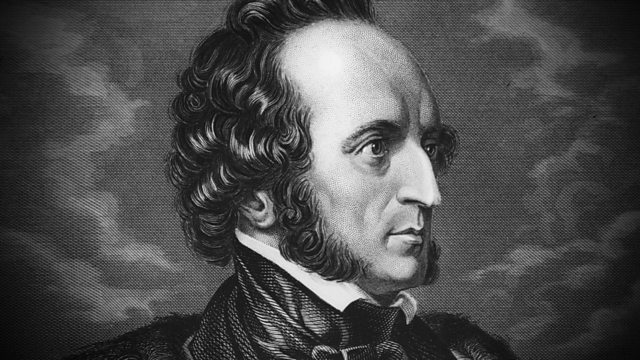 Mendelssohn is inspired by Italy
Donald Macleod accompanies Mendelssohn on his travels through Italy.
Donald Macleod journeys with Mendelssohn through his travels in Italy.
In Composer of the Week, Donald Macleod journeys through the life of Felix Mendelssohn, exploring in particular a number of influences upon the composer's works. Mendelssohn was a leading figure of German music in his day, and became something of an international celebrity. He was at the very forefront of music making during the 1830s and 1840s, as a composer, conductor, pianist and organist. He began as a highly gifted and versatile prodigy, and rose to become one of Germany's first rank composers of the early romantic period. He composed music in many genres including concertos, oratorios, symphonies, songs and chamber music. Amongst some of his most famous works, are the highly evocative and dramatic overture to A Midsummer Night's Dream, and his mature and richly romantic Violin Concerto.
Mendelssohn composed a number of works whilst on his Grand Tour of Italy. At the start of the 1830s he visited many of the iconic Italian destinations such as Venice, Florence, Rome, Naples and Milan. This visit to Italy can be heard in a number of his works from the time, including his song of a Venetian Gondolier for solo piano, to his Italian Symphony. Yet, although Mendelssohn found the art, architecture and landscape of Italy to be hugely inspiring, he didn't rate the quality of music making there. During Holy Week in Rome he enjoyed listening to the Papal choir, but by and large he found musical standards in Italy very low at the time. On one occasion Mendelssohn fled from a church to escape the lamentable playing of the organist.
Lieder ohne Worte, Op 19B No 6 (Venetianisches Gondellied)
Howard Shelley, piano
Psalm 115 Non nobis Domine, Op 31
Annemarie Kremer, soprano
Daniel Sans, tenor
Manfred Bittner, bass
Chamber Choir of Europe
Wurttembergische Philharmonie Reutlingen
Nicol Matt, conductor
Nachspiel in D major
Olivier Vernet, organ
Symphony No 4 in A major, Op 90 (Italian)
Vienna Philharmonic Orchestra
John Elliot Gardiner, conductor
Produced by Luke Whitlock, for BBC Wales