Main content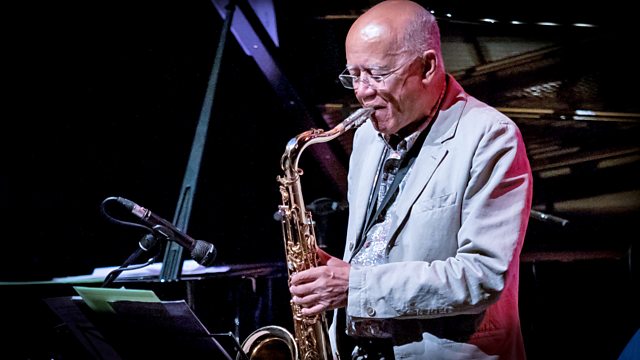 Art Themen
Soweto Kinch presents Art Themen in concert from the Herts Jazz Festival, with Gareth Williams, piano; Arni Somogyi, bass; and Winston Clifford, drums.
PLAYLIST
DISC
Artist Soweto Kinch
Title The Healing
Composer Kinch
Album The Legend of Mike Smith
Label Soweto Kinch Recordings
Number SKP003 CD 2 Track 39
Duration 21"
Performers: Soweto Kinch, as, rhodes, prog; Shabaka Hutchings, ts; Karl Rasheed-Abel, b; Graham Godfrey, d. . 2015
Clip: Immortal Onion 0.36
The Art Themen's New Directions Quartet perform at Herts Jazz Festival in Letchworth
MUSIC:
Hanky Panky (Gordon) 7.31
Joe's Blow (Somogyi) 8.30
Midnight Voyage (Calderazzo) 12.05
Autumn In New York (Duke) 8.52
Nutville (Horace Silver) 7.48
For Regulars Only (Gordon) 5.04
Personnel: Gareth Williams, p; Arnie Somogyi, db; Winston Clifford, d.
Emma Smith presents some of the latest jazz tracks uploaded to BBC Introducing
Immortal Onion: First Steps 5.45
Valia Calda: Exiles 6.19
Young Pilgrims: Hall of Meat 3.49
Meerkat Parade: Mr Frisbee 4.27
Leiko: Salo  4.08
Max Wright: 131 4.18
DISC
Artist Soweto Kinch
Title The Healing
Composer Kinch
Album The Legend of Mike Smith
Label Soweto Kinch Recordings
Number SKP003 CD 2 Track 39
Duration 40"
Performers: Soweto Kinch, as, rhodes, prog; Shabaka Hutchings, ts; Karl Rasheed-Abel, b; Graham Godfrey, d. . 2015