Main content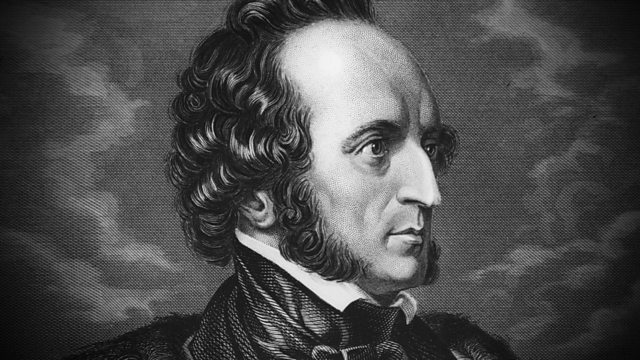 Mendelssohn in Mozart's shadow
Donald Macleod delves into the impact of Mozart upon Mendelssohn's life and music.
Donald Macleod delves into the impact of Mozart upon Mendelssohn's life and music
In Composer of the Week, Donald Macleod journeys through the life of Felix Mendelssohn, exploring in particular a number of influences upon the composer's works. Mendelssohn was a leading figure of German music in his day, and became something of an international celebrity. He was at the very forefront of music making during the 1830s and 1840s, as a composer, conductor, pianist and organist. He began as a highly gifted and versatile prodigy, and rose to become one of Germany's first rank composers of the early romantic period. He composed music in many genres including concertos, oratorios, symphonies, songs and chamber music. Amongst some of his most famous works are the highly evocative and dramatic overture to A Midsummer Night's Dream, and his mature and richly romantic Violin Concerto.
Felix Mendelssohn's early life has many similarities with the early life of Mozart. Both were brilliant performers on the piano and the violin. They both started writing music at a very young age. Mozart and Mendelssohn both had hugely talented sisters, but their fathers played very different roles. Whereas Mozart's father was very much the driving force in his son's life and career, for Mendelssohn this authority largely came from his teacher Carl Friedrich Zelter. Zelter encouraged his pupil to learn from the music of Mozart, and so many of Mendelssohn's early compositions have a distinct trace of Mozart. The famous writer Goethe had met Mozart, seeing him perform a number of exercises as a young boy. When he met Mendelssohn some years later, he put the lad through many similar tests to compare the two. This comparison with Mozart would continue throughout Mendelssohn's life and beyond. Many years after his death, the conductor Hans von Bulow said that if you want to perform Mendelssohn correctly, you must first play Mozart.
Die beiden Padagogen (Overture)
Munchner Radio Orchestra
Heinz Wallberg, conductor
Die beiden Padagogen (Probatum est, dies ruf ich mir)
Dietrich Fischer-Dieskau, baritone (Bogy)
Munchner Radio Orchestra
Heinz Wallberg, conductor
Duo Sonata in G minor
Duo Lontano
Babette Hierholzer, piano
Jurgen Appell, piano
Piano Quartet No 2 in F minor, Op 2 (Allegro molto vivace)
Domus
Krysia Osotowicz, violin
Timothy Boulton, viola
Richard Lester, cello
Susan Tomes, piano
Concerto in A minor for piano and string orchestra
Ronald Brautigam, piano
Amsterdam Sinfonietta
Lev Markiz, conductor
Produced by Luke Whitlock, for BBC Wales
More episodes
Previous
You are at the first episode