Main content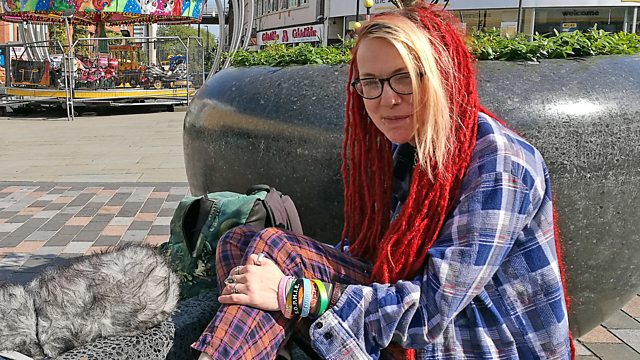 Derby - Sophie Sparham
Sophie Sparham crafts a poem around stories told to Anna Scott-Brown on a bench in the centre of Derby - from deafness to Windrush, homelessness and football.
Anna Scott-Brown hears more stories from the people who stop to sit beside her on benches around the country.
In this edition, Anna sits on a bench in the centre of Derby. Throughout the programme, a specially commissioned work by the poet Sophie Sparham draws on the voices of those passing by – and sometimes pausing on – the bench at 'the Spot' in the city.
These hidden stories are glimpsed through snatched moments and the painful and beautiful stories people tell Anna in this busy urban setting. One man talks of regaining his hearing after 18 years of deafness, another – a child of Caribbean immigrants - of the pain he feels for the Windrush generation.
Stories of homelessness feature throughout the programme, including one young man who has turned his life around. And there is a final citation to hope, both in Sophie's poetry and in the contributors who have sat on the bench.
Sophie picks up on some of Derby's well known figures in her poems, and pays a moving tribute to the city she lives in, while expressing some of the tensions inherent in her love for it.
Hidden lives are revealed, and common threads recur as Anna's gentle but insistent, and sometimes extremely direct, questions elicit poignant and profound responses from those sitting on the bench.
Presented and Produced by Anna Scott-Brown
An Overtone production for BBC Radio 4
Last on
Broadcasts