Main content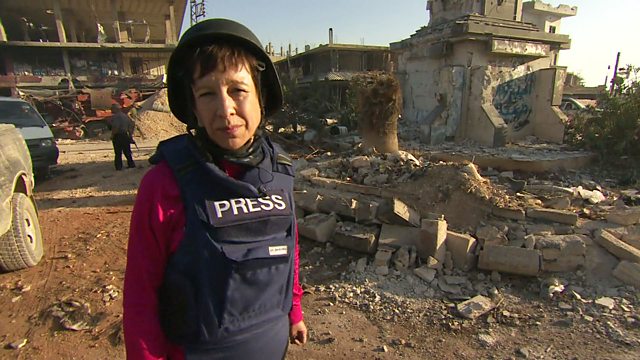 St Bride's Church, The Sacred Art of Joking, Jair Bolsonaro
Sunday morning religious news and current affairs programme, presented by Edward Stourton.
For more than three centuries, St. Bride's Church in Fleet Street has had a close connection with the newspaper industry. The saddest services are funerals of journalists killed in the line of duty. Between 1st January and 14th December 2018, at least 53 journalists were killed around the world. Standing in front of the journalists' altar, Edward meets two veteran journalists - the BBC's Lyce Doucet and the photojournalist Sebastian Rich to discuss the changing nature of war zone reporting.
Later today, the Ukrainian Orthodox Church will officially gain its independence from the Russian Orthodox Church. Jonathan Luxmoore explains the importance of the split.
As new figures reveal an influx of lone child refugees amongst the boatloads of people crossing the Channel, the Bishop of Dover talks about the need to show greater compassion for those risking their lives to get to the UK.
James Cary is a sit-com writer who also sits on the Church of England's General Synod. He says that Christians have lost the ability to see the humour in the Bible. He talks to Edward about his new book 'The Sacred Art of Joking'.
Indian women have been demonstrating in Kerala against their exclusion from the Sabarimala Temple. The BBC's India correspondent Yogita Limaye explains why.
Rosie Dawson reports on the American Red Letter Christians who are planning to launch the movement in this country.
Jair Bolsonaro was sworn in as president of Brazil on New Year's Day. What impact is his faith going to have on his country now that he holds the reins of power? The BBC's South America correspondent Katy Watson reports.
Producers: Helen Lee and Catherine Earlam
Editor: Amanda Hancox