Main content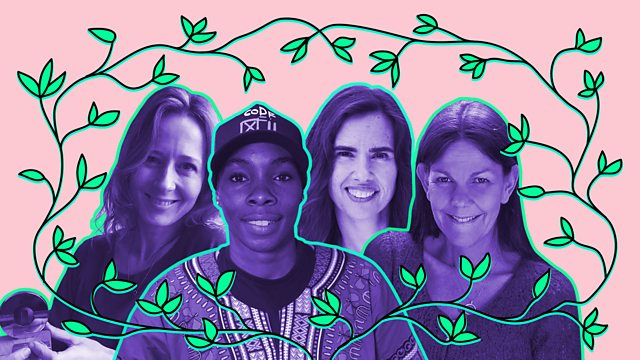 Life challenges, Books that changed your mind, Jennifer Pike, Food and fear
Four women on facing life's challenges with resilience and self-compassion. Books that change your mind. Violinist Jennifer Pike performs. How to eat - and speak - without fear.
On Weekend Woman's Hour we hear from four different women who have faced huge challenges with remarkable wisdom, resourcefulness, courage and resilience. Nequela Whittaker works in South London with young people in danger of getting into trouble. Sophie Sabbage was diagnosed four years ago with stage four terminal cancer. Josie Bevan is the author of the award-winning blog, Prison Bag and Dr Kristin Neff has pioneered ground-breaking research into self-compassion.
Plus, we talk about the books that have changed the way you think about life. Award-winning novelist Patrice Lawrence, writer Alex Clark and critic Sarah Ditum share the book that changed them.
Jennifer Pike performs Polish Caprice by Grażyna Bacewicz. Jennifer won the BBC Young Musician of the Year award in 2002 aged just 12. She's now releasing an album, The Polish Violin.
A study has found that although half of the audience members of academic seminars are women, for every question asked by a woman, men ask two-three times as many. Dr Gillian Sandstrom, from the University of Essex, and Jo Ellen Grzyb, founding director of Impact Factory, which runs workshops on communication, negotiation and public speaking discuss.
British victims of forced marriages overseas are being asked by the Foreign Office to pay costs associated with their own rescue. Some women who were unable to cover the costs of their flights, food and shelter have been asked to take out a loan. Jenni talks to Pragna Patel, Director of Southall Black Sisters about the situation.
We speak to Eve Simmons and Laura Dennison, two young women who've recovered from eating disorders and written a book called Eat It Anyway. It encourages a sensible and healthy relationship with food. Plus, dietician Renee McGregor adds her thoughts on the topic of diets.
And a mother who's one year old son died from sepsis got an MBE this New Year for her work highlighting the illness. Melissa Mead talks about how losing William in 2014 drove her to take action.
Presented by Jenni Murray
Produced by Sophie Powling
Edited by Jane Thurlow
Last on

Broadcast