Main content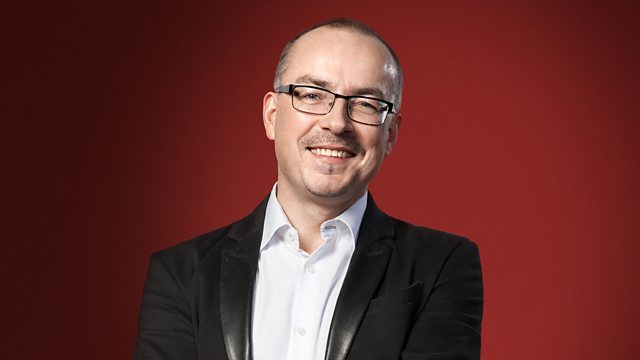 Andrew McGregor with Laura Tunbridge and Tom McKinney
Building a Library on Debussy's String Quartet, plus Tom McKinney reviews new releases by contemporary composers
with Andrew McGregor
09.30
Building a Library: Laura Tunbridge picks a personal favourite from among the recordings of Debussy's String Quartet
Claude Debussy wrote his only string quartet in 1893 when he was 31 years old. After abandoning his opera Rodrigue et Chimène, he planned to write two string quartets. But this was the only one he completed. It is full of sensual and impressionistic harmonies. Debussy wrote that "any sounds in any combination and in any succession are henceforth free to be used in a musical continuity."
1030
Andrew and Tom McKinney discuss the latest batch of new releases of music by contemporary composers
11.45
Andrew chooses an outstanding new release as his Disc of the Week.
Record Review
9.00am
Rossini: Sonatas for Strings Nos.4-6; Hoffmeister: String quartet Nos.3 & 4
Minna Pensola (violin)
Antti Tikkanen (violin)
Tuomas Lehto (cello)
Niek de Groot (double bass)
BIS-2318 (Hybrid SACD)

JS Bach: Partita IV, Italian Concerto BWV 971, Chaconne from Partita II, BWV 1004 arr. Busoni
Federico Colli (piano)
Chandos CHAN20079
https://www.chandos.net/products/catalogue/CHAN%2020079 
Handel: Te Deum, O Magnify the Lord
Grace Davidson (soprano)
Charles Daniels (tenor)
Nicholas Mulroy (tenor)
Benedict Hymas (tenor)
Edward Grint (bass)
London Handel Orchestra (orchestra)
Onyx Classics ONYX 4203
http://www.onyxclassics.com/cddetail.php?CatalogueNumber=ONYX4203 
Mendelssohn: Concerto for violin in d minor, String Symphonies Nos.1-6
Henry Raudales (violin and conductor)
Munich Radio Orchestra
BR KIassik 900324
9.30am – Building a Library – Laura Tunbridge on Debussy's String Quartet 
Composer: Claude Debussy
Reviewer: Laura Tunbridge
Recommended Recording:

Arcanto Quartett
Harmonia Mundi HMC902067
Other Recommended Recordings:
Alban Berg Quartet
EMI CDC7473472 
Talich Quartet
LDV08

Quatuor Hermès
LDV 33

Quatuor Danel
FUG595 
Quatuor Ébène
Erato 5190452

10.20am – New Releases

Berlioz: Romeo and Juliet
Sasha Cooke (mezzo-soprano)
Nicholas Phan (tenor)
Luca Pisaroni (bass-baritone)
San Francisco Symphony Chorus
SFS Media 821936-0074-2 (2 Hybrid SACDs)
https://www.sfsymphony.org/Berlioz
'Tableaux de Provence' – Works for saxophone by Debussy, Decruck, Maurice & Borne
Dominic Childs (saxophone)
Simon Callaghan (piano)
Resonus Classics RES10231
https://www.resonusclassics.com/tableaux-de-provence-works-for-saxophone-childs-callaghan-res10231
Stenhammar: Symphony No.2 & Serenade in F major
Gothenburg Symphony Orchestra
Herbert Blomstedt (conductor)
BIS-2424 (Hybrid SACD)
http://bis.se/conductors/blomstedt-herbert/stenhammar-symphony-no2
'The Polish Violin' – Works for violin by Karlowicz, Szymanowski, Wieniawski & Moszkowski
Jennifer Pike (violin)
Petr Limonov (piano)
Chandos CHAN 20082
https://www.chandos.net/products/catalogue/CHAN%2020082
Felix Woyrsch: Symphonies Nos. 4 & 5
NDR Radiophilharmonie
Thomas Dorsch (conductor)
CPO 555 063-2
11am – New Releases: Tom McKinney on Contemporary Releases

Joe Cutler: Elsewhereness, McNulty, For Frederic Lagnau, Akhmatova Fragments, Sikorski B & Karembeu's Guide to the Complete Defensive Midfielder
Royal Birmingham Conservatoire Symphony Orchestra
Mirga Gražinytė-Tyla (conductor)
Fidelio Trio
Workers Union Ensemble
Sarah Leonard (soprano)
Project Instrumental (ensemble)
Daniele Rosina (conductor)
Noszferatu (ensemble)
Emulsion Sinfonietta (ensemble)
NMC D246
https://www.nmcrec.co.uk/recording/elsewhereness

Linda Catlin Smith: Morning Glory, Music for John Cage, Stare at the River, Knotted Silk, Sarabande, Velvet, Wanderer & Light and water
Apartment House (ensemble)
Jack Sheen (conductor)
Another Timbre AT130
http://www.anothertimbre.com/wanderer.html

Cassandra Miller: Just So, Warblework, About Bach, Leaving
Clemens Merkel (violin)
Alissa Cheung (violin)
Stephanie Bozzini (viola)
Isabelle Bozzini (cello)
Another Timbre AT129
http://www.anothertimbre.com/millerjustso.html
'Bozzini+' – Bryn Harrison: Piano Quintet; Mary Bellamy: beneath an ocean of air; Monty Adkins: Still Juniper Snow
Quatuor Bozzini
Philip Thomas (piano)
Sarah-Jane Summers (fiddle)
Huddersfield Contemporary Records HCR19CD
https://www.nmcrec.co.uk/huddersfield-contemporary-records/bozzini

Kaija Saariaho: Tocar, Cloud Trio, Light and Matter, Aure & Graal Théâtre
Jennifer Koh (violin)
Curtis 20/21 Ensemble
Cedille CDR 90000 183
http://www.cedillerecords.org/albums/saariaho-x-koh

Toivo Tulev: Suvine Vihm (Summer Rain), Legatissimo, Tanto gentile, 'I said, Who are You – He said, You', 'Flow, my Tears' & Magnificat
Latvian Radio Choir
Talinn Chamber Orchestra
Kaspars Putnins (conductor)
Naxos 8.573735
https://www.naxos.com/catalogue/item.asp?item_code=8.573735
11.45am – Disc of the Week
JS Bach: Violin Concertos Nos. 1, 2 & 5 plus Concerto for 2 Violins in D minor
Shunske Sato (violin)
Zefira Valova (violin II)
Il Pomo d'Oro (ensemble)
Erato 0190295633875
http://www.warnerclassics.com/shop/5604671,0190295633875/shunske-sato-bach-violin-concertos