Main content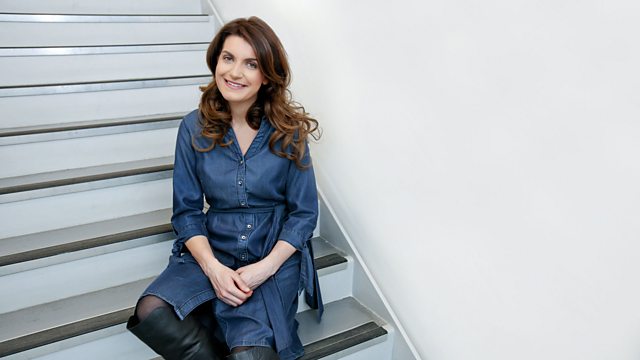 Friday - Georgia's classical alternative
Georgia Mann presents Radio 3's classical breakfast show, featuring listener requests and the Friday poem.
Email 3breakfast@bbc.co.uk
Last on
Music Played
Jean‐Philippe Rameau

Les Paladins (Entrée des Paladines et ensuite Paladins)

Orchestra: Orchestra of the Age of Enlightenment. Conductor: Gustav Leonhardt.

Rameau: Suite Les Paladins: Orchestra of the Age of Enlightenment, Leonhardt.
Philips.
21.

Geoffrey Burgon

The Calm (Quintet)

Performer: Kenneth Sillito. Performer: Mark David. Performer: Hugh Webb. Conductor: Geoffrey Burgon. Singer: James Bowman.

Geoffrey Burgon: Merciless Beauty: Bowman/City of London Sinfonia/Burgon.
ASV.
11.

Thomas Tallis

Videte miraculum

Choir: Stile Antico.

Johann Sebastian Bach

Prelude in E minor, BWV 555

Performer: Bruno Leonardo Gelber. Music Arranger: Alexander Siloti.

George Frideric Handel

Ombra mai fu (Serse)

Singer: Valer Barna-Sabadus. Performer: Doron Sherwin. Ensemble: L'Arpeggiata. Director: Christina Pluhar.

Joseph Haydn

Symphony no.101 in D major 'Clock' (2nd mvt)

Orchestra: Les Musiciens du Louvre. Conductor: Marc Minkowski.

Haydn, 12 London Symphonies: Marc Minkowski, Les Musiciens du Louvre-Grenobles.
Naive.
10.

Claude Debussy

Sarabande (Pour le piano)

Performer: Angela Hewitt.

Debussy: Children's Corner, Suite Bergamasque, Pour le Piano: Angela Hewitt.
Hyperion.
15.

Catriona McKay

The Swan LK 243

Music Arranger: Michael Baker. Ensemble: Aquarelle Guitar Quartet.

Dances Aquarelle Guitar Quartet.
Chandos.
15.

Antonín Dvořák

String Quartet in E flat Op 51 (1st mvmt: Allegro ma non troppo)

Ensemble: Wihan Quartet.

Joaquín Rodrigo

Caccia a la española

Performer: Narciso Yepes. Performer: Godelieve Monden. Orchestra: Philharmonia Orchestra. Conductor: Luis Antonio García Navarro.

Felix Mendelssohn

Clarinet Sonata in E flat major (2nd mvt)

Performer: Dieter Klöcker. Performer: Thomas Duis.

Mendelssohn: Complete Clarinet Chamber Music: Consortium Classicum.
MDG.
6.

Friday Poem

"Habit" by Carl Dennis, read by John Paul Connolly

Gustav Holst

A Fugal Overture, Op.40`1

Orchestra: London Symphony Orchestra. Conductor: Richard Hickox.

Pyotr Ilyich Tchaikovsky

Overture from The Nutcracker Suite arr for jazz ensemble

Music Arranger: Duke Ellington. Music Arranger: Billy Strayhorn. Ensemble: Duke Ellington & His Orchestra.

Frédéric Chopin

Nocturne in B major, Op 62 No 1

Performer: Maria João Pires.

Chopin: The Nocturnes: Maria Joao Pires.
Deutsche Grammophon.
7.

Weronika Ratusińska

Gasherbrum

Orchestra: Silesian Philharmonic Symphony Orchestra. Conductor: Mirosław Jacek Błaszczyk.

Weronika Ratusinska: Works for Orchestra.
DUX.
7.

Pierre Villette

Panis angelicus, Op 80

Choir: Holst Singers. Conductor: Stephen Layton.

Villette: Choral Works: Holst Singers/Stephen Layton.
Hyperion.
10.

Alessandro Scarlatti

O cessate di piagarmi (Il Pompeo)

Music Arranger: Nora Fischer. Music Arranger: Marnix Dorrestein. Singer: Nora Fischer. Performer: Marnix Dorrestein.

Édouard Lalo

Symphonie espagnole, Op 21 (5th mvt)

Performer: Vadim Repin. Orchestra: London Symphony Orchestra. Conductor: Kent Nagano.

Lalo/Chausson/Ravel: Repin/Nagano.
Erato.
5.

Henry Purcell

Sonata No 2 in B flat major for two violins and continuo

Ensemble: King's Consort.
Broadcast