Main content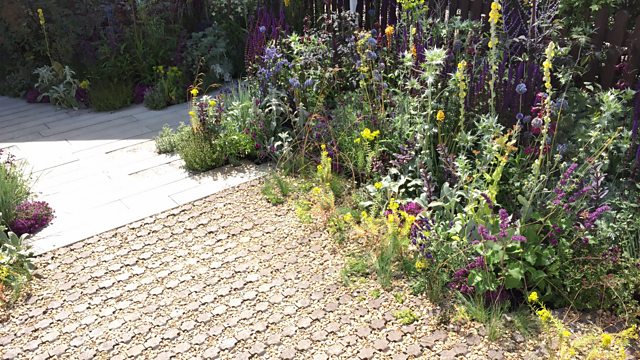 Chelmsford
Peter Gibbs hosts the horticultural panel show from Chelmsford, Essex.
Peter Gibbs hosts the horticultural panel show from Chelmsford, Essex. Christine Walkden, James Wong and Matthew Wilson are ready to answer this week's questions from keen gardeners.
The panellists discuss the best way to use horse manure, how to look after a Senecio during winter, and the best aquatic plant for a small pond. They also talk about getting rid of scale insects, why some plants become variegated and keeping a cherry tree alive.
Garden designers Manoj Malde and Caro Sanders talk about turning a front garden into something environmentally friendly - instead of just leaving it as an off-road parking space.
Produced by Dan Cocker
Assistant Producer: Laurence Bassett
A Somethin' Else production for BBC Radio 4
Fact Sheet
Q – I like to use horse manure. What is the best way to apply it to my raised vegetable bed?
Christine – The key thing is to get it well rotted. If it has a high straw content that will take some time. It is better if it is left at least 12 months or longer than that better. Horse manure when ready should be flaky, crumbly and dry.
Matthew – Don't think as organic matter in isolation – they can be mixed with other things. Always apply it to the surface.
Q- I have been given a Senecio 'Angel Wings' and would like your opinion on how to look after it during the winter.
James - Good drainage and not too warm if you have it indoors and not too cold if it is outdoors. Bright light and a chilled environment.
Matthew – If you have to keep it outside I would move it to as close to the house as possible so it is in the rain shadow of the house to get the minimum amount of rain on it. Ideally, you want to bring it inside – not to a centrally heated environment – but to a cool conservatory or greenhouse.
Q – Can you recommend an upright aquatic plant for a really tiny pond to encourage dragonflies or other beneficial wildlife.
Christine – The irises are all worth looking at the smaller irises in particular. Butomus ('Flowering Rush').
James – There is a whole movement in Japan called Wabi-kusa which is the art of growing aquatic plants in tiny pots indoors. Indoors I have Carex pseudocyperus. A lot of the Cypress and miniature Cypress. Iris Sibirica will grow well indoors and outdoors. Wood that juts out the water can work – make sure it is a hard wood that won't rot.
Q – Over the last three years I have found a scaly pest on the bark leading up to the leaves of the Acer trees. Is there a natural predator I can encourage into the garden to take these scaly pests away?
Christine – I would regular washing down of the stems with white sprits to try and get rid of them. You might have an issue with drainage and have a look at the root systems.
Matthew – I lost my Acer tree (Maple tree) to slugs – so it may be that.
Q – I noticed on some variegated holly bushes that some of the branches had some pale creamy- yellow leaves on them – what had happened and why had they gone that colour?
Christine – Reversion can occur for lots of reasons. Sometimes its genetical within the species, sometimes its physiological with plants being stressed. It can also be pest and disease attack. Once it has happened there is not much you can do.
Q – I have a very small south-facing courtyard. It has 6-foot (1.8m) fences all the way around and is on a very heavy clay soil. It is half sun and half shade. Can you recommend plants that can thrive in those conditions or suggest plants which will complement each other so I don't end up with a garden of two halves?
Matthew – Anemanthele Lessoniana – an evergreen grass.
Christine – To help the transition you could use the Ferns. Other plants which will help that transition are the Heucheras (Coral bells), Hostas (Plantain lilies), Lamiums (dead-nettles), and many of the bulbs.
James – I wold go for a Schefflera (Dwarf umbrella tree) – such as Schefflera taiwaniana. You can put a mirror on the sunny side which will reflect light onto the shady side. Or paint the sunny side light which will bounce light onto the sunny side.
Q – I have purchased five small cherry trees – three went to the allotment and died. Two flowered profusely last year but no fruit – what is going wrong and what can I do better?
Matthew – The clay here is not the best soil for cherries.
James – Maybe when you try again go for a bigger one.
Matthew – Leave the two that are in pots and plant them in bigger pots.