Main content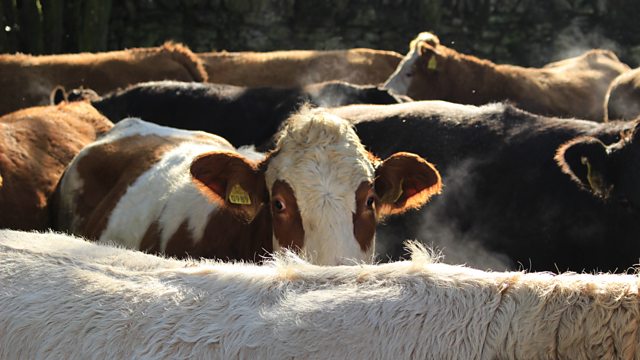 Burren Cattle Blessing
A herd of Irish cattle is walked from Seamus Heaney's Flaggy Shore to their winter grazing high on the limestone plateau of the Burren.
When Winter comes most hill farmers take their cattle off the high ground and place them in sheds until Spring. Geology allows them to do things a little differently on the Burren. In County Clare on the west coast of Ireland, the Burren is a flower-rich limestone plateau. In Summer the rock absorbs the heat and, like a giant night storage heater, it radiates the warmth out in the Winter. That makes life pretty agreeable for the region's beef cattle. Each year the season to move the cattle is marked by a festival. The local priest sprinkles holy water on their coats and a chosen farmer walks his pregnant cows up the green road to the mountain grazing, followed by hundreds of locals and tourists eager to see the delighted leaping of the cattle as they reach the fresh grazing of their Winter home.
The sounds of the cattle treading a route travelled for hundreds of years provide a relaxing half hour that will transport you to the beauty and tranquillity of Ireland's west coast.
Producer: Alasdair Cross
Thanks to farmer, Timmy Linnane and to the Burrenbeo Trust