Main content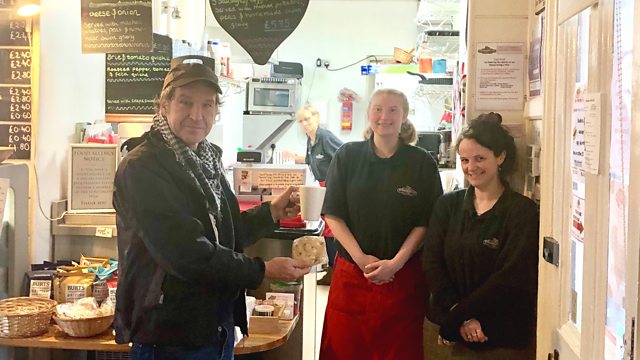 The Strawberry Line Community
Far from being abandoned, the Strawberry Line in Somerset has a new role connecting different interests of the local community via this green route.
The first trains ran on the officially named Cheddar Valley Line after opening in 1869. A branch line providing a vital local link for farmers and growers along the Mendip Hills and on through the moors of the North Somerset Levels. Their trade was destined for the mainline and then on to Bristol, Exeter, London and beyond. While the railway line was a vital economic link for passengers, its function developed for the the transportation of products particularly from local quarrying and agriculture, including a hectic month in high summer when strawberries rushed from the Mendip farms along the line, destined for the rest of the UK.
Then in 1963 what is now known as the Strawberry Line story could have ended. Along with many branch lines it was closed under the axe of the Beeching cuts. Over the years, the landscape consumed the track and it all but disappeared from the landscape it once dominated. Then, a few decades ago, local people got together and took it upon themselves to resurrect the line for the benefit of wildlife, for the benefit of local communities and as a green transport route. The Strawberry Line was reborn.
Local wildlife expert Chris Sperring MBE walks along the line to offer a glimpse into the function of the Strawberry Line today. It would be easy to go back in time and reflect on the past but this is a story about the future. From slow beginnings slowly the line brought the community along it together with a common purpose that of being part of this linear feature in the landscape. From a national cider producer who has created a permissive path through its orchards, to a cafe managed and run by people with learning disabilities. A local wildlife group manages the track for the benefit of everyone who uses it, as well as for the nature which now finds its home there. And a local heritage centre, run and managed by community volunteers, provides the history of this local line with a national reach. But, as they say, nothing is new and the Strawberry Line is now poised to play another role in a much more ambitious project to connect this least known area of Somerset to a regional, and national, network once again.
Producer Andrew Dawes
Presenter Chris Sperring MBE
Last on
Broadcasts

Podcast
Countryside magazine featuring the people and wildlife that shape the landscape of Britain