Main content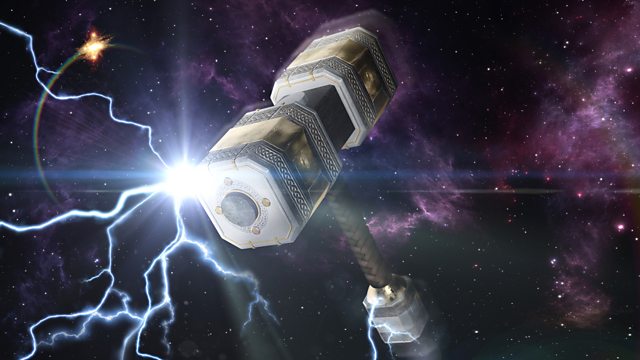 Neil Gaiman's Norse Mythology
Neil Gaiman's Norse Mythology invites us into a world of gods and monsters, fiery endings and new beginnings.
'And the game begins anew…'
As the nights draw in and frost begins to crackle in the air, Neil Gaiman's Norse Mythology comes to Radio 4, inviting us into a world of gods and monsters, fiery endings and new beginnings, tricks and trust.
Diana Rigg, Derek Jacobi, Colin Morgan and Natalie Dormer lead a stellar cast, inviting us into these stories of old betrayals – and new hope.
We meet the trickster god Loki and his astonishing children – the giant wolf Fenrir, Jormungundr the snake that encircles the world, and Hel, the little girl who grows up to be Queen of the dead. We meet Odin the all-father, who sacrificed his eye to see the future, and Freya the understandably angry, most beautiful of the gods and always being gambled for by unwanted suitors. And the stories take us to the very end of the world, Ragnarok.
The stellar cast also includes Luke Newberry, Nonso Anozie, Rhashan Stone, Don Gilet, Nathaniel Martello-White, Tayla Kovacevic-Ebong, Lucy Doyle, Michael Bertenshaw, Lewis Bray, Alexandra Constantinidi, Cameron Percival, Saffron Coomber…. And Neil Gaiman himself.
Author …… Neil Gaiman
Adaptor …… Lucy Catherine
Sound Design …… Wilfredo Acosta
Director & Producer …… Allegra McIlroy
Cast:
Teller ….. Diana Rigg
Odin ….. Derek Jacobi
Freya ..... Natalie Dormer
Loki ….. Colin Morgan
Thor ….. Nathaniel Martello-White
Balder ….. Luke Newberry
Thrym ….. Nonso Anozie
Fenrir ….. Rhashan Stone
Heimdall …..Tayla Kovacevic -Ebong
Mimir ….. Don Gilet
Sif ….. Lucy Doyle
The Stranger ….. Lewis Bray
Brokk ….. Michael Bertenshaw
Hel ….. Alexandra Constantinidi
Eitri ….. Cameron Percival
Angrboda ….. Saffron Coomber
Magnus ….. Eviee Lavery
Young Hel ….. Grace Doherty
Radio ….. Neil Gaiman
Last on
Writer Neil Gaiman shares the writing and songs he loves, with readings by Peter Capaldi.
Broadcast