Main content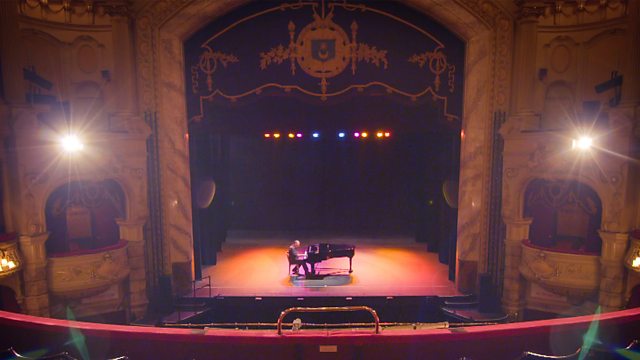 Neil Brand explains how the movie musical had to continuously adapt and modernise for the modern age, looking at some of the most popular songs from films Grease and Bugsy Malone.
In this final episode, Neil Brand asks how the movie musical survived in our modern age.
By the 1970s the whole landscape of cinema had shifted; the biggest movies were no longer feelgood romances but gritty dramas of urban life. And yet, right at this point, two directors famed for such films ventured into the world of musical film. Martin Scorsese's New York, New York and Francis Ford Coppola's One from The Heart were glossy, highly stylised homages to the golden age of the musical. And both failed to connect with a modern audience.
The musical would find its modern voice by adapting rather than trying to ape the classic formula of old; by being maverick and unconventional, as Neil Brand discovers when meeting Mel Brooks, creator of the unforgettable Springtime for Hitler. And he also meets Turner Prize-winning artist Jeremy Deller, who argues that Ken Russell's film of The Who's rock opera Tommy is the best film ever made!
This recognition of the importance of pop culture, added to a 70s nostalgia for the seemingly more innocent days of the 50s, gave rise to another strain of successful movies: American Graffiti and, most memorably, Grease. It even hit the UK, as former teen star David Essex explains, with his starring role in 1974's That'll Be the Day.
The 1970s also saw the movie musical become much more reflective of an increasingly multicultural world, with the huge success of films such as Car Wash, with its soundtrack written by the great Motown composer Norman Whitfield. In Los Angeles, Neil meets up with the film's director Michael Schultz to discuss how Hollywood took on soul and disco to reinvigorate the musical genre.
As we come to see where the movie musical now stands, we discover it has been as blockbusting as ever; firstly, in India, where the emergence of Bollywood has completely taken over Hindi cinema, with stars such as Shah Rukh Khan selling a film on sheer screen stardom alone - but also back in its base camp of Hollywood, where the success of both La La Land and The Greatest Showman have demonstrated that the movie musical is still a force to be reckoned with.
Music Played
Timings (where shown) are from the start of the programme in hours and minutes