Main content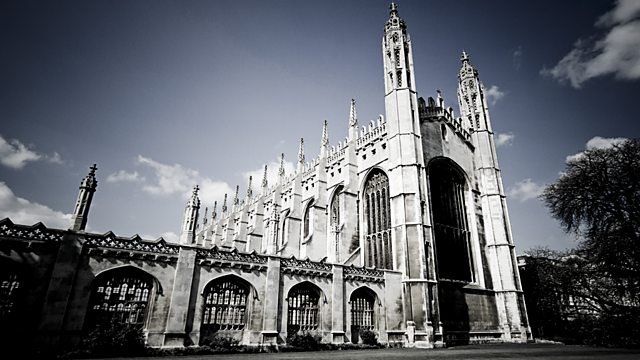 Recorded yesterday in the candlelit chapel of King's College, Cambridge in the centenary year of the festival. Christmas carols and hymns sung by the world-famous chapel choir.
Recorded on Christmas Eve in the candlelit chapel of King's College, Cambridge in the centenary year of the festival. Christmas carols and hymns sung by the world-famous chapel choir.
Hymn: Once in Royal David's City (desc. Cleobury)*
Bidding Prayer read by the Dean
Up! good Christen folk (Piae Cantiones)*
First lesson: Genesis 3 vv 8-19 read by a Chorister
Adam lay ybounden (Ord)
Jesus Christ the Apple Tree (Poston)
Second lesson: Genesis 22 vv 15-18 read by a Choral Scholar
In dulci jubilo (arr. de Pearsall)*
I saw three ships (arr. Simon Preston)
Third lesson: Isaiah 9 vv 2, 6-7 read by a representative of Eton College
Nowell sing we now all and some (Medieval)
Unto us is born a Son (arr. Willcocks)*
Fourth lesson: Isaiah 11 vv 1-3a, 4a, 6-9 read by a Fellow
A spotless rose (Howells)
The Lamb (Tavener)
Fifth lesson: Luke 1 vv 26-38 read by the Master over the Choristers
Joys seven (arr. Cleobury)
Bogoróditse Dyévo (Arvo Pärt)
Sixth lesson: Luke 2 vv 1-7 read by the Mayor of Cambridge
What sweeter music? (John Rutter)
Stille Nacht (arr.Ledger)
Seventh lesson: Luke 2 vv 8-16 read by the Director of Music
In the bleak midwinter (Darke)
While shepherds watched (desc. Cleobury)*
Eighth lesson: Matthew 2 vv 1-12 read by the Vice-Provost
O mercy divine (Judith Weir) (King's College Commission 2018)
Sir Christèmas (Mathias)
Ninth lesson: John 1 vv 1-14 read by the Provost
O come, all ye faithful (arr. Willcocks)*
Collect and Blessing
Hark! The herald angels sing (desc. Cleobury)*
Organ voluntaries:
In dulci jubilo (BWV 729) (Bach)
Pièces de Fantaisie en quatre suites, Livre II op. 53: Toccata (Vierne)
Director of Music: Stephen Cleobury
Organ scholar: Henry Websdale
Cellist: Guy Johnston
For many around the world, A Festival of Nine Lessons and Carols, live from the candlelit Chapel of King's College, Cambridge, marks the beginning of Christmas. It is based around nine Bible readings which tell the story of the loving purposes of God. They are interspersed with carols old and new, sung by the world-famous chapel choir who also lead the congregation in traditional Christmas hymns.
A specially-written carol by the composer Judith Weir will be premiered during A Festival of Nine Lessons and Carols this year. A new carol has been commissioned for the Christmas Eve service every year since 1983, so this new work entitled 'O Mercy Divine' for choir and cello will be the 36th such carol commissioned by King's College. Judith Weir is an alumna and honorary fellow of King's who currently holds the post of Master of the Queen's Music.
Broadcast live around the world, the famous Christmas Eve service attracts many millions of listeners. Commissioned carols from previous years have included carols by Judith Bingham, Diana Burrell, Tansy Davies, Jonathan Dove, Carl Rütti, John Tavener and many others. The series, instigated by Stephen Cleobury in 1983, represents part of a long-standing contribution by the College to contemporary choral writing.
For Director of Music Stephen Cleobury, who began the regular series of Christmas Eve commissioned carols in 1983, this new carol will be the last such commission ahead of his retirement in September 2019.
"I am delighted that Judith has accepted the College's invitation to compose a carol for this very special year which sees the 100th anniversary of A Festival of Nine Lessons and Carols. A previous commission from Judith in the series, Illuminare, Jerusalem, was written for the same service in 1985 and has come to be regarded as one of the finest contemporary carols of recent times. We are proud to count Judith among our many prestigious alumni, and it is a personal delight to have been able to ask her to write this carol for my last Christmas here at King's."
This year's choices include a number of pieces which were sung in 1918 (asterisked, performed this year not necessarily in the original arrangements). Every organist of the College (known as Director of Music since the Willcocks era) including Harold Darke, who acted as organist during Boris Ord's wartime absence, is represented by a composition or an arrangement. Two commissions from earlier in Stephen Cleobury's tenure – by Arvo Pärt and John Rutter - are also included.
Producer: Philip Billson
Last on